Kids will like the latest filmed version of the adventures of Mark Twain's classic characters,
Tom Sawyer & Huckleberry Finn
, but adults may be left wishing for more.
The film features some of the most memorable moments from Twain's
The Adventures of Tom Sawyer
: Tom having to paint a white picket fence, he and Huck attending their own funeral, his romance with Becky Thatcher, and their getting lost in the cave. While it is fun to see these scenes depicted, there is something missing, some sense of urgency or mischief that leaves everything feeling a bit flat. ... Add to that an almost unrecognizable Val Kilmer as Mark Twain, narrating the proceedings, and you have a slightly surreal take on an American classic. ...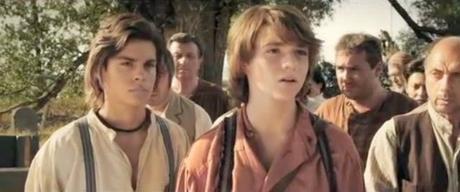 Huck (Jake T. Austin, L) and Tom (Joel Courtney)
You can read my complete review on Cinema Sentries ...