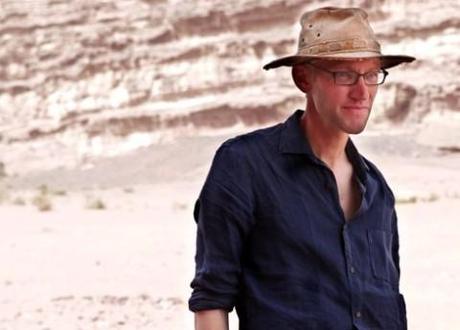 Tom Holland in the doc. Photocredit: Channel 4
The background
Channel 4 has cancelled a screening of its documentary, Islam: The Untold Story, after it caused over 1,000 complaints to the channel and the media regulator after it was broadcast. The screening was meant to be presented by Cathy Newman, and featured a Q and A with its presenter, historian Tom Holland, who was also subjected to criticism and abuse on Twitter. The channel has cited security reasons. The documentary can still be seen on 4oD.
The programme said that there wasn't very much written contemporary evidence about the prophet Mohammed, and examined the idea that Islam developed gradually over many years, rather than appearing fully formed in the Koran.
"You might be a target in the streets. You may recruit some bodyguards, for your own safety," read a threat on Twitter to Holland, quoted on The Independent.
Baseless assumptions?
The Islamic Education and Research Academy accused Holland of making "baseless assumptions" and engaging in "selective scholarship," quoted on The Mail.
It's the Western way to discuss history
Dr Jenny Taylor, a writer and academic, and head of charity Lapido Media, of which Holland is a trustee, said that we ought to "be able to discuss history. That is the western way. … Why should Islam be left out?" quoted on The Guardian. The Telegraph quoted her too: "He's not trammelled the sacred heart of an ancient mystery but found hints of an even greater and more awesome reality that is tantalisingly beyond our grasp at the moment, but could just be the key to a shared past and shared future."
It's a historical endeavour
Holland defended himself online, saying that the origins of Islam "are a legitimate subject of historical enquiry." He said he'd gone "to every effort to ensure that the moral and civilizational power of Islam was acknowledged." The documentary was "a historical endeavour," not "a critique of one of the major monotheistic religions."
Detrimental to free speech
It's all very "mysterious," said Heresy Corner. The screening was a small, private event, probably intended to dispel misconceptions about the programme. Representatives of Muslim groups had been invited. This cancellation will cause a "bigger stir" than the presentation, and "may make it harder for other writers and film-makers to broach even mildly controversial subject-matter about Islamic history in future, to the intellectual detriment of Muslims and non-Muslims alike." If you actually watch the documentary, you'll see that there's "very little to complain about."