loads of people REALLY HATE Tom Heneghan and his Intelligence Reports, but do you think Free Planet cares about your petty prejudices and blind hatred? I mean, really, who cares about the source at all, these days? Isn't all source valid in the globally obfuscating NEED TO KNOW game You The People are innocent victims of... sorry for the truth!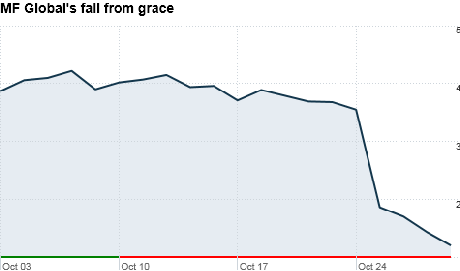 CNNMoney
TOM HENEGHAN'S INTELLIGENCE REPORT -It can now be reported that J. P. Morgan is involved in massive fraud involving the bankruptcy of investment bank MF Global.
We can now divulge that it was J. P. Morgan and German Deutsche Bank, along with Glencore Commodities out of Zurich, Switzerland (whose CEO is none other than Bush-Clinton Crime Family stooge Marc Rich) that issued the collateral aka bogus derivatives that were used by MF Global to place trades on the European sovereign debt.
J. P. Morgan then proceeded to use their offshore hedge fund on the Isle of Man to take the opposite position of MF Global by buying EURO currency futures and simultaneously shorting MF Global stock.
It now gets worse!