Spotlight On: Wendy Mueller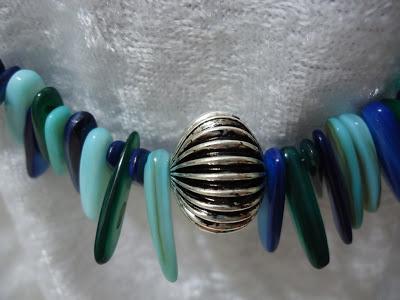 Recently, I discovered a very talented jewelry designer, Wendy Mueller. She opened her online store not too long back and has some very unique and colorful solutions to accessorizing any outfit. Her line of jewelry is available for sale on 'STORENVY' link here:
http://toggleartistjewelry.storenvy.com/
by the name 'Toggle Artist Jewelry'. She uses colorful stones and beads along with toggle clasps and makes on-of-a-kind interchangeable pieces that can be mixed and matched according to your outfit.
You can easily take the clasps of one piece of earring/necklace and put it together with a totally different set of beads or alter the placement of a pendant. That means a necklace from her store that has a dangling set of beads, can be worn either as a front pendant or as a drop at the back in case you are pairing it up with a low back/ backless dress and need to add some glamour around your bare back. In the same manner you can play around with various pieces of earrings.
Her unique design ideas have made metal clasp jewelry the next big thing in any fashion savvy's collection. Not only does she ship all over the world, she currently also has a holiday sale going on for a lot of her pieces, that means when the time comes to fill up the stocking for someone special, you will have a perfect pair of earrings or a beautiful beaded necklace all set to charm their hearts!
Visit her website today to grab your favorite piece:
http://toggleartistjewelry.storenvy.com/

Find her on facebook here:
https://www.facebook.com/ToggleArtistJewelry
Here is an interview with the diva herself:
Q1) how did you get into jewelry design?
I didn't exactly start out wanting to make jewelry. I went to a craft show with my mom, I think in 1985 or 86. I saw a tree made out of wire. I think it was brass wire, and it had copper leaves. I don't remember who made it. I had that tree stuck in my mind for years. In 1992 I bought a spool of 24 gauge wire. Had no idea what to do with it. I couldn't find any books on wirework. So the spool of wire was put away. About 10 years later I bought an inexpensive set of jewelry making tools. But I couldn't find my spool of wire so the tools were put on a shelf.
A few years later I started collecting beads. Then a very good friend gave me a Michael's gift card for Christmas one year and I found a book on making wire jewelry. After reading it I decided I needed to learn more before I dived into it. So I kept on collecting beads and out came the tools and I started putting things together. I was just intending to make jewelry for me because I didn't care much for what was sold in department stores. Once I got started I just kept going and before I knew it I had made about 20 items. As I was making the jewelry I was showing it to my friend and she started telling me I should sell it.
That was maybe 3 years ago. I didn't feel like I was ready to do that yet. But not long after that I started making earrings with the toggle clasps. I don't wear earrings but I thought it would be a good thing to get into because they could be interchangeable. I like working with the toggle clasps.
Q2) did you study to be in fashion?
 If yes, where did you go to school? What did you study? I never studied anything to do with fashion. I took art classes in school from 3rd grade on through high school.
Q3) did you have to train or apprentice with another designer?
If yes, how was that?
No. I've learned on my own, either from books or tutorial videos. Learning as I go just by trial and error.
Q4) what inspires your designs?
I look at beads or stones and ideas pop into my mind. Sometimes I have trouble sleeping because an idea will pop in and wake me up. Sounds kind of funny but it does happen that way. Sometimes when I get started on a project it evolves into something else.
Q5) what about fashion as a business?
How do you find it is in jewelry design for a new and upcoming designer? Well, it definitely is not easy. I was never good at creative writing so coming up with good attention grabbing descriptions is a challenge. I had no idea what I was getting into. I have learned so much and still have a long way to go. But there is no backing out now.
Q6) what advice would you give to a young upcoming designer and design students?
Go for it! Don't give up and don't let anyone stop you. Learn everything you can about the area you are interested in.