Herrrooo peeps! Yes it has been way too long. Apologies for my recent absence, the definition of busy doesn't even come close to describing my life over the past month. Nevertheless, I am back and here to share the day of DC's and my engagement partay.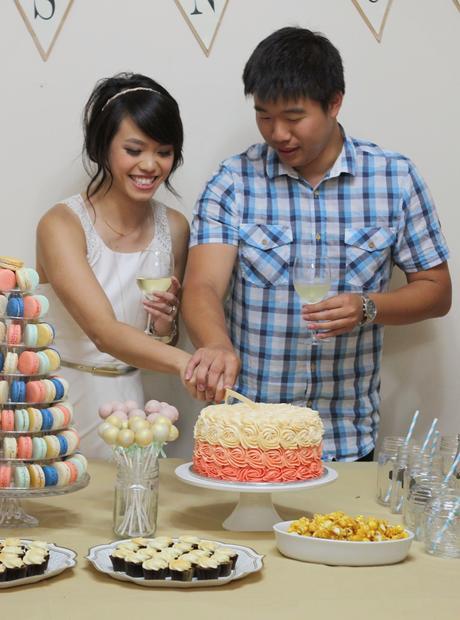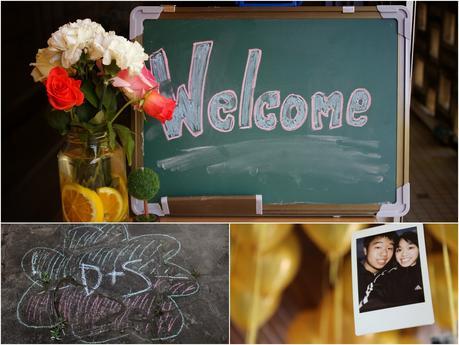 After DC proposed back in October last year, we decided to hold our engagement party at DC's crib earlier this year. Holding a party at a house for 75 people was definitely an interesting experience but luckily mother nature sure held up her part of the deal.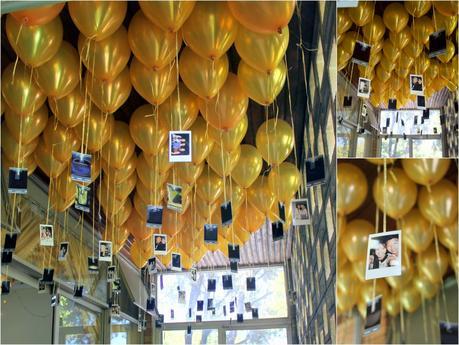 Inhale all the helium!
With thanks to Spotlight, I managed to get a hold of over 100 helium balloons ($1/balloon, excluding the balloon itself) to cover the main entrance. I regrettably didn't end up inhaling any of them.
And of course, then came the food: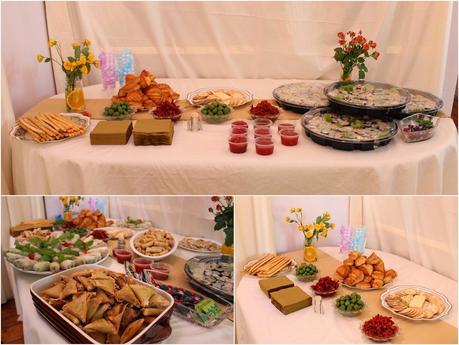 Sushi platters, spring rolls, curry puffs, apply puffs, sicilian olives, sundried tomatoes and of course cheese.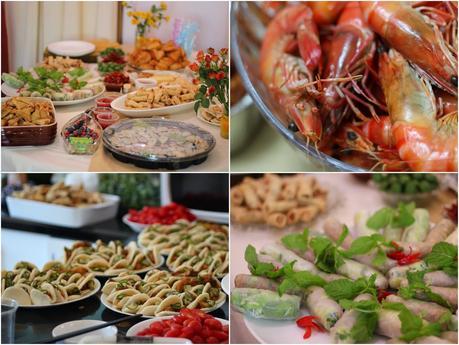 More food including prawns, bbq pork buns and my fav rice paper rolls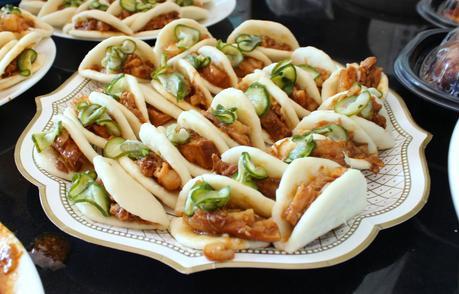 My babies
Plate from the Kit Source
So umm those were the starters. I actually discovered the BBQ pork buns on a random trip to Costco one day. They had a demo of their kits which basically has the marinated pork, buns and garnishes. Pretty much everything you need to prepare your beautiful babies in 20 to 30 mins. Considering that the meat was "pre made" and it was a"frozen" kit, it was surprisingly quite decent. The meat was flavoursome and the buns (even after heating them up in the microwave) was also slightly fluffy. Not as fluffy as if it was a steamed bun but still quite decent. 
After those starters, the mains from 
the food society
arrived: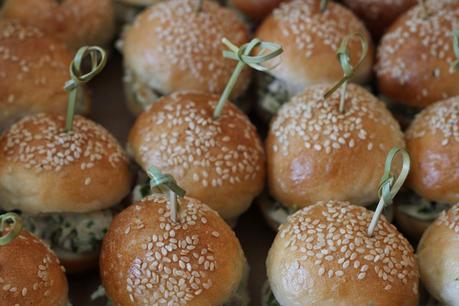 I like big buns and I cannot lie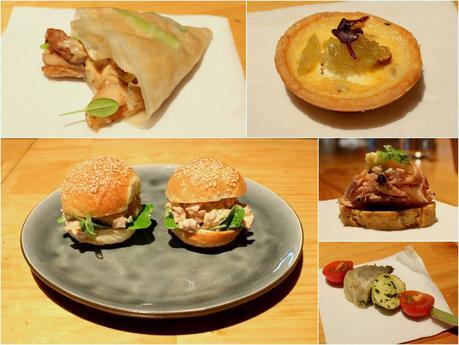 Canapés from the food society
The team at
the food society
helped me put together a canapé menu which also included complimentary taste testing. The chicken crepe was served cold and we all know I don't like cold food but oh maiiii gosh, turns out it was one of my favourites of the day. It was the bomb diggity bomb. The sauce had a massive whack of flavor and the cucumber with the chicken, made it slightly refreshing. Pretty sure I smashed at least 10 of those lol... 
The pulled pork sliders and chicken dollar buns were of a generous size, especially for a canapé. Definitely not complaining when you are presented with trays and trays of big beautiful buns. There was so much food that was enough to feed an entire army!
Then of course, there was dessert: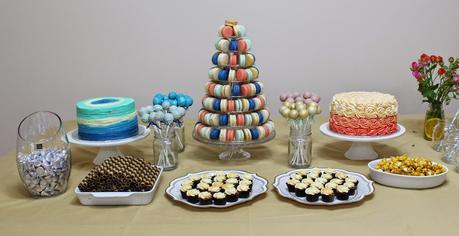 Dessert platter made by Tina Huynh + chocolate kisses, chocolate wafflers and buttered caramel popcorn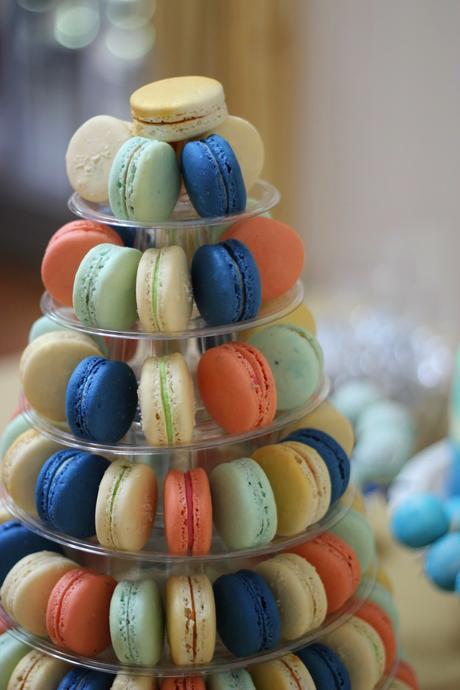 Macaron tower of 150 pieces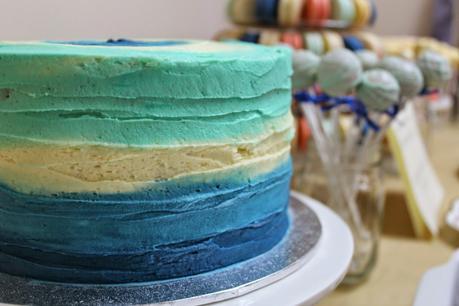 A cake for the boys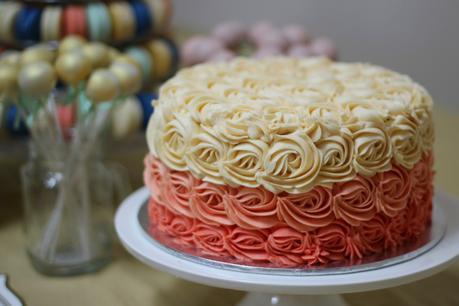 And one for the ladies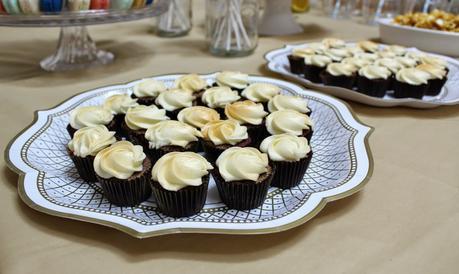 Plus a shimmer of gold for all
We all know that it doesn't matter how full you are because there is always room for desserts. Thank you Tina Huynh for helping me put together the gorgeous dessert platter that fitted in with the color palette.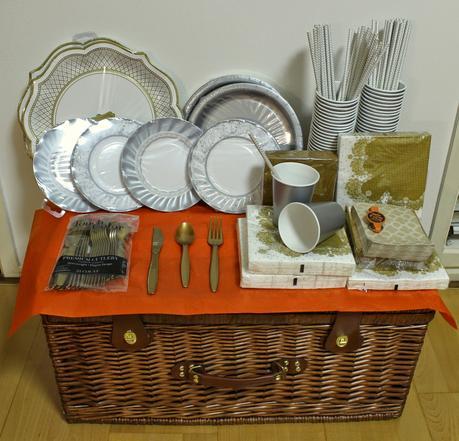 The fancy party kit set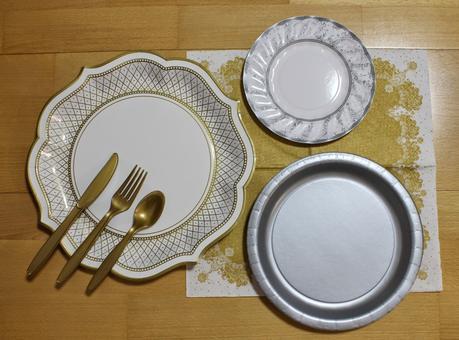 And speaking of color palette, you may have also noticed that some of the plates used also fitted in with my color palette. With thanks to the Kit Source, they helped supplied the cups, cutlery, plates, straws, serviettes for the day. I went with the large party kit plus an extra 100 silver plates from the fancy party kit selection and man, I cannot emphasize how durable the quality of cutlery is - I have never came across such good quality disposable cutlery in my entire life. Perhaps I have been shopping at all the wrong places? 
The pricing of the kits are definitely on the steeper end of town but you get what you pay for. These are not your packet of 10 knives by no frills for $1.99. The cutlery was strong, it didn't feel like it was going to break as soon as picked it up. For disposable cutlery, there was a considerable amount of detail on each of the plates - they were indeed fit for a party when you put on your fancy pants.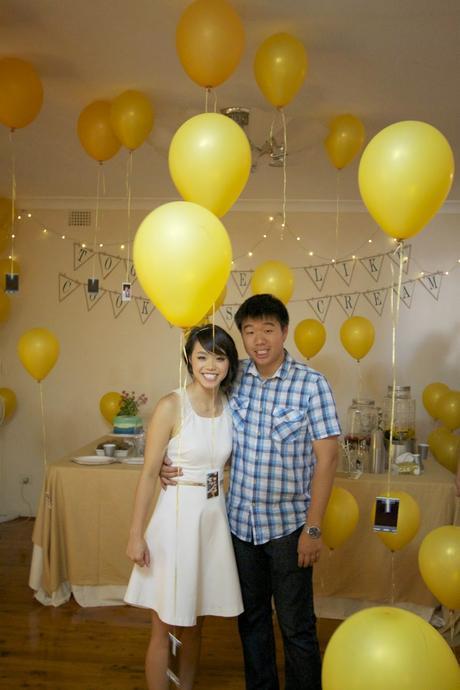 LOVED the floating effect from all those balloons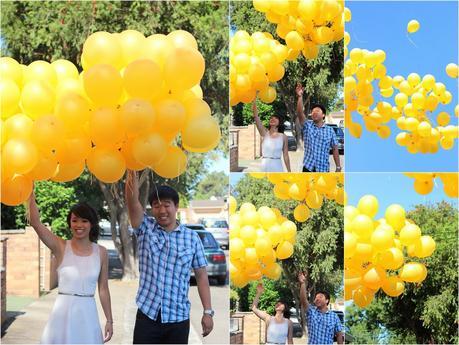 Finally after all the eating and drinking, it was pretty safe to say that most of our guests were in massive food comas. The balloons also appeared to be suffering some a coma because by the ltd afternoon, they seemed to be unable to hold up all the polariods properly. So we decided it was time to release all the balloons from all that heavy lifting and up, up and away they went.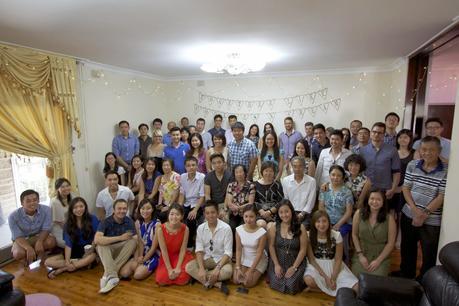 Thank you to everyone who came and those that were also there in spirit. DC and I had a great time catching up with everyone. Needless to be said, I am sure everyone was full from the crazy amounts of food and takeaway boxes. Special thanks to those that traveled lengthy distances just for the celebration. Shouts out to Chad, Kevin, Danny, Winnie, MC and C&R for your help, it was over and beyond - we couldn't of done it without you guys, thanks again.
Photo credit to Chad and MC.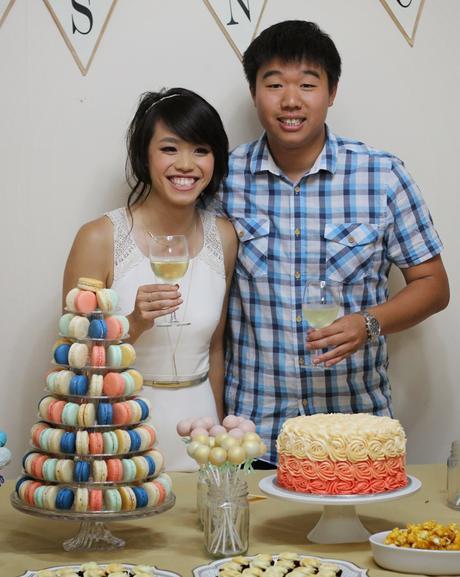 Finally before signing off today, I wanted to mention that my posts will no longer be on a weekly basis. Unfortunately as I am quite time poor over the next couple of months, they will be uploaded on a 3 to 4 weekly basis and hopefully things will eventually pick up. So this isn't a goodbye but rather, stay tuned because I will still be hanging around. 
Gotta go eat!!