This post may contain affiliate links. Please read my disclosure.
These healthy Tofu Skewers are an easy meal that can be made in under 30 minutes! Each kabob has tofu, peaches, onions, zucchini, and a sweet and salty ginger soy marinade that pulls all the flavors together!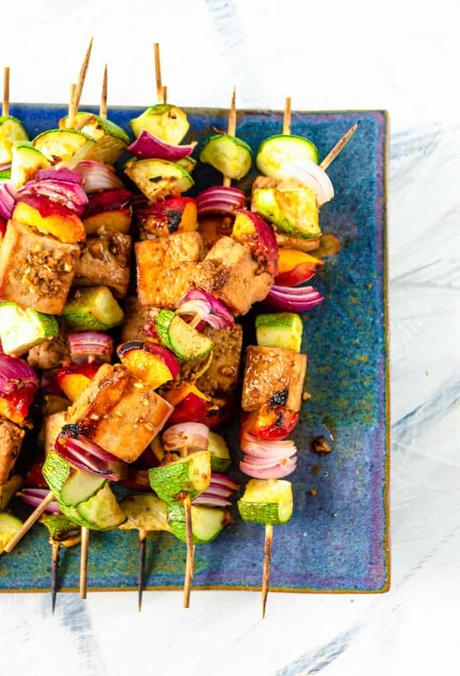 Anything that is cooked on a skewer is bound to be good, right? There are so many different varieties you can make. It's a great way to use leftover veggies that are in the fridge, but you can even add fruit to skewers! When grilled the natural sugars from the fruit caramelize to create the most delicious flavor!
These tofu skewers are made with simple ingredients, but are packed with flavor thanks to the warm spices used in the marinade.
You'll only need 30 minutes from start to finish, and you've got a simple, satisfying, healthy, well balanced meal! Serve with brown rice, or between whole wheat pita or naan - it will be a hit with your family and friends!
Tools and Equipment You'll Need
Recipe Ingredients and Notes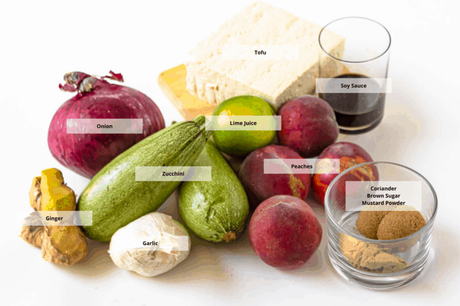 Veggies: I used zucchini, onions and peaches - but you can use any combination of veggies and fruits that you like! Pineapple, other squashes, peppers, and even apples all grill up well.
Spices: Ginger, garlic, coriander, soy sauce, and mustard powder add a punch of flavor to these tofu skewers
Tofu: Firm or extra firm tofu would both work well in this dish.
How to Make Tofu Skewers - Step by Step
Step 1: Combine marinade ingredients. Finely mince ginger and garlic, combine with remaining ingredients, mix and set aside.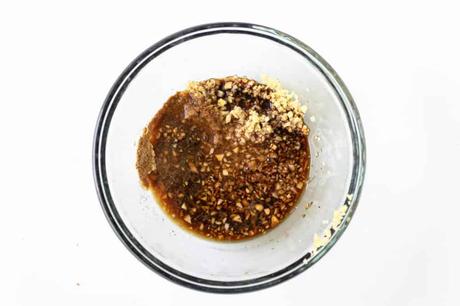 Step 2: Drain tofu and pat dry with paper towels, pressing out as much water out as possible. Cut tofu into 1 1/2 inch cubes. Add to marinade and toss to coat. Set aside while preparing remaining ingredients. Cut zucchini and peach in 1 ½ inch cubes. Slice onion into 1 inch pieces and break apart so that you have clusters of 2-3 layers.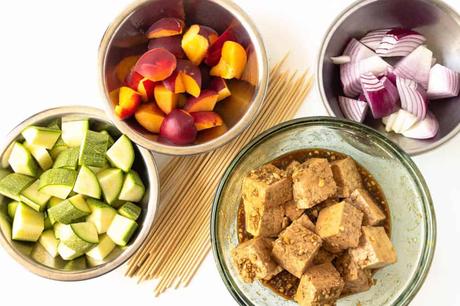 Step 3: If using bamboo skewers, soak in cold water. Turn the tofu pieces in the marinade again. Turn broiler to high. Assemble the skewers, placing 1-2 pieces of tofu per skewer and evenly distribute the other ingredients.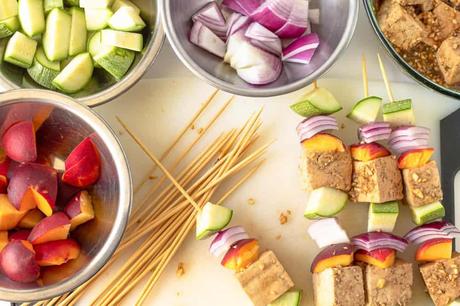 Step 4: Place skewers on a grill pan or foil lined baking sheet. Cook under broiler for 8 minutes. Flip skewers and cook the other side for 3-4 minutes to brown slightly on the other side. Remove from the oven and drizzle with remaining marinade. Serve immediately.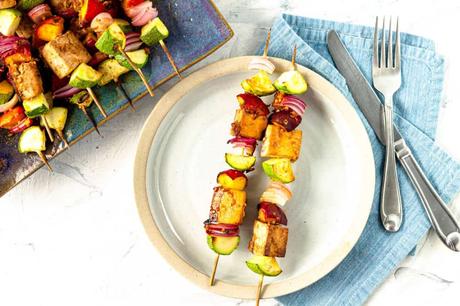 What Makes These Tofu Skewers Healthy?
High in Protein: You'll get 15 grams of plant protein with every serving of these skewers!
Rich in Antioxidants: Tofu, peaches, zucchini, and onions are filled with antioxidants! Antioxidants help to prevent or slow the damage of cells caused by free radicals.
Excellent Source of Vitamins and Minerals: These tofu skewers are filled with potassium, vitamin C, vitamin E, copper, manganese, fiber, vitamin A, and more!
Will Kids Enjoy These Tofu Skewers?
Kids will enjoy giving these skewers a try! Eating food on a stick is always fun! The marinade is super flavorful and has a little bit of brown sugar to sweeten it. If your kids are like mine, and they don't love onions, just leave the onions off of their serving. For super picky eaters, let them choose which fruits and veggies they want to grill, cut the ingredients up very small after they have been cooked, and let your kids get involved in the assembly of the skewers!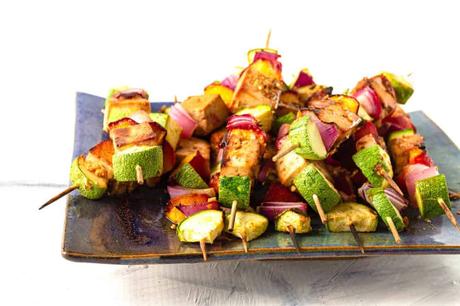 Recipe FAQs
Why do I need to soak wooden skewers?
Speaking from experience, it's vital that you soak any wooden or bamboo skewers before grilling because they will burn if you don't. When they burn, it's a fast process, and unfortunately, your food will not have the opportunity to cook through. Wooden skewers should be soaked for 10-30 minutes.
How to Store and Keep
Allow the tofu and ingredients time to cool down all the way before storing. Once cooled, remove the food from the skewer or place the entire skewer in an airtight container. It will last for 3-5 days in the fridge. Warm them up in the microwave when ready to eat.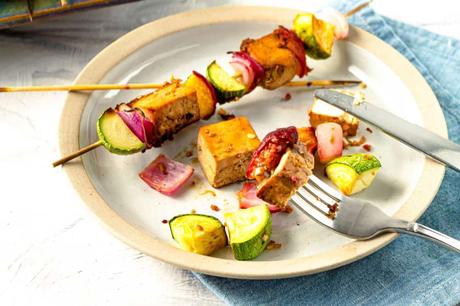 Variations and Substitutions
Feel free to add additional fruits or swap the peaches with another in season fruit. Watermelon, pineapple, nectarines, pears, apples, are all yummy when grilled.
Add any additional veggies that you want to the skewers. Tomatoes, mushrooms, bell peppers and other squashes would be great choices as well.
You can add some heat to the marinade by adding a dash of cayenne pepper or some red pepper flakes.
Top Tips For Making Tofu Skewers
Don't overcook the skewers, or they will dry out.
If you'd prefer, cook these skewers on the outdoor grill!
Cut the fruits and vegetables so they are uniform in size. This will allow everything to cook properly and at the same rate.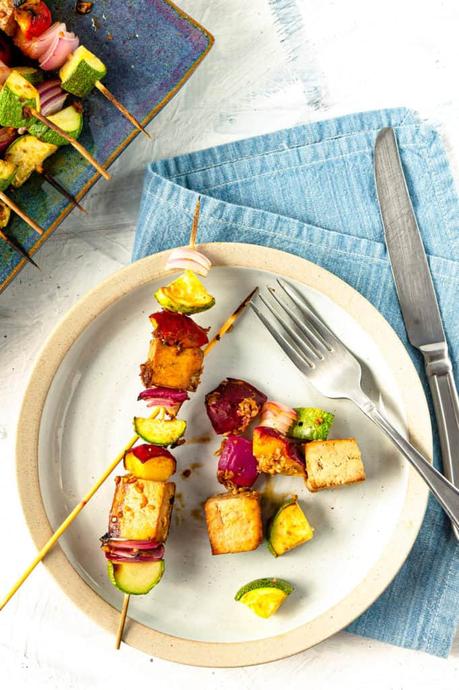 Check Out These Easy Healthy Dinner Recipes!
If you have tried this Tofu Skewers or any other recipe on my blog, then please rate it and let me know how it turned out in the comments below! You can also FOLLOW ME on
FACEBOOK
,
TWITTER
, INSTAGRAM, and
PINTEREST
to see more delicious, healthy, family friendly food!
Tofu Skewers with Ginger Soy Marinade