This post may contain affiliate links. Please read my disclosure.
This incredible Tofu Scramble is loaded with lots of healthy veggies, beans, warm spices, and cheese. It's the perfect 30-minute breakfast, brunch or dinner idea that the whole family will love. If you're looking for a vegan friendly alternative to scrambled eggs, this easy tofu scramble is for you!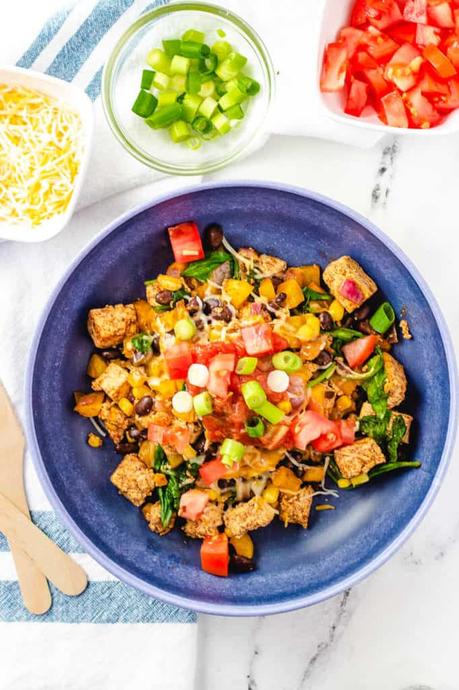 Tofu is one of my favorite plant-based proteins, because it is so versatile! You can literally do anything with it: stir fry it, add it to salads, turn it into "taco meat" or sofritas, add it to smoothies, bake it in the oven - the possibilities are endless.
Which is why, when I wanted to come up with a healthier and vegan friendly alternative to scrambled eggs, of course - I turned to tofu!
This savory tofu scramble recipe is packed with protein, high in fiber, gluten free, vegan, kid-friendly, and tastes like the best southwestern breakfast ever.
It is so satisfying and hearty, you won't even notice how good it is for you, and you definitely won't be missing scrambled eggs at your breakfast table!
Tools and Equipment You'll Need
Recipe Ingredients & Notes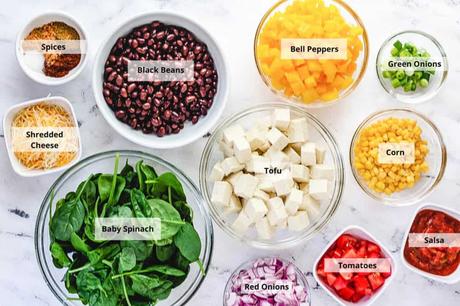 Extra Firm Tofu: Make sure you get extra firm (and not firm or soft tofu) - you need a super firm texture to get the right consistency for this tofu scramble recipe!
Veggies: You can use any veggies you like - I chose corn, peppers, onions, and baby spinach.
Black Beans: For extra protein and that southwestern feel
Spices: Chili powder, taco seasoning, and cumin give this scrambled tofu its great flavor
Toppings: Choose your favorite Tex Mex toppings - I used green onions, tomatoes, salsa, and Mexican cheese (use vegan shredded cheese to keep this a vegan tofu scramble).
Step by Step Instructions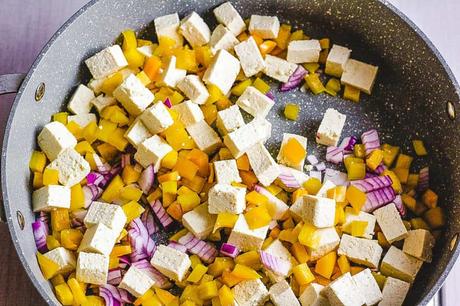 Step 1: Press your tofu for at least 5 minutes to get the water out, then cut it into 1 inch cubes. Heat oil in a large nonstick skillet over medium heat. Add onions, peppers and tofu, and cook - stirring until the tofu begins to brown.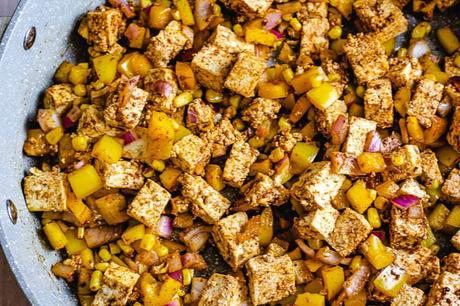 Step 2: Add corn and all of the spices. Cook 5-10 minutes.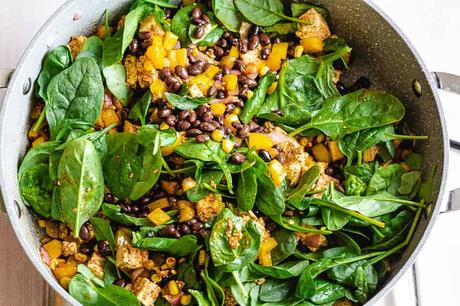 Step 3: Add the black beans, spinach and salt. Stir to combine.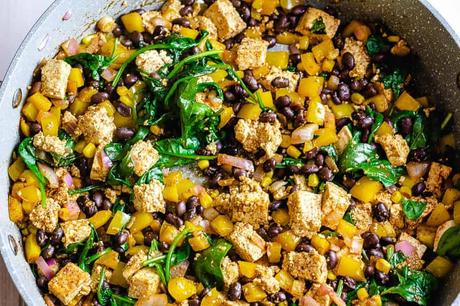 Step 4: Cook an additional 5-10 minutes until all of the ingredients are combined and the spinach is wilted.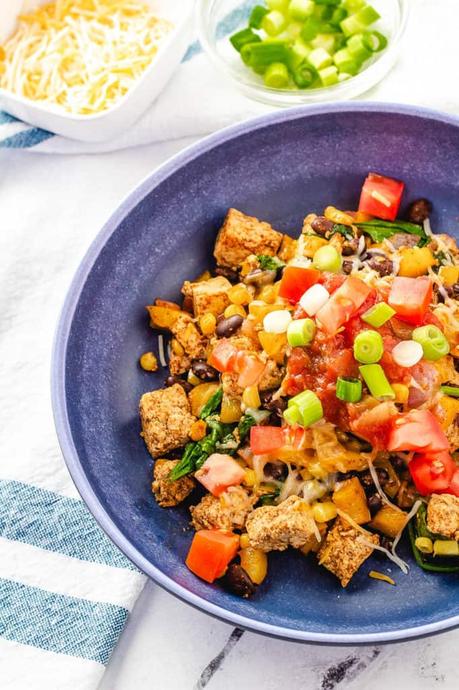 Step 5: Serve in bowls, topped with green onions, tomatoes, cheese and salsa.
Nutrients: You get TONS of vitamins and minerals from this dish. All the fresh veggies will give you a nice boost of energy too.
Protein: Packed with protein, you will get 11 grams per serving. Talk about a healthy win!
Low Calorie and Low Fat: One of the great things about this recipe is that it has fewer calories and fat than a typical portion of scrambled eggs without sacrificing any of the protein or flavor. A typical serving of scrambled eggs (2 eggs) has 180 calories, 14 grams of fat, and 12 grams of protein. One serving of this tofu scramble has 158 calories, 6 grams of fat and 11 grams of protein (and the serving size is huge!)
What Makes This Tofu Scramble Recipe Healthy?
Will Kids Enjoy This Tofu Scramble?
Oh yes! My kids eat it all the time without any complaints. I can honestly say it's a tried and true kid-friendly meal. Each serving has a natural sweetness from the corn, bell peppers, sautéed red onions, and tomatoes. Odds are your child or children are going to gobble up every last bite without complaint.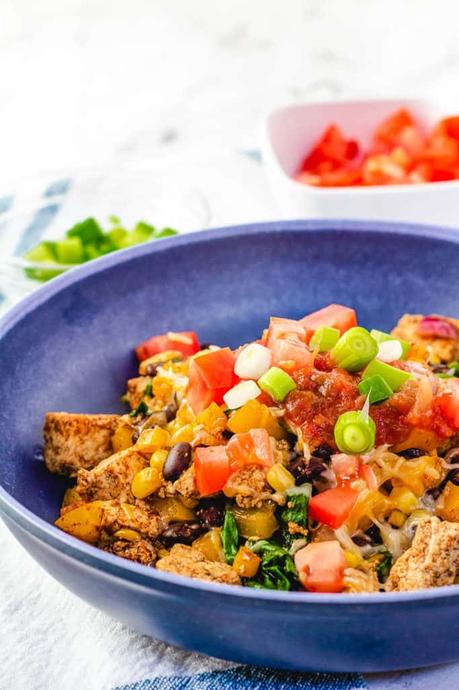 If your child isn't too fond of vegetables yet, don't get discouraged. Try to be patient and give them smaller servings, or chop up the veggies so small that your child won't be able to notice them amidst the tofu, spices and beans!
What Kind of Tofu is Best for Making a Tofu Scramble?
Recipe FAQs
Can You Make Scrambled Tofu the Night Before?
I recommend using extra firm tofu, and you should press it for just 5 minutes before cutting it up/adding it to the pan so that you get a lot of the water out. The rest of the water will cook out in the first couple minutes of sautéing it in the pan.
How Do You Store Leftovers?
Yes, you can easily meal prep this easy tofu scramble. Here is what I recommend doing the night before:
1) Dice up the yellow bell peppers, red onion, green onions, and tomatoes and store them in the fridge in an airtight container.
2) Mix the seasonings together.
3) Press your tofu and dice it.
Then when you are ready to cook, all the ingredients are ready to go.
You can also completely prepare the dish and add it to individual food containers. Then you can grab them for a light lunch or easy dinner option.
How Do You Reheat This Tofu Scramble?
You will need to refrigerate any leftovers of this Mexican tofu scramble. Allow it time to cool down after you cook it. Once it's cooled, then you can put it in an airtight container. It will keep in the fridge for 3-4 days. I don't recommend freezing leftovers, as tofu tends to change in texture once frozen and defrosted.
Microwave: Put the leftovers on a microwave-safe plate and cover with a paper towel-Cook for 1-2 minutes or until it's hot all the way. You will need to stir it a couple of times while it's cooking. Heat it a little longer if needed.
Stovetop: Place the tofu scramble in a skillet with a teaspoon or two of olive oil. Warm over medium heat and stir occasionally. Once it's hot, it's ready to eat.
How To Serve This Recipe
Over toast with chopped cilantro or parsley on top
As a topping for nachos
As a filling for tacos
As a "burrito bowl" topped with your favorite Tex Mex toppings
As a side dish for pancakes or french toast
As a filling for a breakfast burrito or wrap!
There are all kinds of ways to serve this easy tofu scramble! Some of our favorites include:
In order for the tofu to cook to the right texture, I recommend pressing it for about 5 minutes. This will allow it to crisp up nicely and not be too watery.
Dice all the veggies, so they are on the small size. Make sure they are uniform sized, so they cook evenly. Feel free to change up the veggies with any you like!
Make sure you use vegan shredded cheese or omit the cheese altogether if you want this recipe to be 100% vegan friendly.
If you want your tofu to have an actual egg flavor, use kala namak (black salt) in this recipe. A little goes a long way - you can start with 1/8 tsp and work your way up from there based on how "eggy" you want the tofu to be. If you add black salt, adjust the amount of regular salt you use accordingly so that this tofu scramble isn't too salty!
Top with your favorite Southwestern toppings!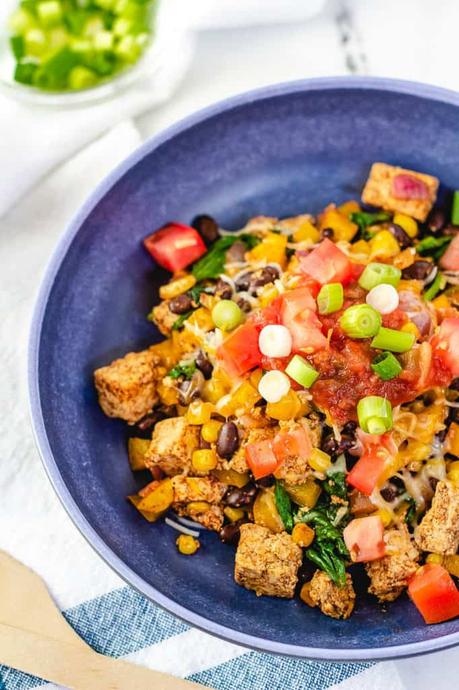 If you have tried this Tofu Scramble Recipe or any other recipe on my blog, then please rate it and let me know how it turned out in the comments below! You can also FOLLOW ME on
FACEBOOK
,
TWITTER
, INSTAGRAM, and
PINTEREST
to see more delicious, healthy, family friendly food!
Top Tips For Making The Best Tofu Scramble
Check Out These Other Easy Entree Recipes!
Southwestern Tofu Scramble