Blogging Marathon# 28: Week 1/ Day 1
Theme: Kid's Delight - 5 Ingredient Fix
Dish: Tofu Fried Rice
We are back to our regular blogging schedule for this month and my theme for the first week is "Kid's Delight - 5 ingredient fix". I'm hosting Valli's 
Kid's Delight
event this month and for the next 3 days I will be posting recipes that are my kid approved and have 5 ingredients or less.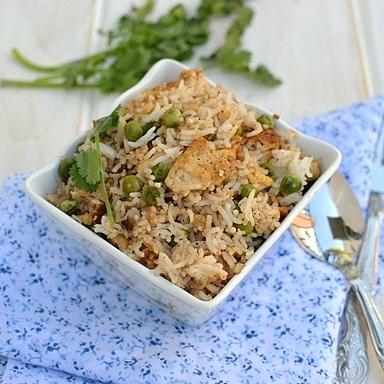 I was watching Dr. Oz's show this morning and one thing he said that was interesting was 'never buy any prepared food that has more than 5 ingredients' and 'if it has ingredients that a 6 year old cannot read -- do not buy'. But if you can make tasty and interesting dishes right at home, then there is no need to buy junk from outside. What do you guys think?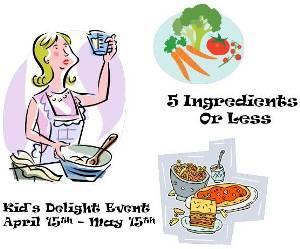 As I was thinking of what dishes to make for the event, I thought it will be interesting to give formulas for dishes instead of actual recipes. All the dishes that I'm going to post are very flexible and can be customized according to your kids likes and dislikes. I wanted to show that healthy and delicious dishes can be made with just 5 ingredients, that doesn't mean you have to stop at 5 -- add more if that pleases your little ones palate.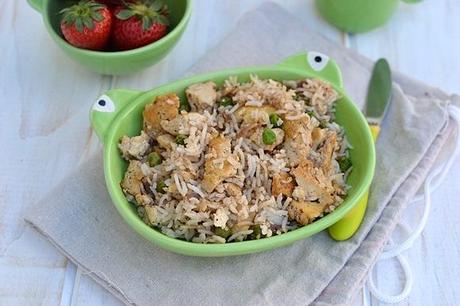 So for the first day, I have this nutritious & filling Tofu fried rice. My son loves egg fried rice and ever since I made Scrambled Tofu, I wanted to add it to rice and see how my son would like it. When he tasted it the first time, he thought it was egg and was surprised when I told him that it was tofu. He loved it.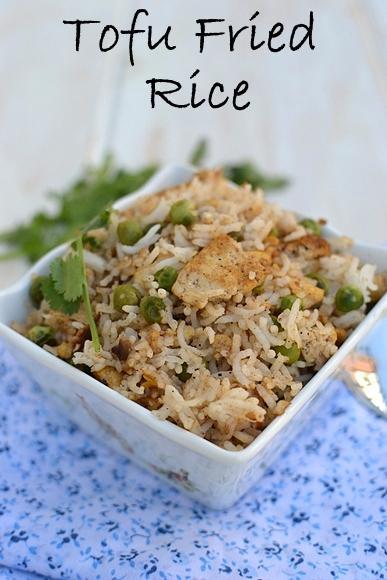 **Just by changing the seasoning, a different flavored rice can be made. Use soy sauce for a Chinese twist or curry powder for Indian rice or some chipotle chili powder for a Mexican yumminess. Here's the general formula to make this dish:
Ingredients
:
Rice (Basmati, Brown Rice etc) - 1cup, soaked for at least 10 minutes
Extra Firm Tofu - 1 12oz. container, drained and pressed for 10 minutes to remove excess water
Onion - 1 medium, finely chopped (Scallions can also be used)
Veggies - 1 cup (Use any vegetable that your kid likes, I added some green beans)
Seasoning** - 1tsp (or as needed)
Salt & Chili powder - to taste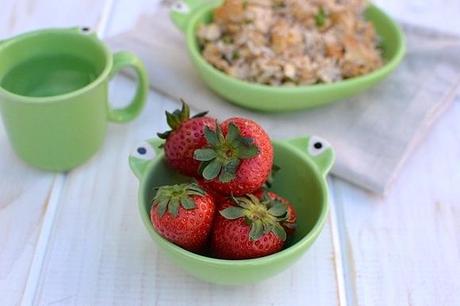 Method
:
Cook rice and keep it ready.
Add 1tbsp oil to a nonstick pan; add chopped onions and garlic, cook for 3-4 minutes or until onions start to brown around the edges.
Next add crumbled tofu and let it cook until it starts to get lightly brown on all sides.
If using powdered seasoning, mix it along with salt, chili powder and 2tbsp water in a small bowl and then add it to the pan. If using liquid seasonings like soy sauce, then mix the chili powder or other seasonings to this and then add it to the pan. I added some MTR pulao masala this time, but our favorite is curry powder. 
Next add rice and mix well. Cook for 2-3 minutes for all the flavors to mingle.
Serve warm with some fresh fruit on the side.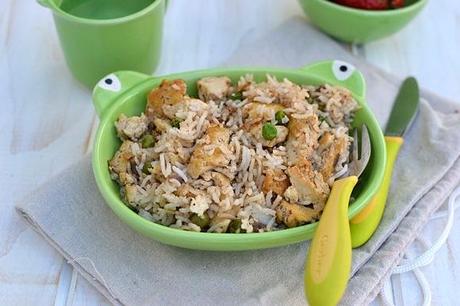 Lets check out what my 
fellow marathoners
 have cooked today for 
BM# 28