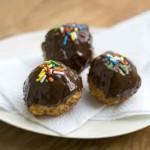 We all have failures in the kitchen from time to time. This is one of mine. My mom couldn't stop raving about these tofu donuts—she loved them so much she fried these babies up 3 days in a row. The original recipe (which comes from a Japanese cooking magazine) calls for Morinaga Hot Cake Mix. I have nothing against store-bought pancake mix, but I didn't see the point since I had all the ingredients to make it from scratch. And this is where things went wrong.
Instead of being light and airy, mine were dense, tough, and more cake-like. I kicked myself because I know better than to deviate from directions on a first try. I was frustrated and disappointed because after tasting one, the rest went straight into the garbage. I'll spare you my disastrous attempt and pass on the instructions as they were sent to me. With my confidence shaken, I'll need some time to recover before giving these a fair shot. You're smarter than I am and for you, I'm positive these will be everything my mom says they were!
My aunt, who lives in Japan, made this after hearing my mom rave about it but quickly decided it was not worth the effort. Apparently in Japan, tofu donuts are not so novel and all donut shop's carry them!
1 pkg (150g) Morinaga Hot Cake Mix
150g med. firm (momen) tofu
2 tsp sugar
oil for deep frying (new oil is better—I used brown rice oil)
Mash tofu with your fingers or pass the tofu through a sieve and into a medium bowl. Add the sugar and cake mix to the tofu and quickly mix well with a rubber spatula. It may look dry at first, but after mixing it'll be fine.
Shape the dough as you like. I shaped them into balls, but you can also make ring donuts and donut holes. Heat oil to 300 to 320 degrees and deep fry donuts until golden brown. Drain on a paper towel-lined plate or baking sheet. Sprinkle with sugar or dip in chocolate and serve.