Everton came to The Liberty on Saturday hoping to retain their unbeaten record against Swansea City in order to avoid a third successive league defeat but Two second half goals from Leighton Baines and Nikica Jelavic ensured they did so, condemning Swansea City to just their third home defeat this season and sending Abi Davies into a state of sorrow only made better by an intake of Wales's finest ale.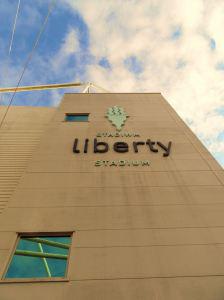 For large spells of the first half, it appeared to be business as usual for Swansea City as they were the commanding force, despite only showing glimpses of the stylish brand of play that has earned them the highest appraisals over recent weeks. However 10 minutes before half time, Everton started to play their way into the game and after the interval continued to assert the dominance they enjoyed towards the end of the first half, pushing forward with far more penetration than their counterparts. Their bold and highly successful approach to stopping Swansea play their game was rewarded by two second half goals to which Swansea had no response.
Danny Graham had two great chances to open the scoring early on, however Swansea's top scorer failed to apply substantial pressure on the Everton goal with either effort. Neil Taylor did exceptionally well to limit the threat posed by Osman in the first half, continually intercepting and dispossessing the English midfielder, it was Welsh left back Taylor setting up many of Swansea's greatest chances, delivering perfectly weighted balls into the area for Sigurdsson and Graham.
Arguably the best loan signing of the January transfer window, Gylfi Sigurdsson was denied his first Liberty goal midway through the first half when his shot was parried away by Howard. Swansea were creating numerous superb opportunities but with their failings to make this first half dominance count it soon became apparent that they could be made to rue these missed chances.  In a vast contrast to the first half, Everton enjoyed far more possession in the second 45 and coupled with a few uncharacteristic errors from the home side, were pushing forward with more urgency and conviction, looking the more likely to break the deadlock.
Having threatened to do so since the restart, Everton finally took the lead just before the hour mark. From a somewhat controversially awarded free kick on the edge of the penalty area, Leighton Baines stepped up and connected superbly to fire the ball into the top right corner, making it impossible for Vorm to deny.
Having been fairly anonymous in the first half, Steven Pienaar, began to demonstrate his class as Everton were looking likely to score every time they were in possession. With second half substitute Fellaini proving an inspired introduction as he sparked additional fire power into the Toffees attack.
With 20 minutes remaining Rodgers made a triple substitution in order to try and change the pattern and ignite a Swansea comeback, taking off both wingers and Swansea's leading goal scorer, their replacements- McEachran, Lita and Moore.
However Swansea's chances of getting back into the game were further depleted with 76 minutes played when Jelavic doubled the visitors lead, having been presented with a tap-in by Fellaini. An undeniably deserved advantage for Everton who had been by far the better side in the second half.  Despite further efforts from the visitors the scoreline remained 2-0, the Toffees becoming only the second side to do the double over Swansea this season.
The Swans midfield trio of Allen, Sigurdsson and Britton linked well in a positive first half for the hosts whilst Sinclair and Routledge posed a threat down the flanks. Carrying on from a fine performance against Fulham, I feel Scott Sinclair delivered one of his best first half performances against Everton, again showing far more versatility, frequently moving infield and posing a threat through the centre, whilst also looking far more accomplished out wide. However Swansea's attack force could not replicate this form in the second half and Everton took full advantage.
Following three flawless victories, I feel many were somewhat expectant of a win on Saturday however, despite the form of both sides, beating Everton is by no means an easy feat given the talented squad they possess.
Complacency may have been a factor in Swansea's undoing at the weekend, however at this stage of the season, fatigue may too have played a part. This said, nothing should be taken away from the job that Moyes' side did on Saturday, stopping Swansea from settling into their rhythm by pressing high up the field.
Swansea will be without Steven Caulker for next weekend's fixture as he is unable to play against his parent club. I feel the defenders presence will be sorely missed against a Spurs side looking to regain some form in order to consolidate their place in the Champions League spot as well as possibly push for a top 3 finish.
Swansea will be bolstered by the return of arguably their most consistent threat for their game against Spurs as Nathan Dyer will be available for the game at White Heart Lane having served his three match suspension following his dismissal at The DW stadium 3 weeks ago.  Whatever happens, the betting tipsters will be sure that Swansea will be back again in the Premier League next season.