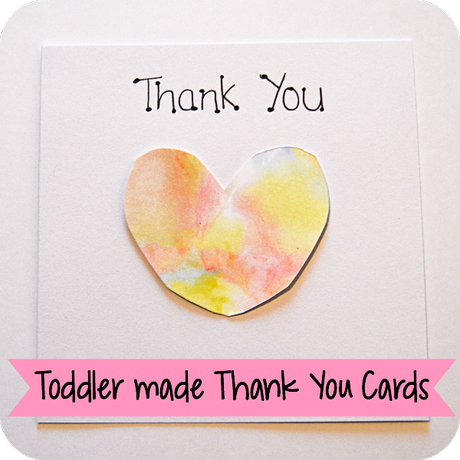 I mentioned in my sensory play post last week that I was planned to use the resulting marbled card to create some thank you cards for Isabelle's Christmas gifts.
I am a big believer in thank you cards and am always disappointed, and even slightly offended, if I don't receive a card for a gift I have given - especially to a child. As a result, for the last few years it feels like I've done nothing but write cards - our wedding, moving into our house, having Isabelle and then her christening, Christmas and birthday gifts...it goes on and on! I am also a big believer that all thank you cards should be personalised and not just a generic thank you printed off and sent out, and think that it is even better if the cards are handmade.
After playing with our shaving foam paint last week, I remembered a great Pinterest pin I saw a while ago for handmade thank you cards and so I took the opportunity to get started on our own cards.
If you haven't read my sensory play post, Isabelle was painting with shaving foam paint. I made it by mixing food colouring and shaving foam, or poster paint and shaving foam. The paint created a great marbling effect, so once Isabelle had finished painting onto tin foil and she had wandered off, the card making began. You can find more on the actual activity here.
Unfortunately, I didn't have any plain card in the house but I remembered a stock of patterned card which I received last year and have never thought to do anything with. The flip side of this card is plain white so I decided I could use it for what I had in mind.
Taking each sheet of card, I carefully pressed it down on top of the shaving foam paint, before peeling it off and setting all the sheets of card out to dry. As the paint was simply coloured shaving foam it made the colours a lovely pastel shade. It also meant that the paint dried extremely quickly - it was dry in under an hour. The shaving foam had transferred some of it's fluffiness to the sheets of card, so to get rid of this I simply dabbed at each sheet with a piece of kitchen roll to 'crush' the foam after half an hour.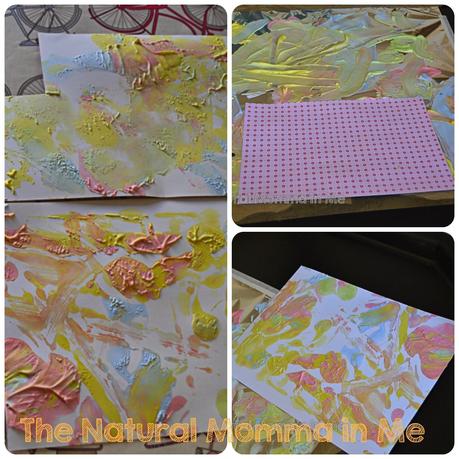 I then used the card to cut out hearts to attach to the front of each thank you card. I tried to cut each heart so that it showed a mix of colours and a little bit of white to give it that truly homemade look. You can see from the pictures that the hearts are all different sizes and are pretty rough cut - but I like to think that adds to their home made appeal! I used double sided tape to attach the hearts onto a blank white card (I bought these at The Works - £1 for 8 cards and envelopes) and then I simply wrote "Thank You" above each in thin black pen before filling each one in for each of Isabelle's gifts.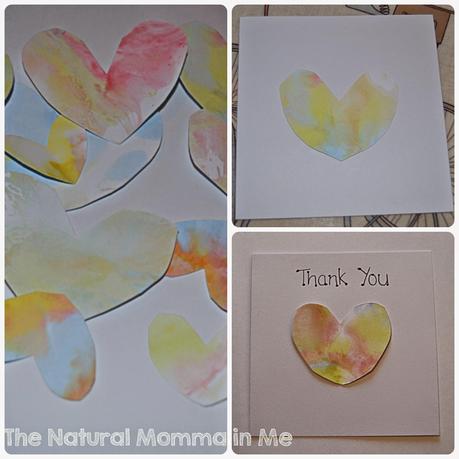 So simple to make, especially as they were actually a by-product of something else entirely! I made a whole load of extra little hearts to use in future cards as well so we are all set for her birthday as well. The marbling effect of the paint on the card was actually so pretty that I popped one of the sheets up onto our art room wall, and gave one to Granny as well.