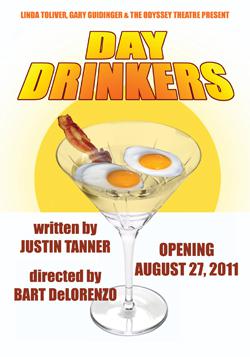 If you live or are visiting the LA area in the next couple of months, check out True Blood's Terry Bellefleur, Todd Lowe in a new play. The play is called "Day Drinkers" and it runs from August 27 to October 9, 2011 at the Odyssey Theater.
Playwright Justin Tanner, whose work has been a favorite of L.A.'s theater audiences since the '90s, is regrouping his troupe of actors for his new comedy Day Drinkers. Nine a.m. is happy hour at the dive bar that Daniel has inherited from his father. As the family of bleary-eyed regulars arrive and morning slouches into day — and cocktail after cocktail is served — secrets are spilled, fights erupt, and hearts are broken and repaired. Love is in the air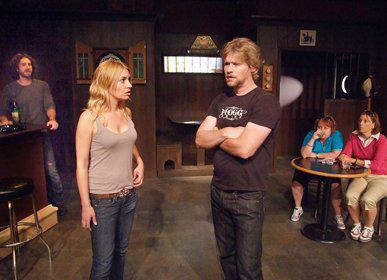 TODD LOWE plays Daniel and here's a short bio
: Todd moved to Los Angeles from Austin, Texas. In Austin, Todd was a co-founder of Shirk Worker's Union, and appeared in their productions of Cowboy Mouth, Waiting for Godot, and The Tower Massacre Musical. He also served as Artistic Director of Cookie Crumb Theatre, and adapted several Brothers Grimm fairy tales into Theatre for youth audiences. Southern California theater credits include The Beginning of August and The Beard of Avon at South Coast Rep., and Wife Swappers, Pot Mom and Zombie Attack! with Mr. Tanner.
Television fans may recognize him as Zach from Gilmore Girls, and he is currently enjoying his fourth season as stressed out former Marine Terry on True Blood.
Produced by Gary Guidinger and Linda Toliver
Set Designer Gary Guidinger
Lighting Designer Bosco Flanagan
Sound Designer Robert Blackburn
Production Stage Manager Jennifer Palumbo
Original logo art by Kristian Hoffman
Additional Graphics by Dane Martens
CLICK HERE TO BUY Tickets:
$25 (Weds-Fri)
$30 (Sat-Sun)
Equity/SAG/AFTRA
$15 on Friday
Student/Senior Discount: $5
(except on Saturday night)
Hot Tixs at curtain time $15