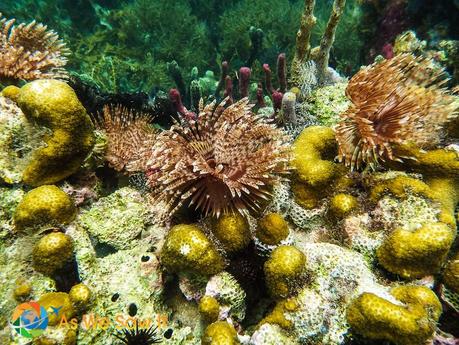 Feather duster worms underwater in Bocas del Toro, Panama
If you look beneath the waves in warm waters you may see these curious creatures. But be careful: If you get too close, they'll snap back into their hole so quickly you'll wonder if they were there to begin with. Feather duster worms, also called fan worms, hide in corals and are filter feeders, which means they eat microscopic stuff.
Yep, these guys help keep the oceans clean.
We took this photo while we were snorkeling in Bocas del Toro, Panama.  The purple things are sponges, the yellow ones are corals, and if you look closely, you might be able to pick out the sea urchin. If you'd like to see more of our first photos with our new point-and-shoot underwater camera, we have a Snorkeling in Bocas del Toro photo gallery.