Virginia astract artist Tory Cowles paints in lush layers of color and movement. Torey has a background doing three dimensional work such as stonewall building, woodworking, interior design, architecture, and carpentry.  She began painting landscapes and portraits before moving into abstract paintings.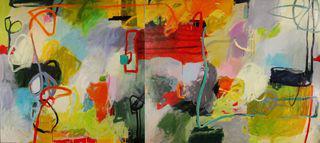 #662, 60" x 132" acrylic on canvas by Tory Cowles.
Tory has a BA from Bennington and is now a member of the Torpedo Factory in Alexandria, Virginia.  She also shows widely in the DC area at galleries such as the Touchstone Gallery in Washington, DC and the Target Gallery in Alexandria.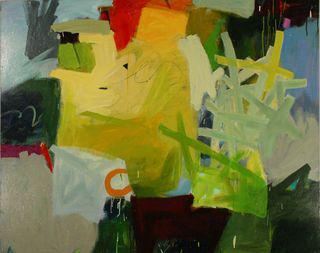 #634, 48" x 60" acrylic on canvas by Tory Cowles.
Tory says about her art:  "The important conflicts I work with are spontaneity and discipline, boldness and subtlety. Incorporation of both extremes gives depth and tension. I like to be spontaneous and then go back with a critical eye often repeating that cycle many times in an attempt to produce a loose, complex, but fresh and integrated whole. The challenge is to combine both strength and subtlety so that both hold their own without detracting from each other."
I couldn't have said it better:  good abstract painting requires both the spontaneity and the critical eye.  Finding a way to integrate those two aspects is the challenge.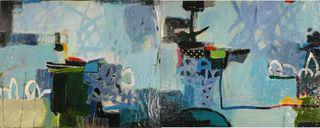 Diptych #631, 48" x 120" mixed media by Tory Cowles.
See more of Tory's abstract paintings, artist's statement and biography at her art website.