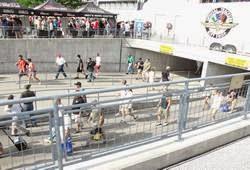 Racers hit the track today for the Indy Lights Practice and Freedom 100 Qualifying. The gates are open and there's time to catch the Indy Lights Practice from 9 a.m.-Noon.
Starting at 1:15 to 2:15 p.m. racers begin the Indy Lights Freedom 100 Qualifying.
Afterwards, is the Vintage Car Exhibition, and the public gates close at 4 p.m.
Getting To The Race:
Ticket information is available for all racing events at the Indianapolis Motor Speedway in 2015 –  99th Indianapolis 500, Brickyard Vintage Racing Invitational, Lilly Diabetes 250, Crown Royal Presents the "Your Hero's Name Here" 400 at the Brickyard and Red Bull Indianapolis GP by visiting www.ims.com/tickets. Tickets are available 24 hours per day, seven days per week.
You can also call 800-822-INDY or 317-492-6700 between 8 a.m.-5 p.m. (ET) Monday through Friday. Or, visit the IMS Ticket Office at the IMS Administration Building at the corner of Georgetown Road and 16th Street between 8 a.m.-5 p.m. (ET) Monday through Friday.