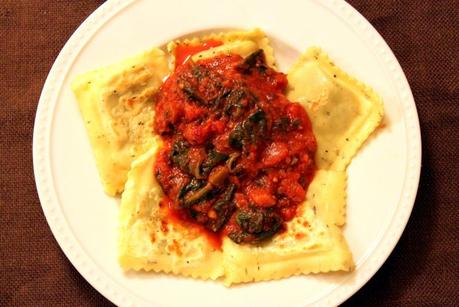 Nothing compares to the taste of fresh ravioli, made from scratch.
Nothing compares to the three hours it takes to make fresh ravioli from scratch either.
And because I love it so much, I'm totally willing to… make store-bought ravioli taste pretty close to homemade ravioli, in under 30 minutes!
Don't get me wrong – I've made ravioli from scratch before and it was delicious, and it was actually fun for a once-in-a-while project too. But during the week, I don't have that kind of time.
So how do I make store-bought ricotta and spinach ravioli taste like it was freshly made that day?
Toast it!
It sounds weird, but it works beautifully. After the ravioli is cooked, I lightly pan fry them on each side with a bit of cooking spray. It makes the pasta puff up like fresh ravioli, and gives the skin a great texture (you'll see what I mean in the directions).
The husband loves this meal, and I love that I found a way to sneak some extra veggies into this dish to make it even healthier. All you need is a few fresh ingredients to complement the store-bought stuff, and you're all set.
The Ingredients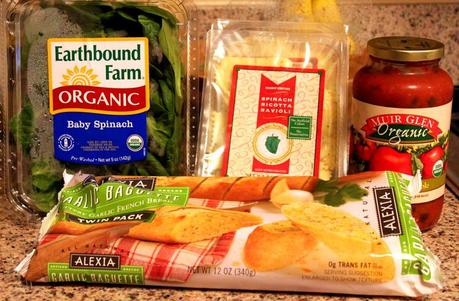 2 packages of Ricotta and Spinach Ravioli: I like the kind from Trader Joe's – each package has about 9 HUGE ravioli so you don't need that many for a filling dinner
1 box fresh spinach
1 jar tomato sauce: make sure you get a variety with no sugar added. I like Muir Glen's Organic Garden Vegetable sauce, because it has some extra veggie thrown in and it's nice and chunky
3 cloves garlic, minced
a pinch of crushed red pepper
Olive oil cooking spray
Garlic bread (optional) – the husband loves this Alexia garlic bread, so he has it as an accompaniment to the pasta. I get pretty full from the pasta alone, so I opt-out of the garlic bread
The DirectionsStep 1: 
Cook the ravioli according to the package directions (should only take 3-4 min max). Drain and set aside.
Step 2: Heat a large pan over medium heat. Spray lightly with cooking spray, and add 5-6 ravioli to the pan (depending on how many will fit).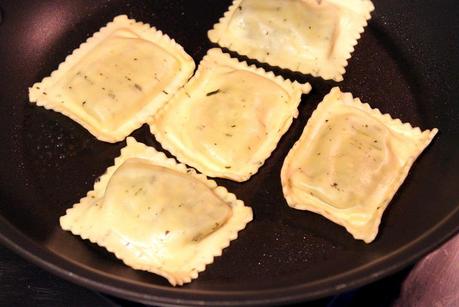 Step 3: Lightly pan fry the ravioli on each side for a few minutes, until the outside becomes golden brown and a little crispy. Repeat with all the ravioli you have.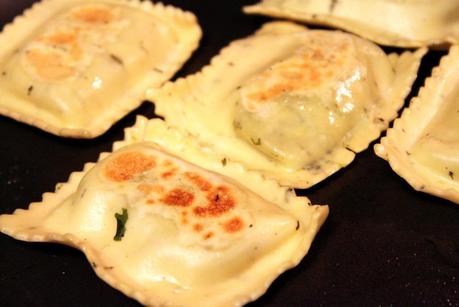 Doesn't that look great? Meanwhile…
Step 4: Saute the spinach, garlic, and crushed red pepper in 1/2 tsp olive oil for a few minutes, until the spinach is wilted. Add in the jar of marinara sauce and bring to a simmer.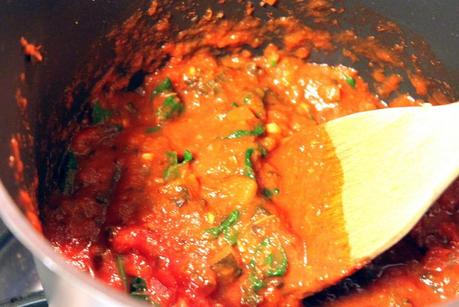 Time to plate! Start with the ravioli…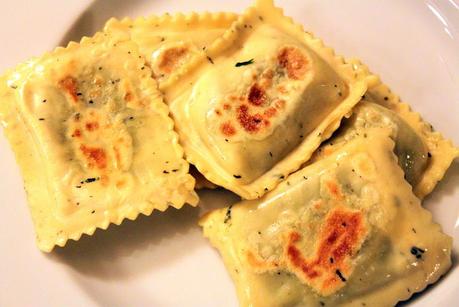 I love how they don't look like your typical store-bought ravioli and how light and fluffy they are.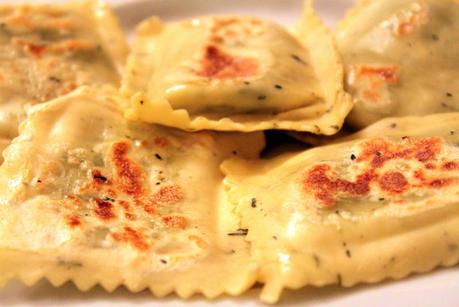 I took 5 ravioli (believe me, with the size of these, that's a lot!) Then I topped them with a HUGE serving of the tomato/spinach sauce.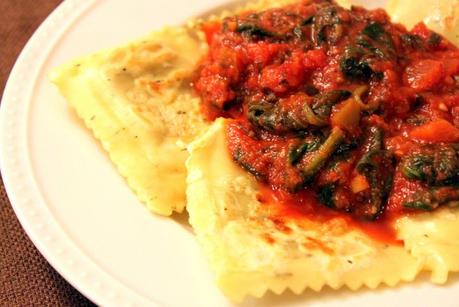 Yay for sneaking more veggies in!
The nutritional stats are pretty great too: 5 of the Trader Joe's ravioli have about 350 calories, 3g fiber and 14g protein. With the sauce, that's an extra ~50 calories and ~4g fiber. For 400 calories, 7g fiber and 14g protein – this is a super satisfying, delicious meal.
You won't believe the ravioli is store-bought after you dress it up with my tricks, and your pasta sauce will taste close to homemade with the added veggies and spices.
It's like an escape to Italy in the middle of the week.