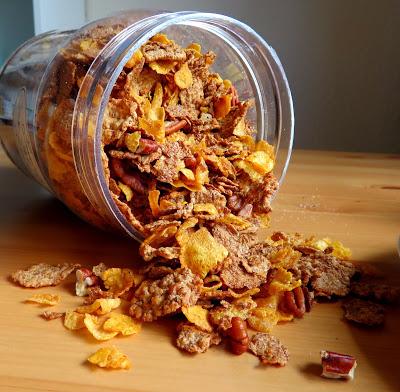 I have been making my own breakfast cereal mix since the early 1980's. I started off with granola, inspired by my next door neighbor Mabel. She always made her own granola and inspired me to do the same.  That simple recipe she shared with me way back when eventually morphed into my own version of the
Perfect Granola Recipe
. It is a beautiful mix of oats, nuts, flaked coconut and sweet maple. You can add your own fruit to it. Dried or fresh. I like to enjoy it with plain yogurt and date syrup.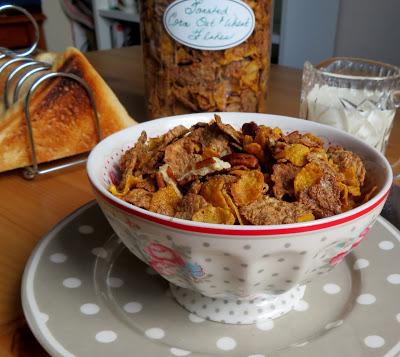 But what if you could do something very similar with ordinary breakfast cereals? The boring ones that tend to get overlooked. Corn Flakes, Bran Flakes, Oat Flakes, Spelt Flakes  . . .

You could create something quite delicious and not too unhealthy by using some of those and giving the granola treatment.  Such a simple concept really  . . .  and so I decided to give it a go.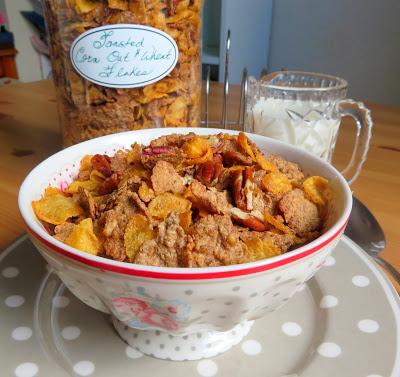 I used cornflakes, bran flakes and spelt and mixed grain flakes.  Each in equal measure.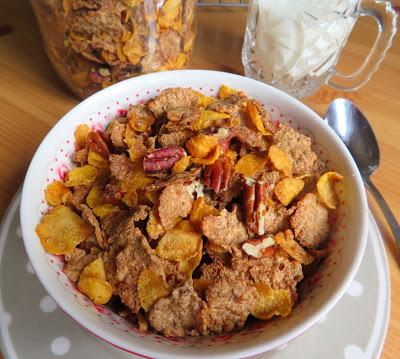 I added a quantity of broken nut meats. I used pecans because that is what I had, but you could use walnuts or filberts, macadamia nuts, or even a mix of nuts.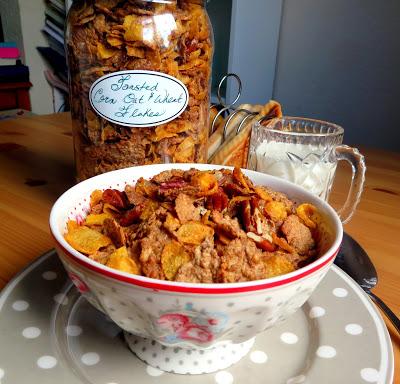 I mixed all of those together in a large bowl and then I mixed together some nut oil and a few other bits.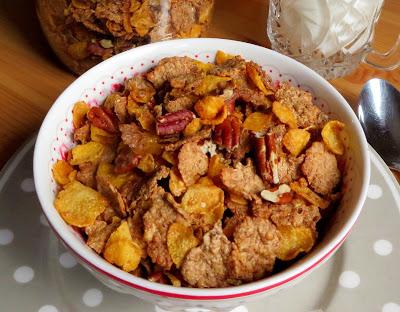 I used walnut oil, but you could use almond or pecan oil, or even coconut oil. I whisked that together with some maple syrup and a bit of soft light brown sugar.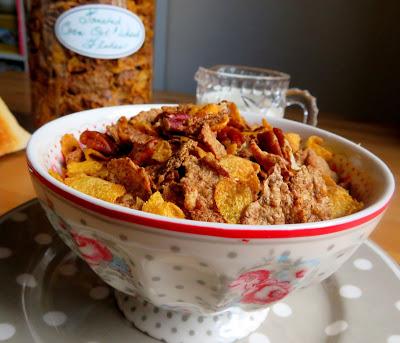 I then drizzled it over top of the cereals and tossed everything together  . . . as best as I could, in an effort to distribute the oil throughout the cereals and nuts.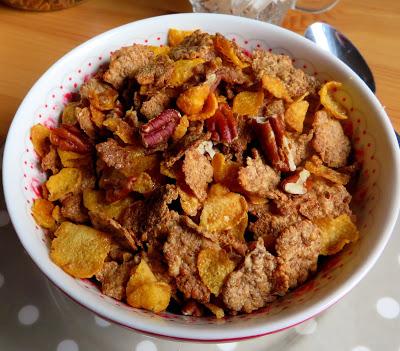 I spread it all out on a baking sheet and then toasted them in a very low oven for about half an hour or so.  I stirred it every ten minutes to make sure everything was getting mixed and toasted as evenly as possible.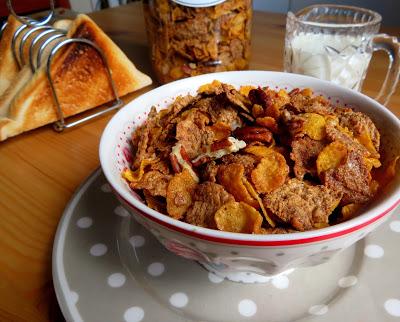 I was really super pleased with the results!  Crisp and crunchy.  Just a touch of sweet . . . a hint of maple  . . .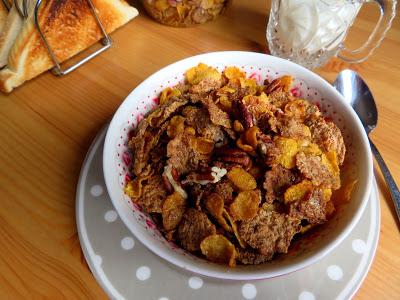 Some lovely whole grains there for fiber . . .  toasty nuts  . . .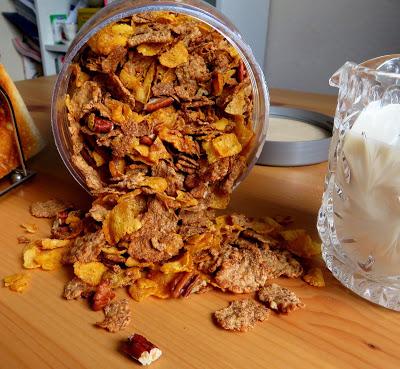 This turned out fabulous!  I have discovered a new favorite and something which is a bit of a change from the old granola.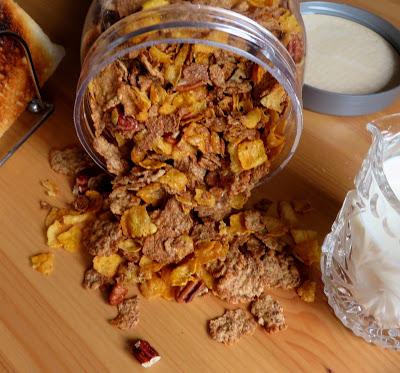 You could vary this as and according to what you have on hand. Afterwards I thought I should have added some coconut flakes . . .  and maybe a few different nuts . . .  some seeds even.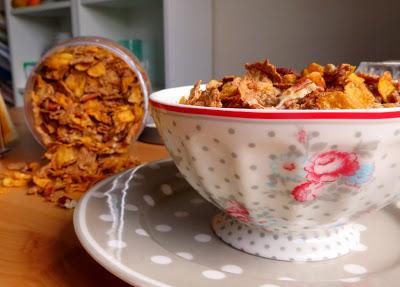 This version is truly lovely however, nice and crisp  . . .  ready to shake into bowls and add the milk  . . . and perhaps a few berries on top.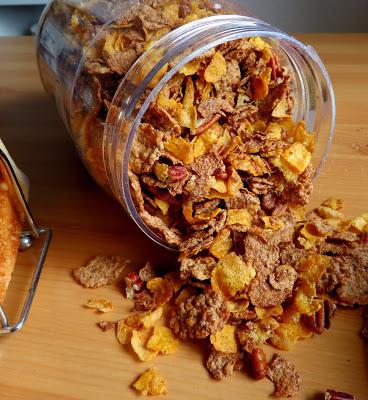 Or maybe even some dried fruit. Some raisins, etc.  Hey, with some of those this would be just like that Fruit and Fibre cereal! "Light bulb moment!"  
Toasted Corn, Wheat & Spelt Flakes
Print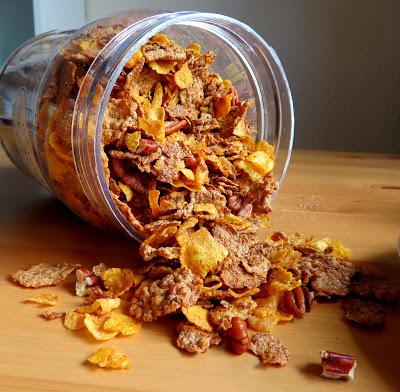 Yield: Makes 12 cups
Author:
Marie RaynerSimple and delicious.  A fabulous way to enhance the wonderful flavours of plain and ordinary cereals we might often take for granted and think dull.
Ingredients:
4 heaping cups of corn flakes
4 heaping cups of wheat bran flakes
4 heaping cups of oat flakes
120g chopped pecan nuts (1 cup)
3 TBS nut oil (walnut, almond or pecan)
3 TBS maple syrup
2 TBS soft light brown sugar
Instructions:
Preheat the oven to 150*C/300*F/ gas mark 2.  Have ready a large baking sheet with a lip.  Spray lightly with non-stick cooking spray.
Measure out all your cereals and nuts into a bowl.  Toss together to combine. Whisk together the nut oil, maple syrup and sugar until the sugar dissolves.  Drizzle over top of the cereal and nuts. Toss together to coat and distribute the mixture evenly.  Pour the mixture out onto the baking sheet and spread it out evenly.
Toast in the heated oven for about half an hour, giving everything a stir every ten minutes. When done it will have a deeper color and be dry an crisp.  Let cool completely on the baking sheet prior to storing in a large airtight container.
Delicious served warm or cold with milk and topped with fresh berries if you have them.
Did you make this recipe?
Tag @marierayner5530 on instagram and hashtag it #EnglishKitchenCreated using
The Recipes Generator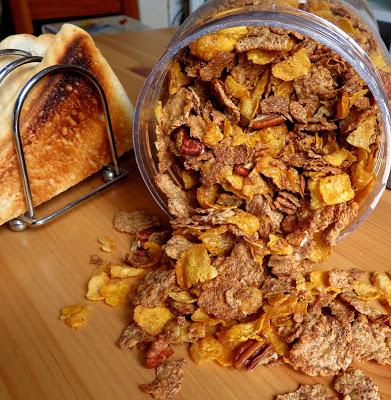 I really, really enjoyed this. It would make for an excellent snack as well, just eaten out of hand like trail  mix! I hope that you will be inspired to give it a go!  Let your imagination go wild and see what you can come up with! 

Follow my blog with Bloglovin