I'm utterly confused as to how the heck it is summer already, but I'm trying to fully embrace the bounties of gorgeous fruits and tropical flavors that the season allows me to incorporate into my baking. I love the berries, the stone fruits (of course, the mangos), the coconut, just the freshness that comes from summertime baking and cooking and eating. It's debatably my favorite foodie season – that's saying a lot. This toasted coconut blueberry banana bread encompasses a whole lot of my favorite things summertime baking!
Since I'm all about toasted coconut in and on everything, when I started thinking about ways I could jack-up one of my favorite healthy banana bread recipes for the summer time, I immediately went to toasted coconut. I also threw in blueberries to have some fresh bursts of flavor, and I loved the resulting flavor combination. If you're not a blueberry fan (or just don't have them on hand), replace it with chopped peaches or mango or raspberries or whatever delicious, in-season fruit you happen to have on hand! One of the great things about this recipe is how versatile the add-ins can be.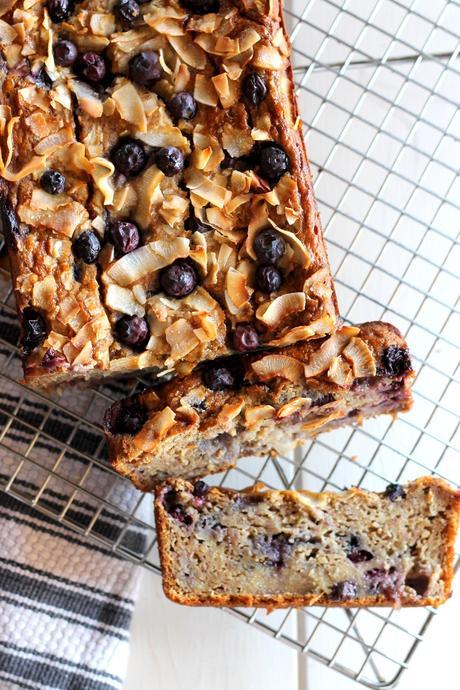 I absolutely love how moist and tender this banana bread turns out, just begging to be devoured warm with a little coconut butter or almond butter for breakfast, or you know, just in tiny slivers stolen whenever you walk by. No judgment here. The applesauce and bananas make sure that this bread isn't going to dry out anytime soon (and consequently, it does take a while to bake, but it's worth it).

Though it is a gluten-free recipe, it doesn't use a whole bunch of weird flours, just oat flour, which if you don't have on hand, can be made by putting some oatmeal in a food processor or blender and blended until fine and floury. Voila – homemade oat flour.  Oat flour is one of my faves because it doesn't make anything weirdly gritty like rice flour can sometimes do, and it also doesn't require xantham gum or any other odd add-ins that sometimes GF recipes require and that you probably don't have on hand if you don't typically bake gluten free. The lack of oil or butter in this recipe is another major bonus, and it doesn't have a whole lot of added sugar either.

It's pretty much the dream banana bread if you want to totally devour with little guilt, and let's be honest – bikini season is upon us, so the less guilt, the better! Enjoy!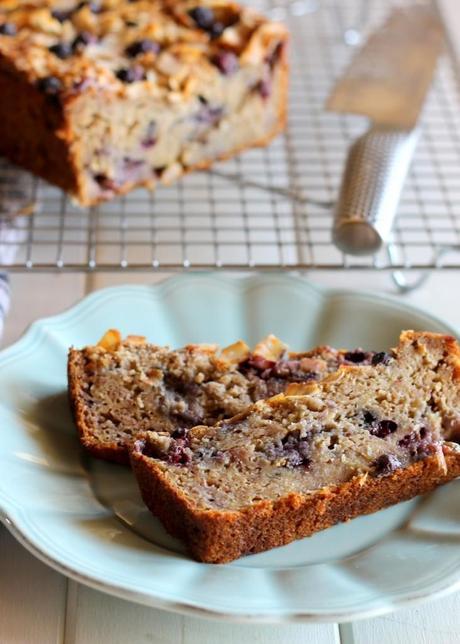 Print

Toasted Coconut Blueberry Banana Bread
Ingredients
1/4 cup (3 oz.) honey (or maple syrup, 2 3/4 oz.)
3/4 cup (6 oz.) unsweetened applesauce
1 1/2 cups (12 oz) mashed ripe bananas
2 eggs
1 teaspoon vanilla
1 1/2 cups (5 oz) oat flour*
1/2 teaspoon salt
3/4 teaspoon baking soda
1 teaspoon baking powder
1/4 teaspoon cinnamon (optional)
1/4 cup (1 oz.) shredded coconut, toasted (+ more for topping if desired)
1 cup (6 oz.) for inside loaf + 1/4 cup (1.5 oz) for topping, fresh or frozen blueberries
Instructions
Grease one 9"x5" loaf pan and preheat the oven to 350º F.
In a large bowl, stir together the eggs, honey, applesauce, mashed banana and vanilla. In a separate bowl, combine the flour, salt, baking soda, baking powder, nutmeg, and cinnamon and add to the wet ingredients. Fold in the toasted coconut and 1 cup blueberries.
Spoon batter into the prepared pan and top with remaining blueberries, and if desired, more untoasted coconut. Bake about 75-90 minutes or until a toothpick comes out clean or with a few crumbs attached. Let cool, and enjoy!
Notes
Make your own oat flour by grinding oats in a blender/food processor until they are a fine powder!
Schema/Recipe SEO Data Markup by ZipList Recipe Plugin2.5
http://www.bakerita.com/toasted-coconut-blueberry-banana-bread/
Recipe adapted from my Secretly Healthy Banana Bread