Whitby, England wanted me back for one more blog post, I wanted to say 'Thanks For Everything!' Not feeling bitter by the chilly temperatures, my day in Whitby was about to show me some depth just like the ocean blue! Beside the sea, I had no clue that I would be faced by the infamous explorer, Captain Cook! I was shooketh! A reunion was had at Whitby's own Abbey!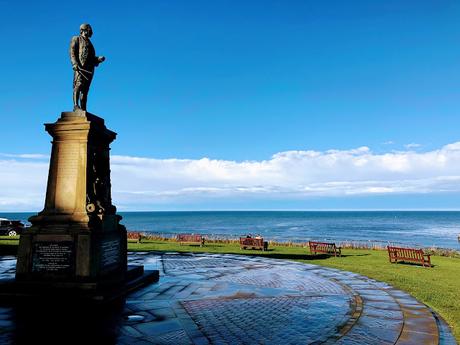 With my Clara's waffle cone double scoop chocolate ice cream, I minded my own business as I marvelled at the views of the North Sea along Whitby's West Terrace seafront. I did see a statue in the near distance near the Whalebone Arch but thought nothing much about the person it paid homage to, who was it? No, I wasn't having it! It was in-fact Captain Cook! I had no idea that he had sailed from Whitby to Australia during the 1700s? Walking closer to confirm the claim that was Captain Cook, I stumbled upon the engraved words that in bad taste celebrated this so called 'explorer'. I read that in 1970 the 'High Commissioner for Australia' unveiled this statue, listen real quick, Australia didn't deserve such people to find its shores because it was doing fine before those twisted explorers reclaimed it! I was really not happy to see such a sorry statue looking over such a lovely view, for the reason Captain Cook amongst his exploring peer went on to do things didn't warrant any gratitude! No celebration for colonisation! Period! OK!
Blocking the statue out of sight, I couldn't do that in mind because I was incensed to have seen such a figure celebrated regardless that his vessel, HMS Endeavour sailed from Whitby to Australia and New Zealand in 1768. For what? For why? For who? Explain this to me please! Don't, referencing the statue, I did read that the people of East Australia owed Cook a level of gratitude? Why? Australia in its natural state, with its resourceful Indigenous First Nations people made their lives rich before the British invaders claimed that the colony needed to be built? Australia worked for the Indigenous people before those imposing first fleets sauntered down from England in the first place, really Captain Cook? It's a barbaric part of history that unfortunately can't be reversed since it happened back in the 1700s, that doesn't discount that a crime in history, will always be a crime. Cpt Cook's Whitby statue left something in my mind, I'll stand up to say 'Always was, Always will be! Jojo Zaho, we saw your message on DRDU Season 1!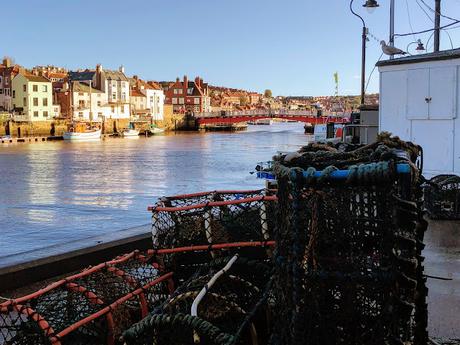 Walking down from the western side of the harbours cliff edge allowed us to take a closer look at Whitby's pint-sized harbour-side. With the River Esk on one side and Pier Road to the other, both views had me capturing a seafaring and touristic contrast simultaneously. I for one wasn't bothered by the flashing arcade lights, I could have gone to Scarborough or Skegness if I wanted to experience such tack! Alright? I paid more attention to the views of the fishing trawlers, those smaller boats served character and proved to me the local fish would be fresh! Taking a second pub stop at the 'Jolly Sailor Inn' allowed us to listen to some interesting conversations that were going on around us, check out the other blog to make sense to this statement. Back out on the waterfront, I loved the contrast between the harbour-side settings and tourist honey pots, fish 'n' chips were definitely on our agenda but Pier Head would not be serving us! Pricey wasn't the category for us that day in Whitby! No! Sure, that riverside added to Whitby's seaside charm! 
Being currently based in the West Midlands, the only waterway I'm able to see on a daily basis are the canals. No canal in the West Midlands matched the watery looks that were being brought to me in Whitby. From the everyday concrete dullness, a fire had been ignited once again in me because I was able to see a nautically inspired view up in Whitby. I had a burning hot desire to climb those 199 steps up to the Abbey, that would happen in good time. Sometimes we get distracted by things, those sights that are out of our 'conditioned' norm. As me and my Mum walked along Pier Road towards the 199 steps, onward to the opposite side of the River Esk we saw a gaggle of Goths. Those proud individuals were serving as a collective during Sunday's part of the annual Whitby Goth Weekend, they were representing their tribe and from every angle they were more than pleased to pose for photos. The Chinese students found them especially interesting to admire, they looked as if they were intrigued by the Gothic fashions. C-19 be gone!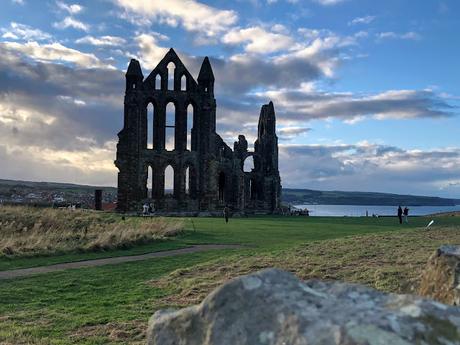 With Church Street and Church Lane both in our sights, the 199 steps would be presented to us once again! Once again? Of course, we had been to Whitby many years before that 2021 October moment, those steps seemed a lot easier after that much needed growth spurt! Making it to the top of the 'world', well almost because we were faced with the graveyard of the Church of St Mary. That beverage of the alcoholic kind had me feeling a little bit of extra confidence, seeing two Chinese people who looked around my age, I bit the bullet! I asked them in fluent Mandarin Chinese if they thought the view of Whitby looked beautiful and if England was beautiful in general? They stood utterly perplexed because I was sure they were thinking 'where did he learn that Chinese chat?!' They asked me and in Chinese, then I responded, to say that I had worked in China for some five or so years as a teacher of English. Of course, I mentioned that Beijing and China stood as equally beautiful, caring to mention the beauty of Beijing's 故宫. 漂亮? Oh, 中文! 
Whitby's Abbey looked amazing, though we were not prepared for the shade that we were about to be served! No, we were not! I had this blog very much in mind, naturally I wanted to secure an unspoilt panoramic view of Whitby and its very Abbey. English Heritage tried to put a price on that but we kept things canny because we saw a sign for the 'Whitby Brewery', that taproom had a picture perfect view of the Abbey, that was a serve! For a cut price pint we were blessed with a tasty hoppy beer and a stellar view as the sun set over Whitby, it was the perfect end to a day, which at its start had the most vile weather forecasted. We didn't have to scale any fences to get a perfect view of the Abbey, we simply walked around the corner from the brewery to peer over the stone wall. With just enough to make it down the 199 steps, we made sure our fill of the Abbey's beauty had been captured to our liking before we moved on. With the world turning faster than time, Whitby had ensured all sights on our list had been seen without stress. Go on, Whit-Bee!!! 
Oh No, Captain Cook...  She Better Don't! 
Joseph Harrison