Panmunjom, officially called the Joint Security Area (JSA), is on the west portion of the 155-mile long Demilitarized Zone (DMZ) on the military demarcation line dividing North and South Korea. The UN forces hold jurisdiction over JSA. These forces stay in
Camp Bonifas
, named after Captain Arthur Bonifas who was
killed (along with Lt. Barrett) at JSA by North Korean soldiers in 1976
.
Joining the Panmunjom tour, you will be taken to the Odusan Unification Observatory, Imjingak Park, Camp Bonifas (where no photos are allowed), and JSA.
At the Odusan Unification Observatory...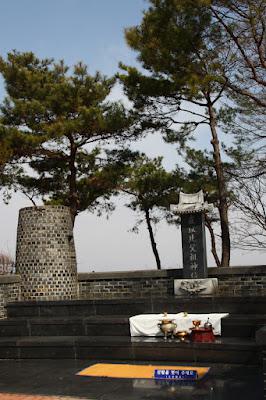 Before entering the building, you will spot this altar, built as a place of prayer for North Koreans who have abandoned their homes to take refuge in the South during the war and now wish to return home.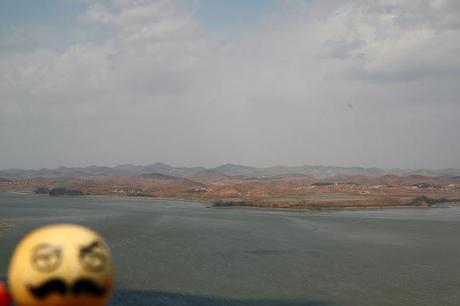 At the outdoor observatory, North Korea can be seen just across the Han River. You can drop coins into the binoculars to check out what's going on in the north. The map in the observatory will help you locate the Kim Il Sung Memorial Hall, a cultural hall, an elementary school, and some mountains of North Korea.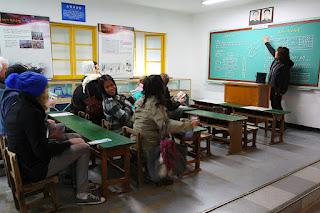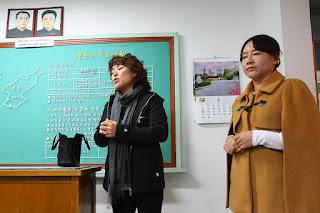 At the exhibition hall, you will find bits and pieces of North Korean life: clothes, money, a classroom, a bedroom, etc. The above left photo is a classroom where a North Korean defector will talk about life in the north and will answer whatever questions you might have. The lady in black is our tour guide, and the one in brown coat is the NK defector. She tried to escape to China by swimming across a river, just 500m across, but was caught and was to be brought back to the north. Deciding she'd rather die than go back, she drank poison which made her sick and incapable of work. She was then brought to the Philippines to recover, before being sent to South Korea.
At the theater, prepare yourself for a short film entitled "Sell My Daughter for 100 won", a heartwrenching film about life in the north.
At Imjingak Park...
Imjingak Park was built to console Koreans from both sides who cannot return to their homeland because of the division of the country.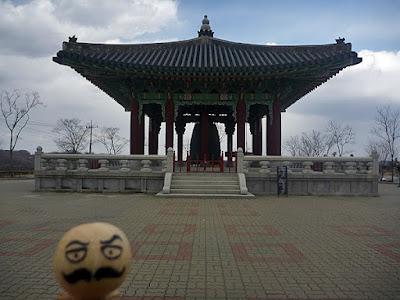 The 21-ton Peace Bell, made of bronze and tin, symbolizes the hope for peace and reunification of Korea. If you'd like to ring the bell to call for peace, you have to make a reservation at the tourist information center and shell out (why does one have to pay to ring for peace?) 10,000 won (per group/team/family). It can only be rung (three strikes) every hour from 10AM to 5PM.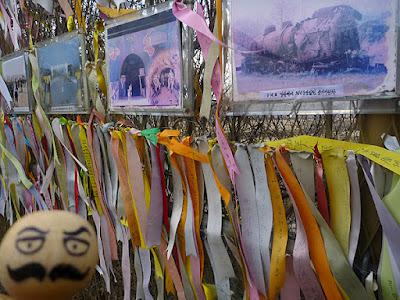 You may also write your hopes and prayers for peace and unity on ribbons.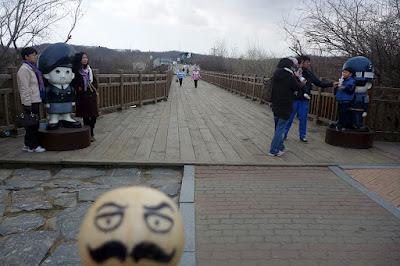 The Freedom Bridge, named after the prisoners of war who have crossed this bridge to return to their homeland.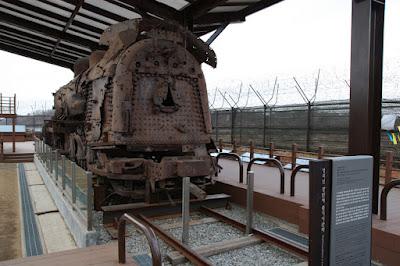 A rusty steam locomotive stands in silence at Imjingak Park. It was derailed during the Korean War and is riddled with more than 1,000 bullet holes. (I did not count them, it was written on the description board.)
 At the Joint Security Area (JSA)...
Before the JSA tour, one must sign a declaration at their visitor's center.  Bottom line of the declaration: you are entering a hostile area and there is a possibility of injury or death as a result of enemy action; the UN Command, the USA, and the Republic of Korea can't guarantee the visitors' safety and are not accountable in the event of a hostile enemy act. Doesn't that scare you?
The closest one could get to North Korea is in this area.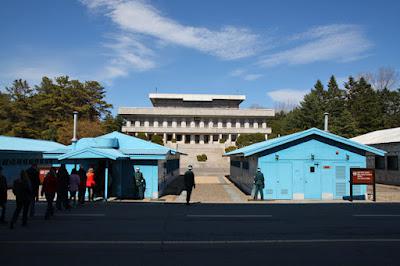 Panmun Gak, the gray building seen in the above photo, is the office of North Korean guards. Photo above as seen from the Freedom House (no photo of Freedom House because it's not allowed).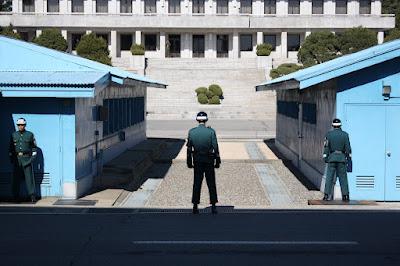 Photo by Ayin Ersando
At the time of our visit, it was quiet on the north side. One lone soldier was standing on the steps of Panmun Gak looking thru his binoculars. According to our guide, it has been quiet since the death of Kim Jung Il in December 2011.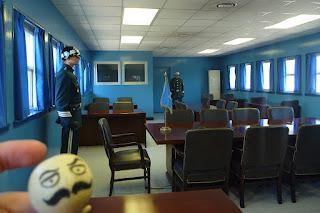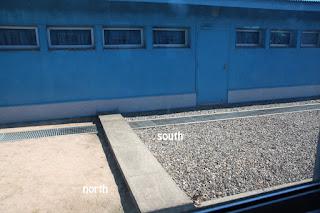 Inside the UN Command Military Armistice Commission Conference Building (above left) is the only time you can claim you have been to North Korea. Half of it lies in the North, and half on the South. The demarcation line (above right) as seen from inside the room.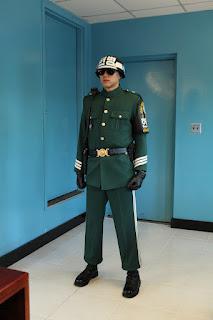 Photo by Bee Chavez
When visitors from the south side enter the conference room, ROK (Republic of Korea) soldiers accompany them and stand in certain areas in a fighting stance. The door leading to the north side is closed.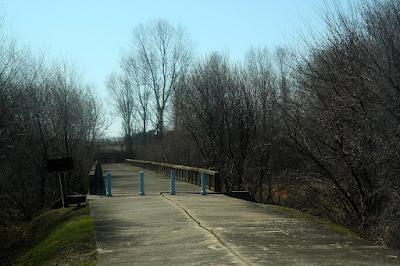 The last stop at JSA is the Bridge of No Return. It crosses the demarcation line and was named such for t
he prisoners who were brought to the bridge were given the choice to remain or cross over to North. In crossing the bridge, they were never allowed to return.
Read more about DMZ
here
.
Was this tour worth it?
If you like learning about history and current events, then yes. A resounding yes. Sorry, this tour can't be DIY. You have to go thru a tour operator and there are only three companies authorized to enter the DMZ. Foreigners are required to give three days notice but citizens of certain countries (Afghanistan, Egypt, India, Indonesia, etc, see full list here) cannot participate. Koreans need to apply for a permit at least two months (could go up to 6 months) in advance; this is for a thorough check ensuring that that person isn't there to try escape to the other side (which I think is a foolish plan since this is a heavily guarded area).
Panmunjom Tour details
Available Tuesdays to Fridays, except holidays.
Reservation required. Name, nationality, age, passport number, and color scan of passport must be provided 3 days before the desired visit since this is subject to screening and approval.
Visitors must bring their passport during tour day.
Tour fee is 77,000 won, which includes the bus transfers, guide, and lunch.
Tour itinerary
10:00 Depart from Lotte Hotel
10:50 Odusan Unification Observatory
12:20 Imjingak Park
12:40 Lunch
13:50 Passport check
14:30 Camp Bonifas and Joint Security Area (JSA)
16:30 Depart from JSA
17:30 Arrive at Lotte Hotel
Rules
In the conference room, do not touch any equipment (microphones, flags, etc) belonging to the north.
Do not speak with, make any gesture toward or in any way, approach or respond to personnel from the north.
Ripped jeans, sleeveless shirts, mini skirts, shorts, military clothing, and slippers are not allowed.
Shaggy or unkempt hair is not allowed too. 
No cameras with over 90mm zoom lens.
Children under 11 years are not allowed.
Consumption of alcohol is strictly prohibited.
You can avail of the Panmunjom tour or choose other DMZ related tours at:   Panmunjom Travel Center 6th Floor Lotte HotelSogong-dong, Jung-gu, Seoul02 771
[email protected]
How to get to Lotte Hotel (meeting place for the Panmunjom tour):
Take the subway to Euljiro 1(il)-ga Station (line 2/green line) and look for the exit for Lotte Hotel.
 South Korea Series:
Tourist Visa to Korea
Random Things About Kimchiland
From One Point to Another
Homes Away From Home
My First Meal is Not Korean
You Will Never Go Hungry Here
To the North We Go...Almost (you're here!)
Strolling, Collecting Sights
A Dose of History: Gyeongbokgung
Double Dose of History: Changdeokgung & Huwon