Today's Excerpt is from 
Not Afraid to Love You
Written by Jude Ouvrard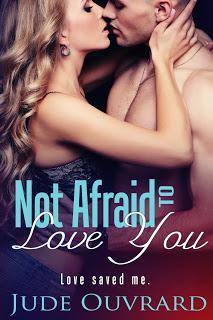 Staying inside seems like the smart thing to do but I need some fresh air. Talking about my life and how fucked up it is makes me feel uneasy. When I lived with Dave, talking about my problems never appealed to me because I knew how it made me look. Now, I have to work hard to get my strength and self-esteem near where it used to be.
"Let's go out. I've missed my city." Matthew and Abbey smile at me like I've just reached a milestone or something. "I need fresh air too."
"Alright, let's go. I know the right place to go." Abbey says.
As soon as I step outside, I look up at the sky and take a deep breath begging myself to be strong and not weak.
I have been weak enough in my life, right?
Sitting back in my sister's luxurious car, I let her drive us to the restaurant. My stomach keeps growling and it's getting embarrassing. I'm on edge, my eyes following every person on the sidewalk and looking at every building we come across.
She finally parks her car in a large lot almost filled to capacity. I've seen this place before but I never went inside. The Spot, that's what they call it, I remember.
Matthew nudges his sister. "Are you even old enough to get inside?"
"Don't worry, it's all under control."
Stepping out of the car, I follow them to the entrance. The security guy hugs my sister as they chitchat. How does she know him? I don't understand. This place requires you to be twenty-one and she isn't, yet.
When we walk inside, it hits me. The place is full of men in uniform…Air Force guys. This has to be where she met her boyfriend. Some of the guys nod at her, some wave.
"Hey, Ab. Logan isn't out yet."
"I know. I came with my brother and sister." The guy's eyes zoom in on mine and he winks. Heat surges to my cheeks. Why am I blushing? Matthew subtly steps in front of me.
"Hey, Matthew." They shake hands and engage in some small talk.
"Meet my sister, Lilly. She just moved back to town today."
"Nice to meet you. I'm Carlos." We shake hands but I can't look him in the eyes. I avoid him and it must look stupid. Maybe going out tonight wasn't a good idea, after all. I'm not ready for this. He lets my hand go.
"Are you okay? Did I do something wrong?" For someone so tall and big, he has the most comforting voice but I can't do this.
"I… uh… I." I stuttered.
"No, it's okay. She's been through a lot. We're just going to go sit and eat. I'll talk to you later." Abbey takes control of the situation. She's now in protector mode too.
I order a club sandwich, which I plan to eat all of and no doubt quickly because I'm so hungry. As well as that I order a beer, my first beer since I moved away from here because Dave only ever drank wine. I am going to savor every drop of it. Only now as I relax, it strikes me why I am so hungry, I haven't eaten all day.
Fifteen minutes later, our food arrives and I think I'm going to pass out if I don't start eating now. Matthew is already cutting into his steak while Abbey digs into her pasta bowl. My mouth's full, I probably have one quarter of my sandwich packed inside my mouth. Way to go, Lilly.
"Hey, guys."
"Hey, man. Sit with us." Matthew offers the seat next to him, which is also next to me. I hurry and try to swallow the damn sandwich. "Do you remember my sister, Lilly?"
Trying to look normal, I turn to him with a fake smile. I do know him. My first high school crush. Lennox Love. My brother's best friend until he moved away to Seattle.
My smile turns real and honest. "Lennox, hi."
"Hi, long time no see."
I think I'm going to faint. Many nights while I shared my bed with Dave, I thought about him. Wondering where he was, what he was doing. Would I ever see him again?
There was nothing normal about my crush on him. Well, unless crying for two days when he moved away is normal?
Lennox freaking Love. Is. Back.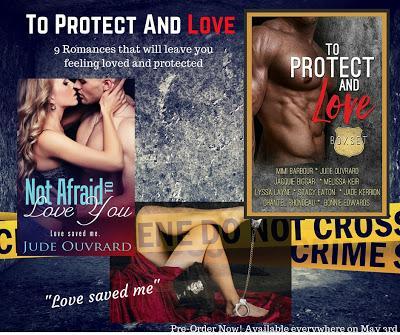 Escaping a life that nearly destroyed her soul, Lilly struggles to cope with the aftermath of an abusive relationship. Can her high school crush, Lennox, release her heart from its cage?
Not Afraid to Love

Y

ou is part of the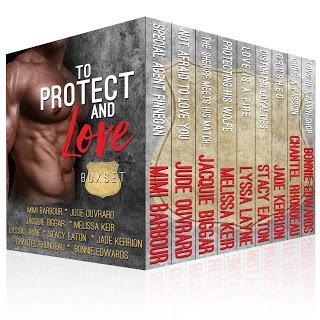 When the oath to protect and serve tangles with love, expect sparks and lots of heat!
Hot firemen, alpha cops, sexy detectives, and dashing federal agents...this anthology from 9 best-selling and award-winning authors will have you rooting for your favorite heroes and heroines as they step up to the greatest challenge of their lives--to protect and love.
To Protect And Love box Set
O
fficially releases on May 3rd! 
Pre-order your copy today!
Amazon
Barnes & Noble
Google Play
Kobo
About the Author:
Jude Ouvrard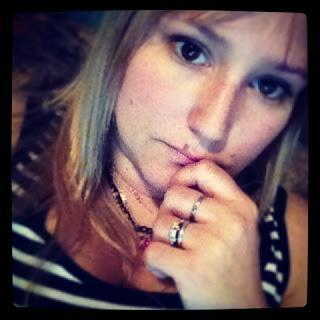 An Amazon international bestselling author, Jude Ouvrard writes from the heart, and reads with passion and devotion.  Jude enjoys stories of drama, true love, tattoos, and everything in between. While writing is her therapy, reading is her solace. Life doesn't get better than books and chocolate, and maybe a little bit of shopping.
A romance lover, Jude writes about love, pain, heartbreak and matters that will challenge your heart. A book can tell an unexpected story, no matter which directions it takes. Jude embraces words that have haunted her for years.
Jude is a working mom who dedicates her time to a law firm and writing books. She has an energetic seven year old superhero son, and a boyfriend of fourteen years. Her family is her rock; she could not survive without them. Born a country girl, she transformed into a city woman who now lives in Montreal, Canada. Although French is her first language, Jude decided to write in English because she liked the challenge.
Jude Ouvrard is the author of two novellas, Under the Sun and Wonderland, and four novels, Lost Dreams, Body, Ink, and Soul, Ophelia and Music, Ink, and Love. She is currently working on her Ink series.
Connect with Jude:
Facebook page:
https://www.facebook.com/JudeOUVRARD/
Twitter: @Judeouvrard @AuthorJude_O
Website:
https://authorjudeouvrard.wordpress.com
Instagram:
https://www.instagram.com/judeouvrard/
Join my Newsletter Mailing List:
http://eepurl.com/bdKqpL
Join my Street Team:
https://www.facebook.com/groups/judesbooks/