Today's Excerpt is from 
The Sheriff Meets His Match
Written
by Jacquie Biggar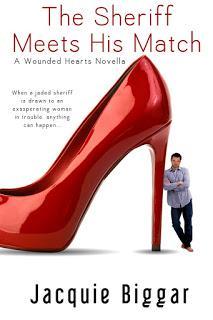 Jack hesitated with his hand fisted to knock on Laurel's pumpkin-

colored

door. His aunt had this thing about brightly painted doors being good luck, or some such hogwash. The murmur of a voice from within told him Laurel had company. Male company. He tapped the file in his other hand against his thigh and glared a hole through the door.

"Guess it can wait 'til morning," he grumbled, turning to step gingerly down the snow-covered stairs. Whoever-the-asshat-was, he could have at least shoveled them off for her. Just as he reached the sidewalk an angry shout coming from inside the house startled him. Jack grabbed for his service revolver and jumped for the door. He missed the stairs entirely and dropped the file, allowing it to fall unheeded into the snowbank. The papers from within tobogganed down the slope.

He rammed a fist against the wood. "Sheriff's department, open the door." His heart thundered in his chest and there was a ringing in his ears. Was he having a frigging heart attack for crying out loud? He'd never reacted like this before, not even when he'd chased after a murderer a few months ago. But the thought of someone hurting…

"Laur…el," he shouted, panic clawing the back of his throat. Jack tried the knob but it was locked. He took a step back, angled himself sideways, and prepared to slam his shoulder into the wood. He started forward, slipping a little on the icy deck boards. Good thing, because it slowed him down just enough to narrowly avoid ploughing Laurel over when she pulled the door open.

"Hello?"

When she saw him barrelling toward her with a gun in hand her beautiful eyes took over her face. "Yee…ahh," she cried, tumbling backward and smacking her head against the now swinging door.

Fuuuck.

Jack tried backpedalling, but the slippery footing beneath his cowboy boots—dumb choice of footwear—had him sailing right into her already off-balanced body.

"Laurel, holy shit." His hand reached out to grip her shoulder, conscious of the soft womanly feel of her plastered against his rapidly hardening body. Great. "I'm sorry, honey. Are you okay?"
 
When a jaded sheriff is drawn to an exasperating woman in trouble, anything can happen. 
Love in a Pawn Shop

is part of the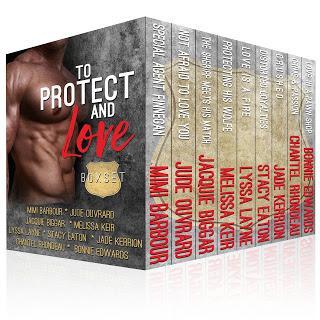 When the oath to protect and serve tangles with love, expect sparks and lots of heat!
Hot firemen, alpha cops, sexy detectives, and dashing federal agents...this anthology from 9 best-selling and award-winning authors will have you rooting for your favorite heroes and heroines as they step up to the greatest challenge of their lives--to protect and love.
To Protect And Love box Set 
O

fficially releases on May 3rd! 
Pre-order your copy today!
Amazon
Barnes & Noble
Google Play
Kobo
About the Author:
Jacquie Biggar
 
Jacquie writes Romantic Suspense with tough, alpha males who know what they want, until they're gob-smacked by heroines who are strong, contemporary women willing to show them that what they really need is love.

She has been blessed with a long, happy marriage and enjoys writing romance novels that end with happy-ever-afters. Her first book, Tidal Falls, finaled in the BTS 2015 Readers Awards.

Jacquie lives in paradise along the west coast of Canada with her family and loves reading, writing, and flower gardening. She swears she can't function without coffee, preferably at the beach with her sweetheart. :)




Follow Jacquie's website below - if you check out her giveaways page you'll find tons of great prizes every month!




http://jacqbiggar.com

http://Facebook.com/jacqbiggar

http://Facebook.com/jacquiebiggar

Facebook Street Team:

https://www.facebook.com/groups/1051448161572521/

http://Twitter.com/jacqbiggar

http://amazon.com/author/jacquiebiggar

https://www.goodreads.com/JacquieBiggar

http://Pinterest.com/jacqbiggar

https://www.bookbub.com/authors/jacquie-biggar


Newsletter- http://eepurl.com/2MFvX