Looking for answers
After a long journey which started with a peeling noticeboard in 2008, via a contract in 2013, #journey – the way of the disciple, is moving towards submission to Paternoster Press.  Towards the end is a chapter entitled 'around the campfire'. Here is an excerpt:
Towards the end of his journey along the Camino to Santiago, journalist Jack Hitt found himself savouring a kind of mellow shared humanity in a way that he had never done before. His last night before entering the city was spent camping in a field with many others- some of whom he had met along the route and others who were strangers. Here this hard-nosed journalist waxes lyrical as he recalls the experience:
After suffering and hazards and quarrels they found in a thing as plain as an apple or a piece of bread awe, wonder and humility.
Around the campfires in that field people from all kinds of nationality, background and social status saw each other differently across the dancing flames. They sat as equals, telling their tales and sharing their experiences.In these next few pages, I have assembled just such a group. They come from different church backgrounds and nationalities. In fact, some have come from different centuries. In their different ways they tell their tales of the journey and what it has taught them.
_________________
A little later today I shall be speaking on Premier Radio, asking all about other people's experiences of pilgrimage. Would you like to tell me about yours? One of the blessings of the pilgrim's road which people often mention is the quality of the companionship they encounter along the way. I shall look forward to yours…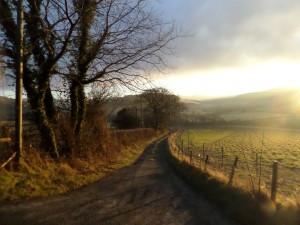 Name
(required)
Email
(required)
Where I went on pilgrimage Why I went What the blessings and challenges were What lessons learnt on the road I have kept