Damn right, Altea had us feeling thankful before we had even arrived there on that sunshine January 2022 morning. Taking the bus from 'Brits Abroad' Benidorm didn't take us all that long, passing by Benidorm camping staples like 'Camping Villamar' and 'Camping Benidorm' gave us 'Caravan/Camping' Realness! The historic charm of that seaside town had to be discovered! Ay!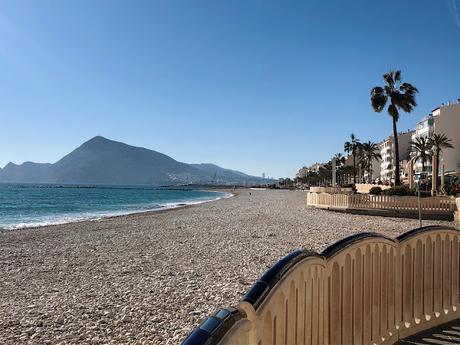 Taking the 10 Llorente/Avanza Bus from Benidorm's Avenida del Mediterráneo to Altea after breakfast had us on the move, passing through Albir allowed us to see the garish tourists signs of Benidorm vanish. Albir looked liveable with many restaurants and amenities, maybe a possibility for the future? Maybe? Sooner rather than later we arrived in Altea with the bluer than blue waters of the Mediterranean Sea staring us in the face. Leaving the historic parts of Altea for the moment, the recurring allure of the beach made for a lovely beginning to our Altea day of discovery. To be stood on that stony sunshine beach with not a care in the world for that day felt amazing, the landscape had us forgetting our worries if not for that moment. Being a natural space, we were allowed to take our face-masks off, allowing a moment to breathe. Altea was the medicine, taking the madness away from Benidorm's British appeal suited us fine. Bliss! 
The boujee nature of Altea's beach promenade had a sense of cool with the many restaurants that were on offer. Being early on in the day, having a bite to eat was on our radar, food would follow later on. The sedate nature of Altea's beachfront had a comfortable stream of people having their mid-morning coffee and chats beside the seafront. Taking a different turn away from the warmth of the beach, the pursuit to find the historic winding streets had us on an alternative track. Walking towards where we had exited the bus from Benidorm, we made our way along 'Carrer Costera dels Matxos' held the key to unlocking the true beauty of Altea's historic core. I wanted to get to see both sides to the region, Altea would unlock the key to a contrasting element away from Benidorm. In my book, there are two sides to a story or even three maybe, Altea made Benidorm's 'New Town' and 'Rincón de Loix' feel very faraway! Stark!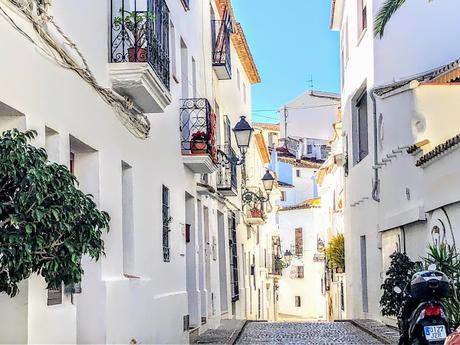 The steeper those cobbled streets became, the closer to Altea's hidden 'Parroquia de Nuestra Señora del Consuelo' we got. Restored to perfection, the white-washed character filled Spanish houses had me falling in love with Altea step by step. The slow pace set the scene, the detail of the terracotta roof tiles looked perfect and the moment was right. Yes, there was a theme in that part of Spain but we were there for that housing style because it continued to look miles better than our hometown pebbledash council houses. From that endearing street, a slight route recalculation was applied for us to find the 'Tuesday/Friday Market' along 'Avenida de la Nucía'. Those market settings had us in the middle of a Spanish foodie bonanza, seeing the fresher than fresh produce on sale had me once again looking at a life that could be possible. Catch me outside at that bi-weekly market where I can buy 'plátanos' and 'berenjena!' Ay, amazing Altea! 
Had we already seen the sea? Sure, we had already caught a glimpse of that ocean blue but from another point of view? After navigating through the rabbit warren-like lanes, we were surprised to see a panoramic view over the historic houses with the ocean looking a deeper shade of blue in the best way! To be in that moment in that location with the warm sea breeze in our direction was a worthy time to be thankful for. Turning it all around, that time the year before in 2021 we had been newly placed into yet another lockdown, those lockdown vibes had finally vanished in January 2022! Altea's nonstop supply of cute twists and turned so kindly welcomed us to be part of that magic, those artsy restored Spanish townhouses had us feeling one million miles away from our usual West Midlands location. Trusting those winding roads, Altea took us both by the hand to show us a whole different side to Beni's classier sister. Oh, Altea liked it like that! Wepa!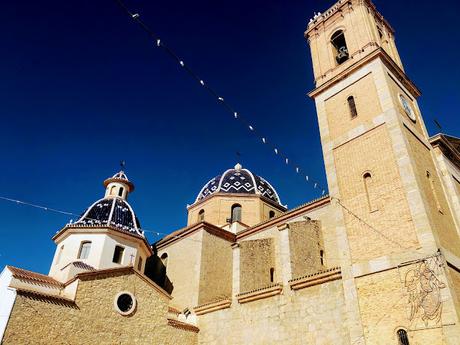 Like a prayer, Altea's 'Parroquia de Nuestra Señora del Consuelo' was a must to visit whilst we were in town. Featured in the hit ITV series 'Benidorm' the awe-inspiring place of worship allowed the viewers to see a slice of Altea without us needing to visit. The darling blue and white mosaic domes had me falling in love with that Catholic Church, heavenly it looked from the outside we had to delve inside. Setting foot into Altea's statement place of worship allowed us to be at one with the Madonna, that was a true moment to remember. The intricate interior of that Altea Catholic Church had us both under a spell, the silence observed inside that Spanish place of worship was the perfect sound to hear. The sound of silence amplified that experience as we stepped past the different pillars of the cross, I'm not religious but seeing how airbrushed Jesuscristo looked had me paying attention to his style! The Immaculate posed to the gods! ¡Sí! 
After marvelling at the opulence of the 'Parroquia de Nuestra Señora del Consuelo', we headed outside to 'Plaza de la Iglesia'. That quaint church square served a lot, it was buzzing with life! The sun-kissed weather had blessed that elevated square in the round with such beautiful weather, people had come out in their droves to have a drink or something to eat, maybe both! From one end we had the magnificent church and then to the other there was a prime view, that viewpoint had also featured on 'Benidorm' to emphasis that Altea stood near the resort town but with the feeling as if it was a world away. To be within that hype of relaxed chaos had me feeling immensely thankful for that opportunity, the winter blues had escaped us for that moment. The life and love felt within that square next to the church and the view summed up Altea for the gem it proved to be! Before heading back we enjoyed one of the 'Menú del Día', it was delicious! 
Altea... Como Otro Mundo!
Joseph Harrison