This evening as I entered  Venkatrangam Street from Bharathi Salai (PyCrofts Road) – had to wait a while as MTC bus was turning … nothing new in that – those buses which terminate at Triplicane – enter the road, reverse skilfully and stop a while at the Triplicane Terminus before continuing.
What was unusual was the way the bus stood decorated with garlands all over – curiosity aroused, went closer and took a photo too.  It was Route No. 13 – one of the long surviving routes of MTC which fleet serve lakhs of people everyday efficiently.  The buses on Route no. 13 originate from Triplicane, run through the entire stretch of Bharathi Salai take a left near Wesley High School, run in Royapettah High road, take a right in Avvai Shanmugham Road, go through Gopalapuram passing through NPS and DAV schools, turn towards Gopalapuram play ground – Peters Road, reach Anna Salai, turn at Aalaiamman kovil, (earlier it used to go through Sun theatre) and reach T Nagar.  In the few minutes could see 5 buses on this route, which again is unusual.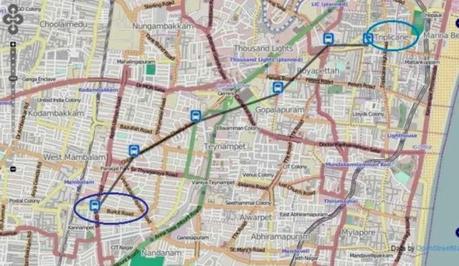 The Metropolitan Transport Corporation (formerly Pallavan Transport Corporation)  is the agency that operates the public transport bus service in Chennai – and lakhs utilise the services daily. 
Today, Tamil Nadu Chief Minister Ms. J. Jayalalithaa flagged off 464 buses, including 39 new ones, in various routes across the State reportedly at a cost of Rs. 94 crores +
Here are couple of photos of the new buses in route no. 13….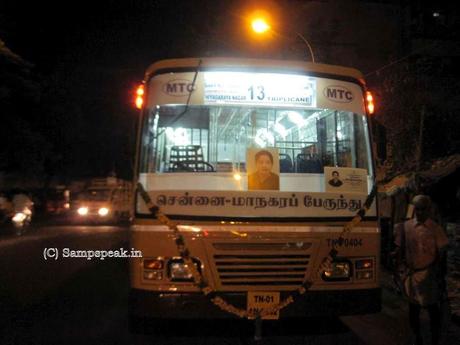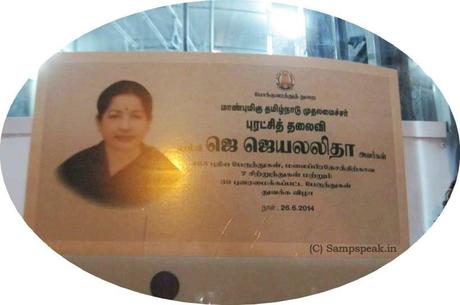 A web search indicates that route no. 13 runs from Hendon to London Bridge.  (in London, UK). Hendon is a London suburb  and was a parish  in the county of Middlesex.
With regards – S. Sampathkumar
26th June 2014.
The route map of 13 courtesy : http://busroutes.in