Hi there!
Teenage Mutant Ninja Turtles 2 filming continues. And at Techandle we've already shared some behind the scenes photos where Megan Fox action scene where April O'Neill runs and new-comer Baxter Stockman pops up for the first time. One of the big new additions to the upcoming sequel to last year's "Teenage Mutant Ninja Turtles" reboot is that of fan favorite character Casey Jones.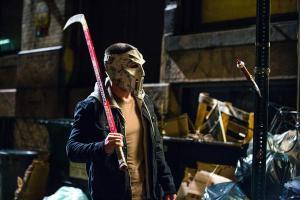 "Arrow" star Stephen Amell takes on the role in the film, where producer Michael Bay unearths the first official image of Casey Jones in the film, one in which he's decked out in his signature hockey mask and stick. How the character fits into the action of this is unknown at this point.
Image via https://twitter.com/michaelbay
B.