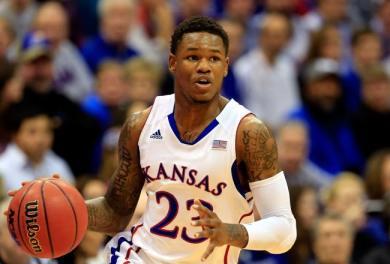 Super Freshman Ben McLemore might just be the best player in the nation, but does he deserve POY honors?
Ranked 1-5 (Yes, the Order Matters).
1). Victor Oladipo (G/F, Junior, Indiana): 14 PPG, 6 RPG, 2.2 APG, 63.9 FG%.
I have Oladipo as the frontrunner for a couple of reasons. He has been relatively consistent this season, despite the fact that he has another POY candidate in Cody Zeller on the same team as him. Having Zeller has been a blessing for Victor, as teams put so much effort into stopping the 7 foot Sophomore that Oladipo gets more open looks at times. This is not to take away from the skill set that Oladipo brings to the floor. He is athletic, smart, and is will be a first team All-American come season's end. Last night in East Lansing, he willed the Hoosiers to a huge win over Michigan State by scoring 19 points, adding 8 rebounds and 5 steals. He played like a lottery pick on the road against #10 Ohio State, shooting 80 % from the floor while scoring a career-high 26 points. He steps up in big time games and seems to thrive in the moment, meaning come March, he and the Hoosiers will most likely to be the team to beat. With Oladipo playing at this level, they will be extremely difficult to beat, which is why if voting occurred today, I would have to give him the Naismith POY award.
2). Ben McLemore (G, Freshman, Kansas):  16.7 PPG, 5.5 RPG, 1.9 APG, 51.1 FG%.
McLemore is not only the clear favorite for freshman of the year, and a potential number one overall draft pick come this summer, but he also might be the best player in the nation. The Jayhawks endured a tough 3 game losing streak, and that had nothing to do with McLemore' play. He scored 23, 15, and 15 during that stretch, and aside from some bad turnovers, played extremely well. While many will argue that the POY should go to the best player on the best team, I can't ignore what McLemore has done and the skill set that he brings to the floor. Sure, the Jayhawks do not have a clear dominant player on the offensive end, which is why McLemore is so important. Coach Bill Self has told McLemore that he must be more aggressive and even selfish on the offensive end and I couldn't agree more. He scored 33 points on 12 shots in an overtime victory versus Iowa State in early January. He is a dominant athlete who is incredible mature and unselfish for his lack of experience at the collegiate level. When the pressure was on for Kansas when rival Kansas State came to Phog Allen, McLemore dominated, scoring 30 points (9-13 FG) while making 6 (yes, 6) 3-pointers (6-10 for the game). Side note, one difference between the Naismith POY award and the Heisman that I never liked was that the Heisman is typically not given to the best player if he is a freshman because proponents of the award like to consider the full body of work and legacy that a player has left behind (I guess Johnny Football broke that curse), I have always felt the best player that year deserves the award despite class standing or legacy. I don't know if McLemore is a better player than Oladipo, or will win it over him due to the Hoosier's success and tough wins but he definitely deserves a closer look. 
3). Kelly Olynyk (F/C, Junior, Gonzaga): 18 PPG, 6.9 RPG, 1.6 APG, 64.9 FG%.
Olynyk is hands down the most improved player in college basketball this season. He did not even play for the Zags last season. He might be the best big man in the game as of right now. He scored 30+ points in two straight games, one versus WCC rival Saint Mary's, he helped the Zags sweep the season series against the Gales by providing size, athleticism, energy, and a big body in the middle to help block and alter shots/possessions. The best part about Olynyk's game is his versatility. He has an outstanding post game with "soft hands" that rarely lose control of the ball, he finishes at the rim with relative ease, making shots off the glass a la Tim Duncan. He also has the ability to step out and consistently hit the 15-20 footer, including 3 pointers. He is the ultimate threat that must be accounted for at all times. The only knock on his game is that he starts strong but at times fades away. For the most part, however, he is the clutch performer that the Zags need to go deep into the NCAA tournament. They are a team deserving of a number one seed, but their lack of a power conference-like schedule definitely hurts them. I can guarantee, however, that no team wants to play Gonzaga right now. With so much attention being given to Olynyk, he opens up the floor for star Elias Harris and guard Kevin Pangos. Olynyk is usually double or even triple teamed due to his 7 foot frame, yet he still finds ways to corral points and rebounds while being an effective defensive presence. His improvement this season, versatility and effectiveness at the rim makes him a POY candidate and I look forward to seeing what he brings in both the WCC and NCAA Tournaments.
4). Trey Burke (G, Sophomore, Michigan): 18.6 PPG, 3.2 RPG, 6.9 APG, 39.1 3P%
Burke's stock may have fallen recently due to the setbacks that the Wolverines have faced , but he should definitely still be in the conversation for this season's Naismith award. Averaging almost 19 points and 7 assists a game in the Big 10 is no easy feat, and he is the floor general for one of the best teams in the country. Burke is the energizer for the Wolverines, he sets the pace, and like most point guards, his play often dictates the outcome of the game for Michigan. He played very well versus Indiana, scoring 25 and dishing out 8 assists, but the Hoosiers simply had too many weapons that the Wolverines (and the Spartans of last night) did not have. I feel relatively confident that Burke will have an outstanding showing in both the Big 10 and NCAA Tournament's. He is very poised and calm for just a sophomore and he does not let the moment get to him. Often a POY candidate cannot just be a pure point scorer on an average team, they have to possess attributes that make them valuable to their team other than the box score. Burke has that quality. He is tenacious and fiercely competitive. Those attributes coupled with incredible athleticism and strength make him a player to keep your eye on.
5). Cody Zeller (C, Sophomore, Indiana): 16.6 PPG, 8.1 RPG, 1.2 APG, 58.8 FG%.
Zeller's numbers are slightly better than last year (minus his FG%) but for due to Victor Oladipo's success this season, it seems that his momentum for the POY has dipped tremendously. Some might think his #5 ranking is a tad low, but if you cannot be the best player on your own team, then I cannot in good faith give you this award. It's honestly a toss-up but I feel that Oladipo provides more energy and positive traits to the Hoosiers than Zeller does. I am not discrediting his 24 point, 8 rebound performance at Ohio State, or the 17 points he had last night against the Spartans, but I just feel Oladipo is a better player and athlete. Zeller has proven that he is not a victim of the Sophomore slump, and he may be having statistically a better season if it wasn't for the rise of Oladipo. He is without a doubt, a lottery pick, but I would be interested to see how good he could be if he stayed all four years. I doubt that will happen, but just interested as always. I would give the award to Zeller if he started dominated again during the Big 10 and NCAA tournament's with Oladipo fading a little bit, but to be honest I just don't see that happening. Zeller is a first team All-American, just not this season's POY.
A Dark Horse: Marcus Smart (G, Freshman, Oklahoma State): 15 PPG, 5.8 RPG, 4.5 APG
Marcus Smart is a stud, if you haven't tuned in to see this freshman guard for OK ST play, then tune in to ESPN tonight to see the Cowboys take on Kansas, it has the makings for a classic Big 12 matchup. Smart is the key to a Cowboys victory tonight, and if he can elevate his play even just a little bit, you might see him climb into the POY race with a vengeance. Smart has scored over 20 points seven times this year, he is only a freshman. He can rebound, pass, and shoot, and is the pacemaker for the Cowboys. He is averaging 20 PPG in the month of February, including a 25 point explosion in OK ST's win versus then #2 Kansas. A solid performance tonight can give him some serious credence in the POY discussion.
 Those are my picks as of right now. As always send comment, or send any feedback to [email protected] or tweet me: AddisonCocoli.