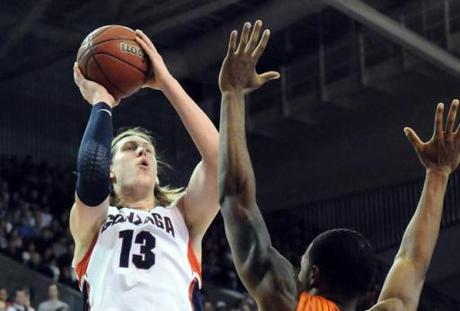 With only 2 losses thus far, Kelly Olynyk and the Zags looked poised to make a deep run this March.
TLN's March Madness Preview:  (Number 2 Seeds)
Today, I want to take a look at the four possible number two seeds in the upcoming tournament, primarily because this season, there is not a huge talent margin between the number one and two seeds (with the exception, possibly of Indiana). Sports writers could, for the most part make cases for these four teams being included in the conversation for number one seeds. Come tournament, time, however, we will get to see who was truly deserving of the top spots.
Duke: I'm starting with the Blue Devils because I still feel that out of all the teams mentioned here, they are the best. I struggled deciding if they were a number one seed when I wrote the first installment of the March Madness Preview, but their recent loss to Maryland on Saturday night was a huge deterrent from honoring them with a top seed. Although they have the top overall RPI, their losses to NC State, the drudging at Miami, and a huge missed opportunity at Maryland make them a strong number two seed in my opinion. The loss of Ryan Kelly has proved disastrous; they lack an X-factor at this point in the season. Kelly provided Duke with a strong option inside to back up Mason Plumlee, while giving the Blue Devils an extra shot-maker. Kelly gave energy and experience to a Duke squad that lacks a true leader. Seth Curry has been coming up huge lately with clutch performances, but despite his 25 points on Saturday night versus the Terrapins, a big "L" fills the result column. Their game at Miami on January 23rd was the worst I have ever seen a number 1 ranked team play, but hats off to Miami, they showed why they are the team to beat in the ACC. Close games versus an average Wake Forest team, and a one-point victory at Boston College (a team with a 138 RPI), show me that their confidence is waning, and they do not have a true identity. All of this negativity is actually a pretty good sign for a team with a projected number 2 seed in the tournament.
Mason Plumlee needs to re-establish himself as a dominant player in the post. 4 points and 3 rebounds in 33 minutes versus Maryland is not what a former POY candidate should produce this late into the season. He was dominated by Maryland big Alex Len (19 points, 9 rebounds, 3 blocks). Plumlee has the tools, he just needs to regain his confidence and re-assert himself. If Duke hopes to fare better in this year's tourney, Plumlee must get back to playing strong basketball (much like he did versus North Carolina on February 13th). Overall, Duke is a tough team to beat no matter where you play them. Coach K provides the experience and toughness to get the Blue Devils ready to play, and if they can start dominating some "shoe-in" games and make a run in the ACC tournament, they could possibly play themselves into a number one seed, I just don't see that happening. The first step is tonight at Virginia Tech. Duke has to right the ship, but containing the nation's leading scorer in Erick Green (25.3 PPG) will not be an easy task. Duke should dominate the 11-14 Hokies easily, but as we have seen with this Blue Devils squad, "should win" games often turn into dogfights. Time will tell if Duke will be able to make a run in the tournament, but as of today, I see them as a tough number 2 seed to go up against. When it comes time to make a selection, the committee will end up looking at this current Duke team, that is, without Ryan Kelly. Giving them a top seed while going 8-3 in that span seems a daunting task for the Blue Devils, and they might just have to accept a #2 seed.
Michigan: All seemed to be going right for the Wolverines. They started the season 16-0, and reached the top of the weekly polls since 1992 (under current San Diego State coach Steve Fisher, go Aztecs). Their four losses have come in conference play, and the Big 10 is currently without a doubt the best conference in the nation. They lost to Ohio State (then ranked #15) by three on the road, to Indiana (then #3) on the road by eight, to Wisconsin on the road by three in overtime (you can thank Ben Brust for that), and finally getting manhandled by Michigan State on the road by 23. All of these losses came on the road in very tough environments to top-tier teams. Winning in the Big 10 is a feat in itself, it is clear, however, that both Indiana and Michigan St. are better teams, which is why I have no problem giving a single conference two number one seeds. Had they beaten Indiana and put up a better fight versus the Spartans, things may be different for the Wolverines, but as it stands, they look like a strong number two seed and a team that no one wants to play in the tournament. Trey Burke's outstanding play this season has him in the POY mix (see my Naismith POY Watch for further analysis). Tim Hardaway Jr. and Glen Robinson III, along with Burke, provide a strong 3-way tandem of scoring, energy, and athleticism that makes the Wolverines a tough team to beat. They are 8-4 in their last 12 games, but if they can peak again at the right time and make a deep run in the Big 10 tournament, they also could steal a number one ranking, most likely from Florida after their loss at Missouri on Monday. Michigan is often a tough team to read. Their team possesses a fair amount of athleticism, but their lack of a strong inside game hurts the Wolverines when going up against conference foes such as Indiana and Michigan State. Going far in the tournament depends on having a couple solid scorers, multiple athletes, and size down low. Without that well-rounded combination, it just takes a team that may not be as talented, but has a good day, to beat you in the tournament. I grew up a Michigan fan and was excited to see them at the top of the rankings, but it's a long season and maintaining the number one spot looks more and more like the Madden curse each and every week. Overall, I like the Wolverines chances to go fairly deep in the tournament. Final Four caliber? Not currently. Only time will tell.
Gonzaga: The Zags currently sit number 3 in the AP polls and have been playing consistently the entire season. They are 11-1 in their last 12 games and are 25-2 overall. Both losses have come to teams with top 30 RPI's (@ Butler, and Illinois). They are 13-0 in WCC play and swept the season series with arch-rival Saint Mary's, including a 17-point victory (which felt like more if you watched the game) at McKeon Pavilion on Valentine's Day. Their one-point loss at Butler was a game that they should have won, and if it wasn't for a late miscue followed by a miracle floater at the buzzer, they would have. The Zags have good wins versus Oklahoma and Kansas State, and won on the road in Sweetwater versus Oklahoma State (a win that keeps looking more and more impressive). They have also defeated Baylor and Clemson. The Clemson win is interesting in my eyes because, despite the Tigers' lowly 132 RPI, they nearly beat projected number 1 seed Miami this past week. I read into these games more with Gonzaga because of the argument that since they play in the WCC and face considerably less competition on a consistent basis, that a number two seed may be too high for them. This argument has a fair amount of credence due to the fact they lost to Illinois (then ranked #13) at home. Illinois is 18-8 but in addition to their wins versus the Zags, they have beaten Butler (another Zags loss), Ohio State, Minnesota, and who can forget that incredible last second victory that sent Illinois fans into a frenzy versus #1 Indiana. This loss is a perplexing benchmark for how Gonzaga may fair versus power conference competition in the tournament. The Zags played the Illini on December 8th, very early in the college basketball season. Gonzaga has improved tremendously and if the two had a rematch today I could see the Zags wining by double-digits. Coach Mark Few has built a powerhouse out west that produces consistent play, star athletes that have fundamental skills and tremendous athleticism, while giving momentum to the notion that non-power conferences deserve higher tournament seeds.
The Zags have plenty of talent to merit a number 2 seed. POY candidate Kelly Olynyk provides the base down low and can step out and hit a 20-25 footer if he needs to. Elias Harris is also a star, providing the Zags with another big body down low (he averages almost 15-points a game, but has 25-point potential). Guard Kevin Pangos has developed nicely, averaging almost 12 points and 3.4 assists per contest while playing 32 minutes a game. Sophomore Gary Bell Jr. is also turning into a go-to player, he scored 20-points in the Valentine's Day rout of the Gaels, while hitting 4-5 from 3-point range. The Zags have 3 consistent scorers and a floor general in Pangos. They have talent at every position on the floor, size, athleticism, energy, and most importantly, they play like a cohesive unit. Olynyk was not even on the court for the Zags last season and has become the talk of the WCC (he scored 30+ in two consecutive games this season). I really like Gonzaga going into this year's tournament for those reasons. I honestly believe that they should get consideration for a number 1 seed if they win out in the regular season and go on to win the WCC tournament. In my opinion, a two-loss team should get a number one seed, especially if they are playing as well as the Zags are at the moment (They beat a top 100 RPI Santa Clara team by 43 last night, Kelly Olynyk only played 18 minutes and had 14 points). This is definitely a team to watch out for come March.
Syracuse: I'm putting Syracuse as a number two seed because of their resume' and their overall potential to dominate opponents. They have an RPI of 7, and are 9-3 in their last 12 games. With a 10-3 Big East record, and 22-4 overall, the Orange have had yet another successful season. They have strong victories versus teams in the RPI top 50 including versus San Diego State, at Louisville, versus Cincy, and versus Notre Dame. Their lone bad loss would be Villanova. They also lost to Temple (neutral site) and at Pitt and UConn. All of their four losses have come on the road or at a neutral site. So obviously they are a strong team at home, but what top-tier team isn't? They thrashed conference opponent Providence by 25 last night, the game was over mid-way through the first half. Syracuse has a very dominant starting five, and with James Southerland coming off of his suspension for academic issues the Orange are looking like be contenders. Michael Carter-Williams could probably play in an NBA game tonight and be effective. The 6-6 guard is explosive, averaging 12.7 PPG, nearly 5 RPG, a whopping 8.2 APG, and 3.0 SPG in just over 34 minutes per contest. His statistics and play on the court are a key reason why the Orange are putting themselves in a solid position to make a deep run come March. Brandon Triche has evolved into the leader that Jim Boeheim has always envisioned for the guard. He leads the team in scoring at just under 15 a game, and contributes 3.6 apg. He has big time scoring potential, as evident by his much needed 29 point explosion versus Seton Hall last Saturday. Not stopping there, junior forward C.J. Fair has been a stud as well, dropping 14.3 PPG, 7.3 boards, while shooting 42.9 % from 3-point range and 83.5% from the foul line. James Southerland also provides a strong 6th man presence as his 13.8 points per contest, 5 boards, 1.4 steals clearly indicate. He also provides a long-ball option to back up Triche and Fair, as he shoots nearly 40 % beyond the arc. Lastly, big man Rakeen Christmas can provide some momentum dunks and boards while being the big body down low to clog up the lane. Christmas also contributes over 2 blocks a game. The Orange have a solid front line and continue to impress with their athletic back court. Definitely look for Syracuse to make a run at the Big East title. Their talent and diversity of weapons bodes well for them come March, they have the looks of a final four team if they can peak at the right time. One of the biggest games of the season for the Orange is this Saturday at 4:00 PM when #11 Georgetown visits the Carrier Dome for a potential Big East Championship game preview. Tune in, it has the makings for a classic Big East shootout.
Food For Thought: A Note on the Jayhawks and Travis Releford
Sticking with the college basketball theme going on here recently…
I'm having a difficult time figuring out how good Kansas actually is. Are they the team that lost to TCU (then winless in Big 12 play), or are they the team that recently thrashed rival Kansas State , then Texas, and beat Oklahoma State on the road in 2 OT's last night? Could they be both? Could a team have that large of a disparity? It sure seems like their 3-game losing streak has energized them, and if anything, got them extremely angry. I like watching Kansas play, especially at home. Phog Allen Fieldhouse is a place to behold and if you like college basketball, then make it a rite of passage as a fan to try and make it out there once. No doubt that the Jayhawks are a good team. I admit it feels weird not to have them included thus far in a tournament preview. The fact of the matter is that they have been shaky, and need to play more consistently if they hope to play deep into March. They have looked good their past three games but still face Iowa State and Baylor on the road, none of those games should be taken lightly.
Lastly, shout out to a guy who doesn't get enough love; Kansas swing-man Travis Releford played excellent last night. His 18 points and 8 rebounds propelled the Jayhawks to a huge victory on the road in Stillwater. He has consistently been one of my favorite players in the Big 12 for the past couple of seasons. This has been his break out year, averaging a little over 12 points and 4 rebounds a game. Stats don't tell the story for Releford. He is a team player, who plays incredibly smart on the floor, is unselfish, and does the little things that give guys like McLemore, Withey, and Thomas Robinson/Tyshawn Taylor from last season opportunities to succeed. Here's a stat for you KU fans. All four losses for the Jayhawks have come in games where Releford has scored in single-digits; he has only scored in single-digits in six games this season (talk about a model of consistency). During Kansas' 3 game losing streak, he only averaged 5.7 points per game, and in their recent 3-game winning streak, he has poured in 14.3 points a contest. I'm not saying Releford is the key to the Jayhawks success, but when he scores in double-figures, it sure helps.
Kudos to you, Travis and good to see you finally getting a chance to shine.
Thanks for reading, and Happy Thursday, friends. Comments or thoughts? Message me on facebook, send me an e-mail at [email protected], or tweet me @Addisoncocoli.