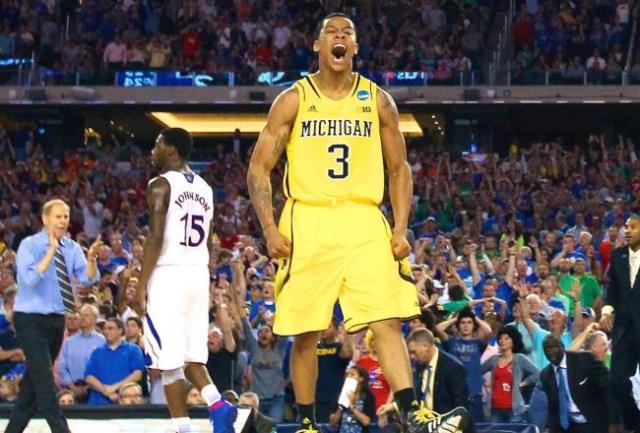 Trey Burke is the top performer in this year's tournament. Can anyone slow him down?
And then there were four. Michigan, Syracuse, Louisville, and Wichita State all have battled valiantly to make it this far in the tournament. There have been blowouts, comebacks, tears (get well soon Kevin Ware), and upsets. These four teams all have the tenacity and fortitude that it takes to be successful at this level of college basketball. They have worked hard all year to get to this point, and this final four will not disappoint.
Michigan vs. Syracuse: My gripe with Syracuse is that they have been pretty inconsistent all year, but in the tournament they have turned it on. Their foot is on the gas pedal, and the play of Michael Carter-Williams has been outstanding. The MCW-TB3 matchup is the storyline of this final four in my opinion. The winner of that battle will most likely play in the championship game. Other than that, here are the story lines to watch in this matchup.
1). Mitch McGary has come out of nowhere and is performing like an All-American. Zeller? Plumlee? No, McGary has been the story of the tournament from a post player's perspective. I haven't seen someone put on such dominating performances in the post in quite some time. He handled Jeff Withey extremely well (something I didn't think he could do) and led the game in scoring/rebounding versus Kansas. He kept them in the game. Against Florida, he scored and rebounded less (11 and 5) but added 5 steals, 2 blocks, and held Florida big man Patric Young to single digits in both points and rebounds. If he can contribute solidly against Syracuse's monstrous zone, the Wolverines have a shot at appearing in the title game.
2). Can Syracuse Stop Trey Burke? I know I mentioned this above, but Burke is playing at a level you rarely see in college sports. He almost had a triple-double today, but with Burke, stats only tell part of the story (that's a scary thought). His ability to penetrate and pass the ball out to perimeter shooters (hey Nik Stauskas) means that any kind of defense you play on him might be rendered futile. Yes, Syracuse has long bodies, but Burke is faster than anyone who the Orange will throw at him, meaning it's up to Burke to win the game for the Wolverines. If the Orange can slow him down a little bit and rattle him, Michigan doesn't have much of a chance.
3). Syracuse Has to Dictate Tempo: The athleticism of the Orange is their strength and couple that with solid decision-making by Carter-Williams and shot selection  means  that they are a tough matchup for any of the 3 remaining teams in the field. Syracuse, however, has to take it head-on against the Wolverines. They have a smothering defense, and their zone is well-designed and relentless. The Orange need to run, run, run, against the Wolverines, because as we saw against Florida, sitting back in a passive zone only leads to open shots and difficult help-defense situations. Michigan has thrived in those situations. Ever since Burke's "fab"-ulous shot against the Jayhawks, the Wolverines' motor has been relentless, the Orange should recognize that and press hard against them if they want to play an extra game.
Prediction: I see Michigan moving on in this final four matchup. The momentum is on their side after that comeback win against Kansas. Trey Burke is the POY, and his play will dictate whether they win or lose, and he has shown no signs of slowing up in his dominating play. I think McGary will be the x-factor, providing solid rebounding and decisions in the low-post. Either Hardaway Jr. or GRIII need to provide an extra lift, because I don't see Stauskas nailing 6 3-balls again. It should be close due to the athleticism of Syracuse, but when a player is performing like Trey Burke is, I have to go with that team. Michigan 72 Syracuse 66.
Wichita State v. Louisville:  I'm relatively speechless after watching both of these teams play in the Elite 8. Wichita State came out swinging, built a big lead, and took haymakers from Ohio State before holding on. Louisville came together as a team after Kevin Ware's unspeakable leg injury and locked down on the Blue Devils. It's safe to say both of these teams deserve to be here.
1). The emotions of Louisville: So many times we, as people tend to focus on matchups, statistics and game plans in an effort to predict outcomes of athletic events. If, however, you believe that sports provides a deeper outlet for performance, then Kevin Ware's injury should serve just as large a point of contention for this game. At first, I had no idea what was going on, I saw Tyler Thornton grimacing after he took a 3-point shot, and then saw three Lousiville players down in the middle of the paint. I didn't see any collision, then they showed it. It's probably one of the worst injuries I've ever seen, ever, and I won't watch it again. After the injury and subsequent 10 minute game-break, Louisville looked slow, ragged, and simply emotionally drained. After halftime they were a different team, pull of vigor and confidence. I think that confidence will carry over, because now they feel an obligation to win the tournament (not like they haven't before) for one of their own; a fallen warrior. Look for the Cardinals to come out fast, furious, and sharp.
2). Wichita State's Ability to Rebound: If the Shockers, and Carl Hall can do this, then they have a fighting chance. I won't lie, if they don't rebound the ball, they lose this game. Gorgui Dieng has made such strides in the past year and has become such a force inside (scoring, blocking shots, and rebounding) that I fear for the Shocker's big men. The Shockers will have to devise a game plan to account for the issues that Dieng presents because if they don't it could be a long day on the court for them.
3). Louisville's Press: The Cardinals can lock down the Shockers if they press effectively. The use of it was at times, questionable today against the Blue Devils, due to the ability of Duke's guards to beat the press with a pass instead of dribbling. Louisville did, however, force Duke into 11 turnovers, so I can't say it was a futile effort. They should test Wichita State early, and often to see if they can handle the pressure, and Pitino should be ready to abandon the idea of the Shockers are able to beat it, because transition buckets are the Cardinals' calling card and shouldn't be used against them.
Prediction: I'm going with Louisville. I love with Wichita State does offensively, and the tenacity they play with on defense, but Siva and Smith are so talented that shutting both of them down simultaneously seems impossible, especially with how well Smith is scoring the ball by penetrating in the lane. I think Louisville comes out firing and running effectively and that by the time Wichita State can devise a plan to slow them down the game will be out of reach. Dieng should be effective down low once again, and maybe Behanan or Blackshear can step up in the absence of Ware to provide some scoring relief. Louisville 82 Wichita State 68.
Championship Game Preview: Michigan v. Louisville
First of all, let's acknowledge how good of a game this could be. Stellar back court play, coupled with the emergence of two solid big men (Dieng and McGary). They both run, they are both athletic, the only question is who can stop the other? Will Burke handle the pressure effectively? Can Smith score on the rugged Wolverines defense? Will McGary provide support down low to take Dieng out of the game?
I hate to sound like a nuisance but this is where Kevin Ware's injury , truly effects the Cardinals . The emotions will still be there, but his actual absence from the game will really give the Cardinals a tough time. He has the ability to score when needed, but additionally, he is another solid defender to throw on Trey Burke when Siva/Smith need rest. Without him, both Louisville guards will have their hands full (yes, this is how good I think Trey Burke is).
If Michigan can shoot effectively, and most importantly, handle Louisville's pressure, they can be crowned national champions, thus avenging the scandal and largely negative press surrounded by the Fab Five booster scandal in the early 90's.
Prediction: I think Michigan wins a close one. I think Trey Burke gets close to a triple-double, and basks in the glory of a national championship and well-earned POY honors. The game should be extremely close. Last second shot? Maybe, but I'm leaning towards a 5-point Wolverine win. Michigan 75 Louisville 70.