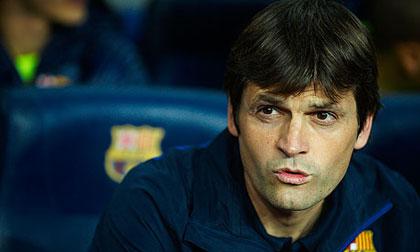 Tito Vilanova has been officially appointed Barca's new coach and takes over from Pep Guardiola. Tito will sign a 2 year deal on Friday (tomorrow) that'll keep him at the Blaugrana club until June 2014.
Tito Vilanova joins a long list of Catalan managers that have held the reins at the Catalan club and becomes the 16th to do so. As we have said before, it will be a hard act to follow in Pep's shoes but we are sure Tito will do a fine job. Guardiola has won 14 titles in four years and has been the best manager that Barcelona Fc has ever had. No one can touch him for the success he's brought to the club, not even the Dream Team days of Johann Cruyff.
Barcelona's official website stated the following:
"FC Barcelona have come to an agreement with Francesc 'Tito' Vilanova".
"This season's first team assistant manager will be the head coach of FC Barcelona for two seasons, through June 30, 2014. Vilanova will sign his new contract this Friday on June 15 at 1200."
There you have it, straight from the horse's mouth as it were. He'll sign on the dotted line tomorrow and will be presented to the fans and the media.
A lot is expected of Vilanova and I don't think he's at all fazed by the idea of filling Pep's shoes. Don't forget that Vilanova has been with Pep on this four year journey and has had a fair amount of input himself.
There have been mixed reactions from the Barcelona fans with some saying that he's a great replacement while others wishing an entirely different manager had been chosen.
Whatever happens, Tito has it all to do and I'm sure he's going to do a great job and take over where Guardiola left off.