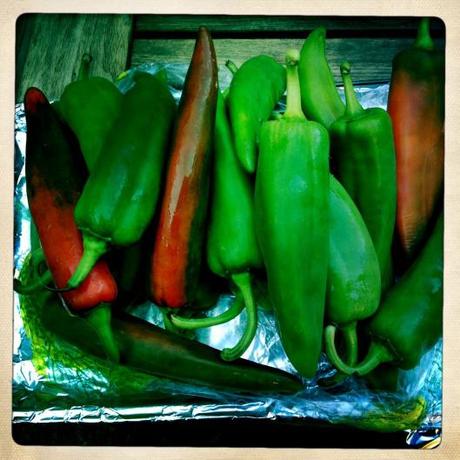 Hatch green chiles waiting to be roasted
There are lots of scents that remind me of New Mexico — juniper, sagebrush, ponderosa pines, and of course, the scent of green chile roasting. (Does anyone make a candle in that?) That scent of the slightly charred outer skin combined with the freshness of the interior as the chile splits open signifies that autumn has arrived. Taking a deep breath, you can feel the chile work its way into your body without having to taste it.
In all the years I've lived in Oregon, I have seen someone roasting green chiles only two or three times, which means that I rarely experience that small.
That situation changed slightly last year when Mr. Miscellany and I discovered that some local grocery stores got in a supply of Hatch green chile in the fall. For a New Mexican, there is only one green chile that matters — the chile grown in the Hatch Valley area of southern New Mexico. If you can't get Hatch green chile, there's almost no point.
But, of course, the chile is no good unless it's roasted. While we don't have a big screen drum slowly turning over a blazing fire, we do have a gas grill. The other night I fired it up to roast this year's hoard of fresh green chile. As the chiles roasted, I listened to them popping and got a large whiff of chile as I took them off the grill and placed them under a damp towel for a few minutes to help steam the skin loose.
Ruby kept me company outside as I turned our outdoor table into a chile assembly line, where I peeled off the charred skin, slit them open to remove the seeds, and packaged them in baggies for freezing. I happily thought of all the things we could make with them over the next few months: stew, cornbread, cheeseburgers, pinto beans, rice layered with cheese, scrambled eggs, enchiladas, guacamole, salsa verde.
The best part of roasting chiles: for a few hours, my yard smelled like New Mexico.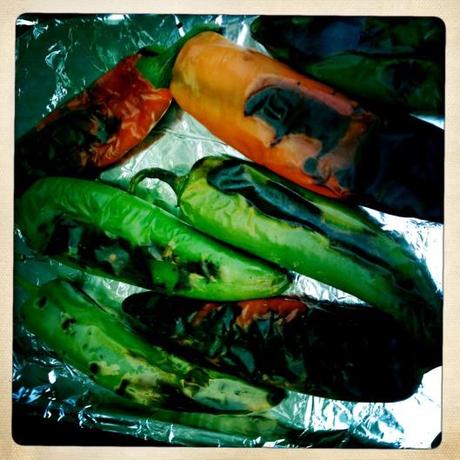 Roasted and ready to peel