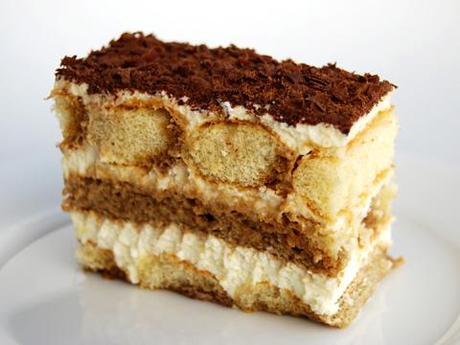 Tiramisu (or Tiramisù, as spelled in Italy) is arguably the world's most popular Italian dessert after gelato. Featured by many Italian restaurants in North America, Tiramisu is for the Italians more of a homemade party cake, and an unpretentious dessert found in pizzerie and trattorie.
Even though Tiramisu is a modern creation and many claim its paternity, its origins are actually unknown. The consensus is that Tiramisu as we know it became popular in the 1980s, possibly as a variation of the British
trifle
in which
ladyfingers
(called 'savoiardi' in Italy) and a cream of
mascarpone
are used instead of sponge cake and custard. Part of the dessert's success may be due to its odd name. Although it's also the subject of debate, most concur that it originated in the literal meaning of the Italian words 'tirami su': "pull me up", possibly referred to the "uplifting" or even "aphrodisiac" effects of coffee and chocolate.
As described in the recipe below, Tiramisu is commonly flavored with rum (or brandy), coffee and cocoa powder. However, around Italy there are also versions with very different flavors (e.g.
amaretto
and peaches, or
limoncello
and strawberries).
All versions of Tiramisu are centered around a mascarpone filling which traditionally contains raw eggs (as in the recipe below). There are also egg-less versions in which the mascarpone is blended with whipping cream and sugar, resulting in a richer, but also heavier dessert. In North America Tiramisu often contains more sugar than its Italian counterpart.
Like trifle, Tiramisu needs to rest in the fridge for several hours to set and develop flavor. It's common to prepare Tiramisu the day before and let it rest in the fridge overnight.
Ingredients
- 400 g savoiardi
For the cream:
- 500 g mascarpone cheese (choose a good quality brand - good mascarpone tastes creamy, not cheesy)
- 5 eggs
- 5 Tbsp sugar
- 2 Tbsp rum (or brandy)
For the coffee dip
- 6 shots espresso (or an equivalent amount of strong coffee)
- 2 Tbsp sugar
- 1 cup milk
- 2 Tbsp rum
For the finish
- ½ Tbsp unsweetened cocoa powder
- Some shaved dark chocolate (optional)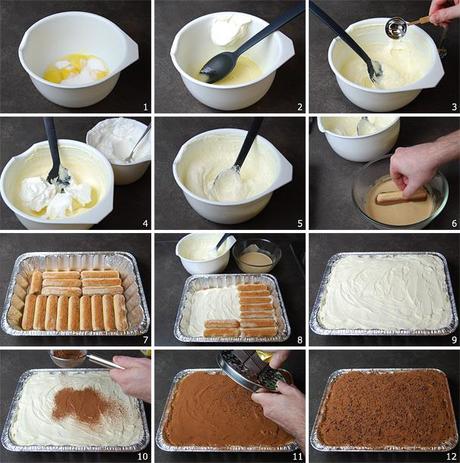 Instructions
Whisk together egg yolks and sugar (fig. 1) until the mixture becomes lighter in color.
One tablespoon at a time, incorporate the mascarpone (fig. 2). This operation is considered difficult because mascarpone and egg can suddenly separate. Some suggest mixing always in the same direction, but it's actually not strictly necessary. What is important is using egg yolks at room temperature (to fully use their emulsifying properties), and starting the mix with only a small amount of mascarpone until the cream starts to thicken (as a result of the formation of the first mascarpone droplets). At that point the increased friction will help break down the rest of the mascarpone, which can then be added more quickly*. Mascarpone can be incorporated even more easily if it has been softened by spreading it on the side of the bowl and then scooping it up a few times.
Add the rum (fig. 3), stir slowly until absorbed.
Add the beaten egg white, mixing gently from the bottom up to incorporate air (fig. 4). The egg whites will work as a stabilizer and help the mascarpone remain emulsified*.
Set the cream aside (fig. 5).
Prepare the coffee dip by mixing espresso and sugar, then adding milk and rum. Dip each ladyfinger in it (fig. 6), then lay it in the baking pan forming a first layer of cookies (fig. 7). It's important to incorporate the right amount of moisture - a good way to do it is to dip only half of the cookie, lengthwise, for 2-3 seconds (which are sufficient to saturate it). During the dessert's resting time, the liquid will spread evenly throughout the cookie.
Add a layer of mascarpone cream, then add one more layer of cookies (fig. 8).
Continue alternating the two ingredients, finishing with a layer of mascarpone (fig. 9).
Using a sifter, generously cover the top with unsweetened cocoa powder (fig. 10).
Then, optionally, add the shaved dark chocolate (fig. 11).
Chill the finished Tiramisu (fig. 12) in the fridge for at least 8 hours, tightly covered with tinfoil.
*Harold McGee.
On Food and Cooking: The Science and Lore of the Kitchen
. 2nd edition (2004).