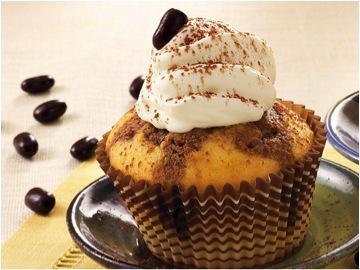 Source: Betty Crocker
Coffee is my equivalent to duct tape…it fixes everything. So, when I stumbled upon this Tiramisu Cupcake recipe (accompanied with a big dollop of cream cheese frosting and chocolate-covered espresso beans), I instantly fell in love.
These little dessert darlings will not only cure your sweet tooth but they'll also put some pep in your step. For an entire week I had an afternoon date with one of these cupcakes and a big cup of joe.
For your baking pleasure (and caffeine fix). Enjoy…
Ingredients
1 box Betty Crocker SuperMoist White cake mix
1 cup water
1/3 cup vegetable oil
1/4 cup brandy
3 egg whites
3 tablespoons instant espresso coffee granules or powder
1/3 cup boiling water
2 tablespoons corn syrup
1 package (8 oz) cream cheese, softened
1/2 cup powdered sugar
2 cups whipping cream
Unsweetened baking cocoa, if desired
Chocolate-covered espresso beans, if desired
Directions
Heat oven to 350°F (325°F for dark or nonstick pans). Place paper baking cup in each of 24 regular-size muffin cups. In large bowl, beat cake mix, water, oil, brandy and egg whites with electric mixer on low speed 30 seconds, then on medium speed 2 minutes. Divide batter evenly among muffin cups. Bake 18 to 23 minutes or until toothpick inserted in center comes out clean. Meanwhile, in small bowl, stir espresso granules and boiling water. Stir in corn syrup. Cool 10 minutes. Pierce top of warm cupcakes with large-tined fork. Slowly spoon about 1 teaspoon espresso mixture over top of each cupcake, allowing it to soak into holes. Cool completely. Remove cupcakes from pans.
In medium bowl, beat cream cheese and powdered sugar with electric mixer on low speed until mixed. Beat on high speed until smooth. On high speed, gradually beat in whipping cream until stiff peaks form, about 2 minutes. Spoon in dollops on cupcakes. Sprinkle with cocoa and top with espresso beans. Store covered in refrigerator.
Makes 24 cupcakes