When you are in the business, it is essential to learn the corporate etiquettes for the success of your business. One such etiquette is gifting.  Gifting your clients with some exciting gifts can be great idea for building stronger relationships and achieve better client satisfaction. When it comes to a gift for your clients, you need to be accurate and specific that the client likes your gift. Choosing the right gift is more of an art hence you should emphasize on choosing the right gift for them. Additionally, the gift you present to your clients has to be special as it represents you brand and company image hence you need to be careful while choosing the gift.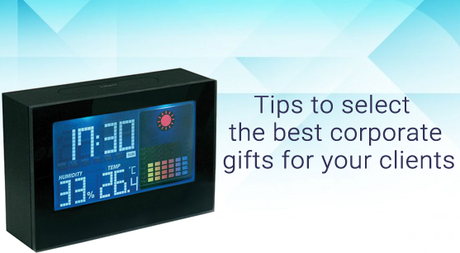 Choosing the right gift is also important as it can make or break your image in the minds of the clients and you might a great market opportunity by choosing the wrong gift. If you are feeling confused about the selection of the client's gift, you can refer to the below mentioned gifts selection tips that will be very helpful.
Go with the trend
While making the choice for a corporate gift for your clients or employees, make sure that you follow the latest trend in the market. In this way, you can convey the message that you are updated with the latest happening in the market and this will give them an idea that investing in your business will never be a bad decision.
Give it a personal touch
Whenever you are buying a corporate gift for your clients, you need to think for their perspective. It will be best if you buy a gift that not only is liked by them but also suits their personality as well. Do a little research by yourself and find out about the likes and dislikes of the clients, their interests etc. This will help you in making the best decision while buying a gift for your clientele.
Buy something useful
When you are buying a gift, think practically. You need to select a gift that not lasts for a longer time but also has a day to day usage. When the clients use your gift constantly with your brand name on it, it will be there in their minds when they are about to take a business decision and this will give a marketing advantage. This is the main motive of your corporate gift basically.
Do the Branding
The clients are not going to remember who gave that gift to them unless there is a name or logo on it. So when you select a gift, make sure that you put your logo or company name on the gift so that it keeps reminding the clients about from whom the gift was presented.
With these tips, you can easily choose the best corporate gifts for your clients as well as the staff members. There are plenty of corporate gifts suppliers in Delhi that can provide you the best range of personalized corporate gifts that you can present to your clients or staff member for a better marketing strategy.