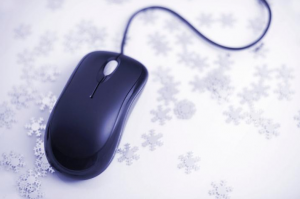 It's a busy shopping season, and you may be turning to the Internet to get many of your gifts this year. With the breach of Target's payment systems in headlines last year, that could seem like a safer bet than heading to a big box store – but online shopping has its share of risks, too. Follow these five tips to guard your financial security and shop safely online this holiday season.
Shop Securely
This goes for both the WiFi connection you're using, and the websites you're accessing. While it may seem convenient to do some quick shopping with your smartphone during a lunch break over a public connection, anyone can be on that connection with you. Choose a secure network that's password-protected.
You'll also want to make sure that the website you're on begins with HTTPS. This shows an encrypted connection. You can also add a dose of your own security with the extension "HTTPS Everywhere." The extension works with Firefox, Chrome, and Opera to encrypt your communications with major website and make browsing more secure.
Use Pre-Paid Credit Cards
It's a little extra work on your end, but if you want to make sure your online credit card or bank information stays offline, this is a secure way to shop both online and in stores. If the information or card itself is stolen, thieves can't access your bank account. Some banks also offer temporary credit card numbers specifically for using online.
If you're trying to keep yourself to a budget when it comes to spending on presents, pre-paid cards have the extra bonus of helping you stick to a pre-set limit.
Don't Link To Websites Through Emails and Ads
It's not uncommon to get myriad offers and deals in your inbox this time of year. While many companies do offer legitimate cyber week deals, email offers are also a common phishing tool used to gain access to your information.
Keep Your Computer Protected
A web browser or operating system that's out of date by even a couple of years is at high risk and is very vulnerable. Make sure to update your system – you can schedule them to run automatically – to prevent potential online shopping risks.
Using antivirus software and keeping that up to date will also protect the sensitive information you're sending online.
Mind Your Passwords
Snagging your password is the perfect opportunity for cyber criminals to access your money and information. It may be tempting to use the same password for the many, many sites that require them, but that's going to put you at risk.
Instead, try a password manager like LastPass or 1Password. Generating unique passwords for each site you access means one stolen password can't compromise other sensitive information in your life.