I love your blog . My biggest question is proper footwear for the cold fall weather (but before it snows). I live in the Midwest of USA. I am wondering if you could do a blog post for casual ladies who like slim fit jeans and shorter boots. I like tall boots on other people, don't feel comfortable wearing them. But I love the boot look but I like wearing skinny jeans because they are comfortable. I have wide hips so ballet flats look weird on me but can I wear a dark brown 7 inch shaft moto boot with a 1.75 inch heel over my jeans or will that look weird?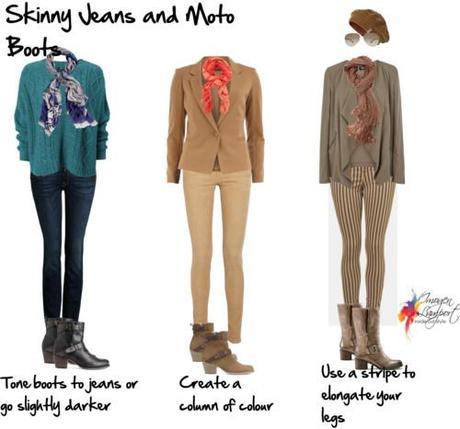 skinny jeans and moto boots by
imogenl
featuring bcbg max azria
Any sort of boots look great with skinny jeans.  A boot is a slightly chunkier shoe so can help to balance out your hips.  Wearing a short boot over the ankle of your jeans works, particularly if the shoe has a heel.   A short boot won't elongate your legs in the way that a knee-high boot will do.  A moto boot will help to balance out your hips as it's a bit wider and heavier than a ballet flat.
To elongate your legs:
Tone boots to your jean color or go slightly darker
Create a column of colour with your top or jacket and jeans
Look for stripes or vertical details in your jeans to lengthen your legs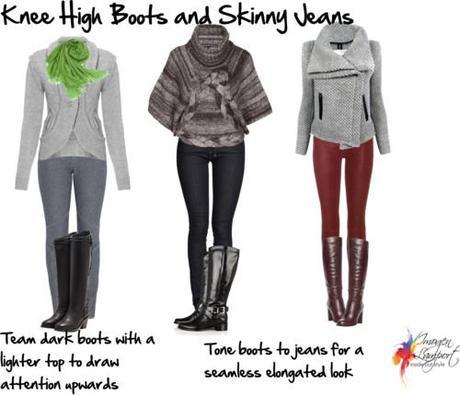 knee high boots with skinny jeans by
imogenl
featuring zipper boots
If you prefer knee high boots but love comfort, try a riding boot style or one with a solid heel.
To draw attention upwards, keep your boots darker than your top.
Tone boots to your jeans for more leg elongation.
If you have wider calves and find it hard to find knee-high boots, why not try:
www.bennettsboots.com  and if you use the PROMO Code  BBSTYLE   you'll get a $30 discount!
www.duoboots.co.uk
www.widecalfboots.com.au