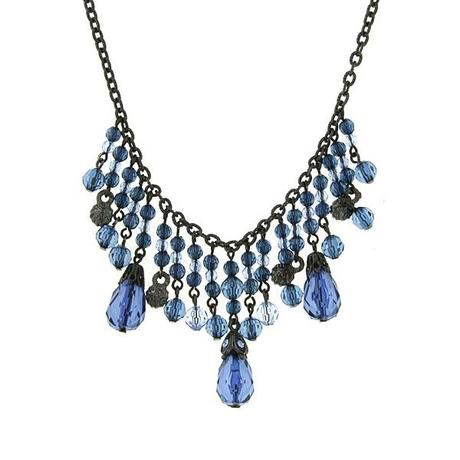 1928 Blue Bayou Beaded Bib Necklace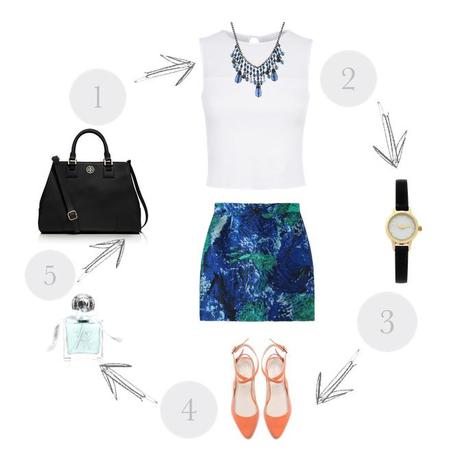 If you regularly read our blog, you probably have a large collection of jewelry sitting in your room with piles of bracelets, necklaces, bracelets, and so on. Today I wanted to turn your attention to achieving the perfect work outfit: cute and creative while maintaining smart traces of professionalism. For this to work, it's all in the accessories and the little accents you add in addition to your main top and bottom accouterments. What you wear says as much about you as what you say, so I always like to stick to the motto of "always dress your best"—who knows, you never know who you'll be running into that day!
1) Jewelry Bling. Here I chose our 1928 Blue Bayou statement necklace that nicely complements the impressionistic Proenza Schouler mini skirt. Choose a statement piece—it can be bright & sparkly button earrings or a large classy cuff bracelet and make that the focus on top.
What it does: shows that you've got style and makes you a bit more interesting.
2) Add a Watch. For this particular outfit, I added a black banded watch to go with the black tote. The black is pulled from the darkest hues of the skirt and the jet-toned chain of the necklace.
What it does: shows that you care about being on time and makes you appear responsible, intelligent and professional with places to go and things to do.
3) A Pair of Unique Shoes. By unique, it doesn't necessarily mean off-the-wall and eccentric like a pair of pumps added with fur and fringe. It can mean bright-colored soles or an interesting style that you don't see many people sporting.
What it does: shows that you have a creative edge and don't like to take things too seriously.
4) Sweet Fragrance. A little goes a long way. This simple but invisible accent can make your day more positive.
What it does: Just like aromatherapy, a nice smell can help your mood stay positive and make you more attractive.
5) Perfect-Sized Tote. You don't want a bag too small that says you don't do much or an extra-large bag that makes you seem overwhelmed.
What it does: the perfect-sized tote says that you are professional and put-together, and that you've got everything under control.