Golf is not a sport that challenges one to run, jump or perform other similar moves, so naturally golfing attire is more flexible and can be a lot more stylish than say, rugby uniforms. However, when choosing golf clothes, you should not disregard the practical aspect of the pieces. Following a few guidelines will definitely help you make the best out of your golfing attire next time you shop for golf clothes.
Many golf courses have a dress code, which you can usually find out on their website or if you make a phone call and ask. Usually, such a code starts with: "Gentlemen are not allowed to…" This is why you should make sure that the clothes you want to wear are in tandem with the club's requirement, otherwise they won't let you play.
Shirts and jackets
Many men prefer to stay very conservative on the field, but we encourage you to wear different fabrics and colors.
The rule of golfing clothes is generally that they have to be extremely comfortable since you need to be able to be flexible on the green. Before you buy any jacket or shirt you are planning on wearing on the golf course, make sure that you try it on and see if you can move properly. To make sure you will be appropriate for the golf course, you can wear a collared shirt, such as a polo shirt, which you can pair with a jumper in case it gets cold. We think that stylish golfing polo shirts are the best options, since they are actually made for golfers and are recommended by so many players worldwide. Normally, golf shirts have short sleeves, but if you wish, you can also wear long-sleeved shirts.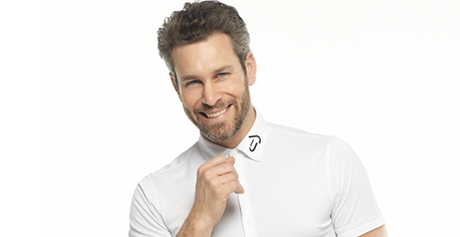 The right golf shirt should make you look and feel your best!
A nice shirt can be paired with a golfing jacket, but you can also pair it with a vest or a sweater, if the weather allows it. The classic golfing vest is either a solid color vest or a vest with an argyle pattern. More modern options are fleece vests or zippered windbreakers.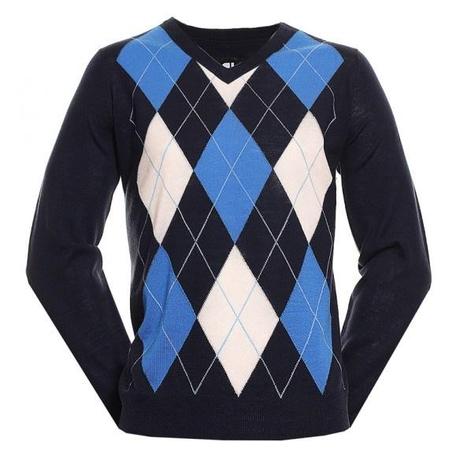 This sweater is perfect for golfing. Found on the F18 website
If you want to look more stylish, you can choose different fabrics that look elegant and feel comfortable. Cotton is one of the best choices you can make, as it is perfect for many types of weather. A cotton shirt will help you stay cool in the summer time but is also easy to layer with a jacket during the winter. Of course, mixing fabrics does not mean that you should wear a polo shirt with a tuxedo jacket: remember that some fabrics are dressier, while others are more casual. To be able to tell if something is too dressy or too casual, feel the fabric with your hand: if it's silk-like or feels like it's made for an evening shirt or jacket, then it is probably not appropriate for the course.
Pants
Having several pairs of pants can really make golfing more fun, as you won't get tired with the monotony  of having to wear the same "uniform" every time you go on the course. A proper pair of golf pants should be at the same time stylish, well-crafted and should not impend your movement, which is why jeans are not recommended, as they are quite restrictive. When you are wearing your new pair of pants for the first time, make sure you practice all your moves. This way, you will be able to check whether the pants are in the right size or not and if they fulfill the comfort requirement as well. To give you an example of pants, we really like the stylish golfing trousers from Function18. They look great in terms of designs, colors, and patterns and are also functional.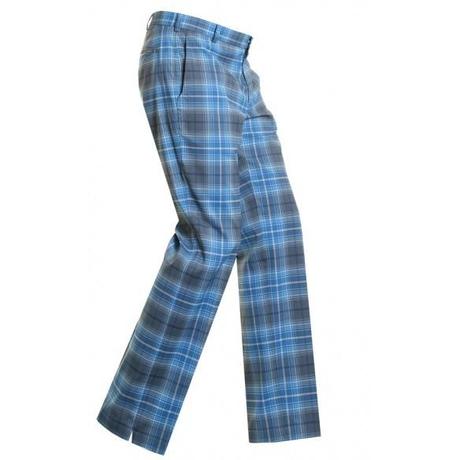 Special golfing pants:
Nike Golf Tartan trousers
A good pair of golfing pants will allow the air to flow comfortably, so that you don't feel suffocated on the field.
The fabric of the trousers is also very important. The ideal material should be sturdy, but not too heavy. Other qualities you should be looking for in golfing trousers are: they should be wrinkle free for easy ironing and it would best if they have gone through a color-lock treatment. This will ensure you that their color will not fade away after a few washes.
When you are buying pants, we recommend that you pay close attention to the seams. If you find gaps, bulges or seam damage, you should skip the pair. Give them a good tug, this way you will be able to tell if they are conforming to the right standards. Another thing you should be paying attention to is the hemline. Good pants don't usually present signs of material wear or fraying.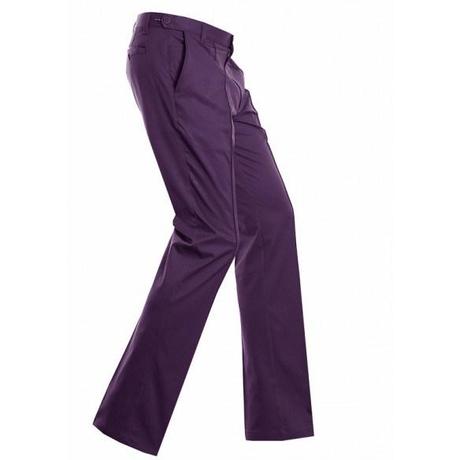 You can go golfing in these
Ian Poulter Tech Golf trousers
When it comes to length, the best length is just above the top of the shoe. In case you find a pair that is longer, you can always have it tailored, but a shorter pair is not as easy to modify. Also, don't wear pants with cuffs, since they attract and collect dirt.
One more note: you can wear short pants as well, but avoid wearing work-out pants, cut-offs and gym shorts. Also, some would argue that men should wear pants that are higher than the knees, but we don't consider that such an unbreakable rule.
Shoes
Because earlier we discussed dress codes, it's important to know that many golf courses do not allow metal spikes on the course, as they can damage the greens. This is why it's important to look for shoes that have soft spikes. The right pair of golf shoes needs to provide you with the grip you need. You can always take another pair of casual or dress shoes with you, if you are planning on spending time in the club house after you have finished playing.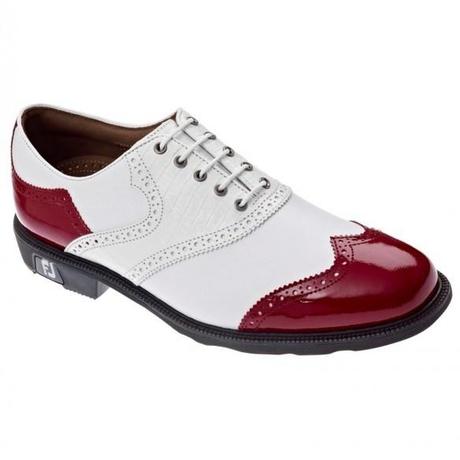 This is a Footjoy Icon Golf Shoe
If you want to make sure you are wearing proper footwear, make sure you get them from a well-established brand. Men's golf shoes sometimes resemble wingtips, dress oxfords or even saddle shoes. Another type of golfing shoes is more casual. Such shoes have colorful styles and  look more like sneakers. You can even find golfing sandals, but we'd recommend checking in with the dress code first.
Accessories
There are only a few accessories that actually work on the golf course: you can and should wear a belt to complete the look you have put together. Also hats are appropriate for the greens; you will look great with a stylish baseball cap made from canvas or a tennis hat with a wider brim.
Don't wear necklaces or bracelets or other types of jewelry that might stand in the way of your comfort.
If you are playing in the sun, you can wear sunglasses, but make sure they stay well on you. Models such as aviator glasses are usually too flexible for a sport where you need to move your head all day long, following the ball you just hit. There are specific golfing sunglasses, which are rimless in order to increase the field of vision. These are usually wraparound style. Look for sunglasses with 100% UV protection. These will prevent potential damage to the skin around your eyes and cataracts. Some brands also offer special high-contrast lenses. These enable the players to spot the balls more easily.
Additional tip
Note that the price of a piece of clothing is not always the best indicator of its quality. This is why we recommend that you don't go by the price, meaning more expensive items are better, while cheaper ones are bad; but to look for brands and stores specialized in golfing attire.
Now that you are done with the fashion aspect of golfing and are ready to hit the course, all you need to do is to practice your swing a little more, because in sports, just like in fashion, practice makes perfect!
Fraquoh and Franchomme
P.S. What do you like to wear on the green? Have you ever seen a dress code that was too restrictive? Do you think there should be golfing dress code? Do you wear golfing clothes outside the course? Share your comments below!
Share on Tumblr
0