The arrival of autumn brings with itself a lot of changes to our wardrobe. One of the most important things you need to incorporate in your wardrobe is a scarf. Why a scarf? We think it's important to have a scarf in your fall "collection" because the weather changes a lot in this season and taking a scarf on and off will be something very practical, since you don't need to be bulked up for winter yet!
We have put together some tips on choosing a scarf and would recommend that you follow them and adapt them to your style!
1. Fabric. Make sure the scarf keeps warm. Depending on your climate, you need to establish what fabric is best for you. Wool is generally a good general choice.  The most common fabrics when it comes to scarves are: wool, angora, cashmere, silk, cotton, linen, synthetic materials, or a combination. Weave is something very important because bulky scarves that are made from thick yarns necessitate simple knots and are not very practical. In winter, wool or cashmere are the best choices.
Silk scarves are also great, but you might want to wear them more to a certain occasion or environment where you know you are not going to be very cold, since wearing a silk scarf might not keep very warm.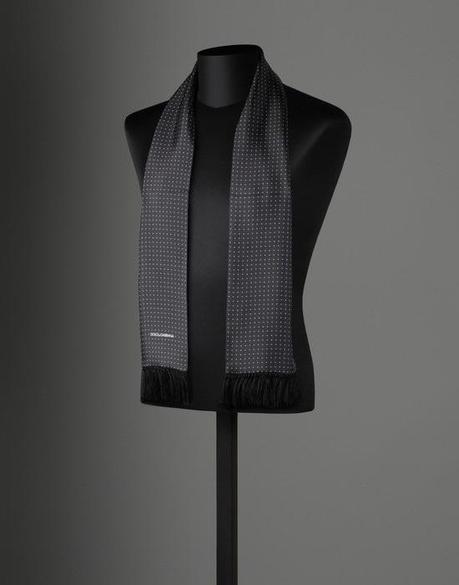 A D&G scarf for that goes well with a more formal occasion.
2. Length  and width. A normal scarf is between 50 to 90 inches (127 cm to 228 cm), but we also like shorter scarves. Of course the length of the scarf should be proportionate to your height. Taller men should look for longer scarves. There is no need to look lost in your scarf or to look as if you stole it from a child.
In terms of width, a scarf should be anywhere from 6 to 14 inches (15 to 35 cm), but again the rule of thumb is to keep things proportionate.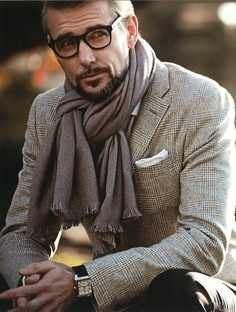 Make sure the cars compliments your frame
In addition,the length of the scarf, if worn open on the outside of your outfit can impact the way your body is perceived. A longer scarf flowing from your neck down will make you appear slimmer and longer, while a bulky scarf tied around the neck can become the center of attention and distract from your features, so use this piece of information wisely.
3. Color/Pattern When it comes to color, of course there is no fixed, unbreakable rule pointing to a certain color. The color of the scarf should be in harmony with the occasion you are wearing it at (a bright green scarf is not our first choice for a black tie event, but it could be for a skiing day). What's most important is that the scarf you are wearing needs to be in harmony with your skin tone, since it is so close to your face. To read more on this topic, check out our articles:
"Choosing your clothes according to your skin tone" and
"The professional way to choose the colors of your clothes" to learn how to put colors together and match the colors of your main pieces to the colors of your accessories.
Scarves are accessories, so try not to make them the central piece of your outfit, especially if you are sure that at one point during the wear, you are going to take it off.
4. Shape. While most scarves are long and rectangular, there is also an option you might not be very familiar with, the triangular scarves. If you feel they match you, there is no need to push them away. Go for it and see how it works.
Then, there is also what's known as the keffiyeh. A Middle Eastern piece, keffiyehs are not very commonly worn and even though some contexts would make them a great addition, they are very much associated with youth culture in the West, being more common in the Middle East, of course. Also, the color(s) a keffiyeh has, has a meaning in the Middle Eastern world, so be sure you know what message might come across if you wear them in a certain context.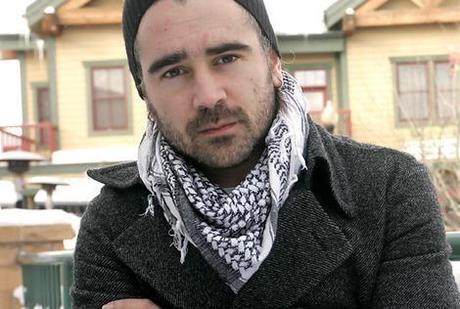 Colin Farrell wearing a keffiyeh
5. How to tie scarves Scarves can be tied in many ways, but the main thing you need to look for when tying a scarf is your own comfort and be sure it is proportionate to your overall aspect, balanced and in the same context. Have a look at a few ideas on how to tie your scarf, by looking at one of our articles.
So, here you have some tips on choosing a scarf that might come in handy when you buy or put on a scarf! Don't forget that the accessories you choose have the power to basically make your outfit and need to be chosen carefully. If it doesn't work out, just take it off, toss it and get a new one!
Fraquoh and Franchomme
P.S. What do you think of scarves? What type do you prefer? Share your comments below!