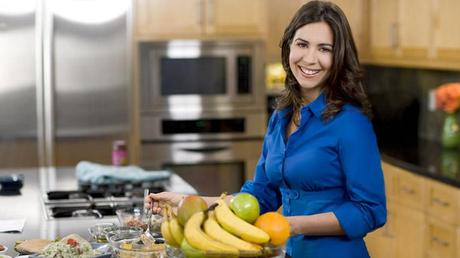 I'm a big fan of
Chef Devin Alexander
, since her food philosophy and mine are totally aligned: that healthy food can taste good! But what I admire the most about her is that she lost 70 pounds about 15 years ago and has kept it off ever since. So when I got the opportunity to interview her, I was thrilled. For all of you who want to maintain a healthy weight (or lose weight) in 2012, here are some awesome tips from Devin.
* * * How did you get interested in cooking and healthy meal makeovers?
I weighed close to 200 lbs when I was 15. I always like to say, "My two Italian grandmothers taught me how to get fat." I tried so many diets but I just couldn't lose weight. I loved cooking and I couldn't imagine not making food myself, so I learned how to cook healthier versions of the foods I loved. Eventually, I moved to LA to be a screenwriter, and some celebrities found out that I could make healthy food taste good, and that's how I ended up on the path I am now. I never, in a million years, had planned to be a Chef, but I love what I do now. I always tell people that if you're struggling with your weight, you can make a change. If I can do it anyone can!
What are some of your tips on how to maintain a healthy weight? How have you maintained your weight loss for so long?
I've been able to maintain my weight mostly because I eat what I really want, and I work to "spend" my calories on things I crave. I don't just eat things "willy nilly," I'm conscious of what I eat. I can't eat whatever I want, but I do make sure that I eat what I really want. There's no room in my life for empty calories and accidentally eating a bag of chips on the sofa (for example). I stay away from fast food and fried food – it's not an option for me to eat that now. But that used to be my main food source – I used to eat fast food all the time. So instead, I have just made over all the "junk" foods I loved: from chocolate cakes to brownies to crusted chicken to Italian favorites and potato chips. I play mad scientist in my kitchen – anytime I crave something I figure out how to make it healthy. And I always, always eat chocolate every day.
What are some ways we can all make our cooking and recipes healthier?  
I talk a lot about healthy swaps and making recipes healthier. But one important thing to understand is that you can't just make one swap to a recipe and have it taste the same as the original. There are so many components to a dish that you have to change the flavor, moisture, etc. of the whole dish. For example – if you substitute turkey for a recipe that calls for beef, it really won't taste the same. I suggest people use ground chicken for beef in recipes instead of turkey. In my brownies, they have a rich chocolate taste, and it's because I take some of the flour out and add extra cocoa powder (if you don't take out some of the flour, it gets too dry). Another swap I make often is in meatballs, I substitute egg whites + oatmeal for eggs + breadcrumbs. I always suggest that people find a couple of good healthy cookbooks that have gotten good recommendations (don't just pick one randomly off the shelf) to get yourself started with a healthy lifestyle, and remember: for everything you swap you have to make other changes to the recipe to achieve the same result!
What are some tips you'd give to people who are trying to (and struggling to) lose weight? Where should they start?  
My main thing is to get people out of the diet mentality, because it's too restricting. To start, I suggest that people track exactly what they eat, for 3 days straight. And to be really honest – like count every single morsel and figure out what you're eating. Once you do that, you can figure out what things you really cannot live without, and what food items you don't care as much about. Then make sure you incorporate enough servings of fruits and veggies into your diet, and build room for the "must-haves" (like chocolate is for me). So for example, if you can't live without mac & cheese, then align your diet around that: have the mac & cheese but for your other meals have lean protein and veggies. Since I have to have chocolate every day, I created this treat that's in the Biggest Loser Quick & Easy Cookbook: Frozen bananas + cocoa powder + protein powder – it tastes like chocolate ice cream when it's blended together!
Another favorite chocolate recipe of mine is: True Love in a Bowl
It's just: Frozen bananas + cocoa powder, and it gives you 2 servings of fruit + 4g fiber from cocoa powder. I call it true love because it doesn't make you fat!
That's how I get by, I take the time to make that treat instead of eating a scoop of ice cream (for example). It's all about playing with the things you really love and figuring out how to satisfy your cravings. Another tip that works well: if you are cooking for one, portion your serving out first and then package the rest for leftovers, so you're less likely to go back for seconds later at night.
Once you find those recipes that are your go-tos – it makes it a lot easier when you go to a party or go out to eat to resist temptation. I'm a huge chocolate person, so if I go to a restaurant and I take a bite of something and it's not that great, it's not worth the calories to me because I know I can make something better. So that makes it really easy for me to say no, and mean no, and not want it. I am also of the philosophy that if you tell yourself you can't have something it will make your body revolt. Like if you are eating junk food and simultaneously telling yourself "I shouldn't be doing this," it'll make you want it more, you'll crave it more, and you'll end up eating it more.
What is your favorite dish to make?
True love in a bowl is definitely up there these days. For chocolate lovers, I also created my "Chocolate Not Only in Your Dreams Cake". It basically tastes like a warm flourless chocolate espresso cake, but instead of having 750 calories and 30g fat like the restaurant versions, mine is only 200 calories, 2g fat and has 6g fiber. It's weight watcher friendly and insanely decadent. I like to eat it with raspberry liquor.
Thanks Devin for all of these great tips! It was so nice speaking with you
For those who are interested, you can have access to more tips and great  experts similar to Devin on OpenSky.com.