With summer on in full swing, most men and women wouldn't dare go out wearing winter fabrics. But when it comes to leather, it certainly is hard to keep away!
If you would love to sport your trendy leather pieces this season despite the fact that just reading the words summer and leather in one sentence makes you sweat bullets, you've come to the right place. Here are some top tips to help you look trendy without sweating it out.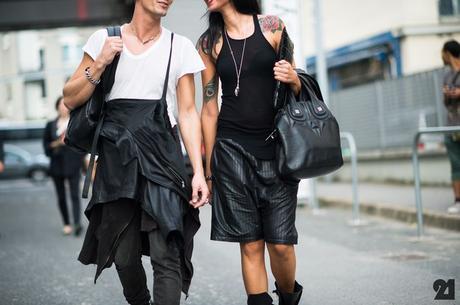 Choose the Right Leather For You
While leather apparel is designed to be effortlessly chic for winter, thanks to designer upgrades, wearing leather in summer is no longer a problem. Simply look for light-weight hides that are lined with silk or other breathable fabrics to keep you comfortable throughout the day.
Whether you intend to show off a pair of leather gloves or a pair of leather shorts, be sure to pay attention to this little detail.
Go for Accents
If you're not very confident of sporting leather in summer, just go for accents instead of the real deal. Wearing clothes with leather accents will help you step out in the sun confidently and is sure to get you approving nods.
Go for a cotton jacket with leather accents, a skirt with leather pocket flaps, or a dress with leather panels and you can have your cake and eat it too!
Don't Go All out with Leather
As much as you love leather, you can't go all out and dress in it from head to toe. Even if you're comfortable doing so, you don't want others to look at you and feel suffocated by the heat! Moreover, maintaining balance is important no matter what fashion trend you follow, so when draping yourself in a second skin, make sure you're doing it in small doses.
Pair leather shorts or trousers with simple, summery tops or shirts or wear a leather vest over your regular summer ensemble. With summer sandals or loafers to match, you're definitely going to look smart.
Allow Skin to Breathe
Taking care of your skin is a must whether you spend generously on creams and lotions or are thrifty and prefer availing beauty sample freebies. So even if you wear leather that is lined with breathable fabric, you don't want to wear anything that is skin-tight. Opt for jackets or vests that fit loosely, shorts that are roomy, and wrap or A-line skirts.
Also, summer is the season to bare some skin, so don't cover yourself up in leather trousers and full-sleeved jackets. Choose shorts or vests and don't be afraid to try on leather clothes with slits or interesting laser cutouts.

Pick Lighter Colors
When you think of leather, you're bound to think of black. But in the middle of summer when you want to feel cool as well as look cool, you certainly don't want to go out wearing black as it can absorb more heat!
Leather wear in white, brown or camel, and other light shades are your best bet in summer. Don't shy away from bright colors like red and yellow. Oxblood and pastel shades are a hit too!
Accessorize with Leather
If wearing leather is too much for you, accessorize your summer look with leather. After all, you don't always have to wear leather to show it off!
You can use leather accessories like belts, wallets, satchels, handbags, and more to your advantage. You can also consider donning a pair of leather shoes! Women should stick to open-toed heels and sandals for office or evening wear, and men should remember to wear socks made of natural fabrics to help absorb sweat.
In addition to this, women can wear a leather choker or necklace with beads to accessorize their ensemble with leather.
Fake It
Natural leather can be quite heavy and if you want to enjoy summer without the added bulk, opting for pleather or faux leather can be the best thing to do. Not only is faux leather light-weight and stylish, it is also inexpensive and cruelty-free.
Conclusion
Dressing comfortably is as important as dressing fashionably, and if comfort is more important to you than fashion, wearing leather in the hot months may not be something you look forward to.
However, wearing a second skin in the sweltering heat doesn't have to be as bad as it sounds, so there's no reason for you to stash away your much loved gear. Sure leather looks like a winter-perfect fabric, but using it this season can be a great way to refresh your summer wardrobe.
With the tips given here, you now know all about using your leather clothing and accessories to make heads turn. So don't worry about the heat, just put on what you love and head out!