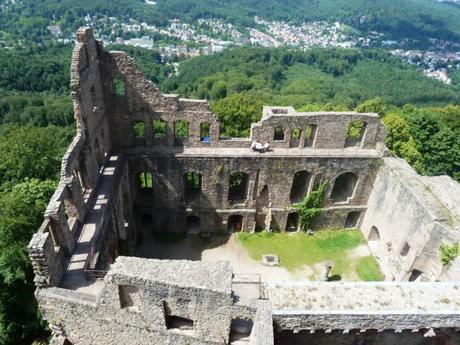 I love hiking in the Black Forest, so much so that I spent three out of the last four days hiking in the Black Forest and am spending every weekend in July hiking in the Black Forest, before I go back to Canada for five weeks. But finding information about hiking in the Black Forest can be a challenge.
The larger cities all have tourist information available  in English on their websites, i.e. Baden-Baden or Freiburg.  There is also the Schwarzwald Touismus Site, the official tourism site of the Black Forest.  And while most of these websites list the popular long distance trails, such as the Westweg or Ostweg, but they do not include maps for these hikes or for day hikes.  If it's maps you're looking for which I find extremely helpful when hiking in an area I don't know, then you're best bet is to head to the local tourist office where hiking maps will be available for a small fee.  This past weekend we purchased a map of hiking trails of the Feldberg (the highest mountain in Germany outside of the Alps) for .50 cents.  They may/may not be in English, but even if they're in all German, they still list the trail length and elevation to help you choose a suitable hike.  More detailed maps are also available for purchase in bookstores, so if you're going to be in the area for a while this is also an option.  Trail guides are also available (I have four alone for hiking in the Black Forest), but I haven't found any in English, so unless you speak a bit of German, you're probably better off with a map from the tourist office.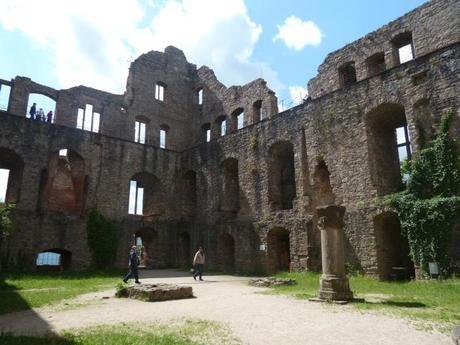 The Alt Schloss (Old Castle) in Baden-Baden overlooking the Black Forest.
Women's outdoor equipment and hiking equipment in general can easily be purchased in the larger centers in the Black Forest, but I recommend purchasing it earlier, since most stores are closed on Sundays and if you're in a small town, stores may also be closed on Saturday afternoons. It's also important to ensure you have enough clothing.  I usually hike in a shirt that wicks the sweat away, keeping you cooler in hot temperatures and warmer in cool temperatures, and bring both a fleece and a rain jacket with me, while hiking in the Black Forest.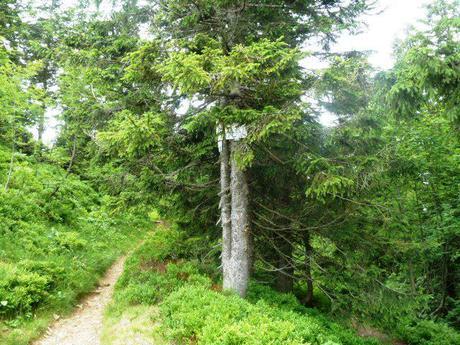 We recently walked by these semi-hidden route markers while hiking in the Black Forest.
Most hikes in the Black Forest are well marked with different colored route markers.  This sounds easy enough to follow and often it is, but it's also not uncommon for one hike to follow several different colored route markers, so you need to pay attention to which route markers you are following and at which points the color changes.  It's also not uncommon to not see a route marker where you would like to see one.  On several occasions we've come to a cross roads with not a route marker in site.  Normally when this happens I choose a path and several hundred meters later come across another route marker which then tells you if you have chosen the right path or need to retrace your steps and try the other way.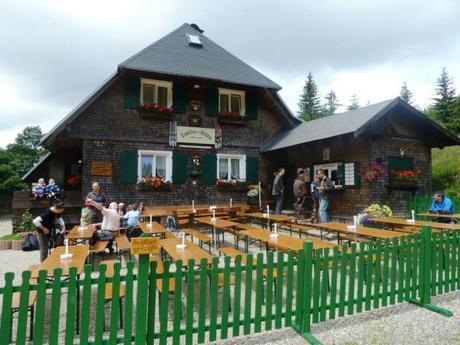 Many hiking trails in the Black Forest have at least one hut enroute. This is one of many huts found in the Feldberg region where we stopped for a drink and to stretch our legs.
Another thing I really enjoy about hiking in the Black Forest are all the huts, many of them serving up a small menu of homemade local food and drinks and some of them even offering accommodations.  On almost every hike we  stop at a hut for at least a drink.  But be warned, don't depend on huts for food and water.  Always bring enough food and water with you and if you happen to stumble across a hut, great.  On countless occasions we have seen a hut on our hiking map  only to find out that it is closed because we  have arrived too late (many huts close by 4 or 5 pm), we have arrived off season, there's a church service going on and no food is served until after the service is over ( in Austria), or the hut is closed for a holiday  (this has happened so many times I've lost track – Germany has a lot of holidays, especially in June).  I always bring plenty of food and water with me assuming a hut will be closed, then if it's open, it's a nice surprise.  Hiking on an empty stomach and dying of thirst takes the fun out of hiking.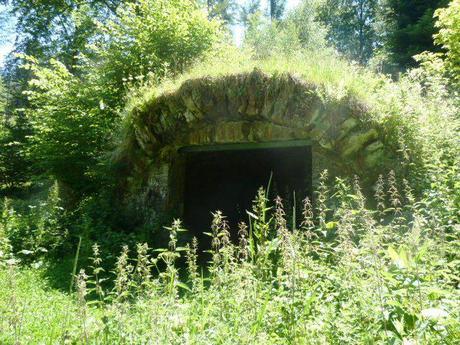 Yesterday we came across this outdoor bread oven while hiking in the Black Forest dating back to the 1500s.
When hiking in the Black Forest, you will  have a lot of options.  Are you looking for views?  Castles and castle ruins?  Culture? Traditional Black Forest farms?  Also some hikes are more accessible than others by public transport.  Some trails are paved and you may be sharing them with cars, while others are actual hiking paths (the kind of trails I definitely prefer), while some are logging roads.  The tourist office will be able to point you in the right direction and recommend a hike for you based on what you're looking for.   I really like Baden-Baden for the number of hikes it offers, including one to an outstanding ruin (pictured in the top 2 photos), the two day Panaroma Weg hike, it's ease to get to via public transport and other tourist sites within the city, including mineral baths which feels so good on tired muscles after a long day of hiking.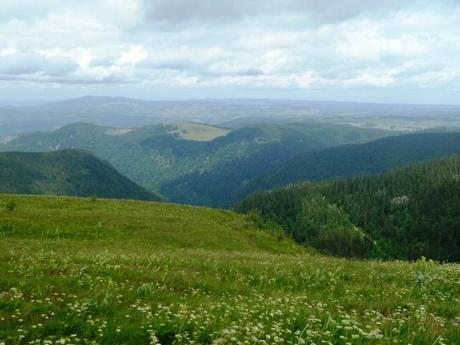 View from the Feldberg. On a clear day you can see peaks hundreds of kms away - unfortunately it wasn't a clear day when we went.
If you're looking for views and don't mind hiking with a lot of other people around (there is a gondola taking people to the top, so you definitely won't be alone), I would recommend the Feldberg, since the views are amazing on a clear day, there's a variety of hikes to choose from, a number of huts you can stay in and because it's easy to get to via public transportation from Freiberg.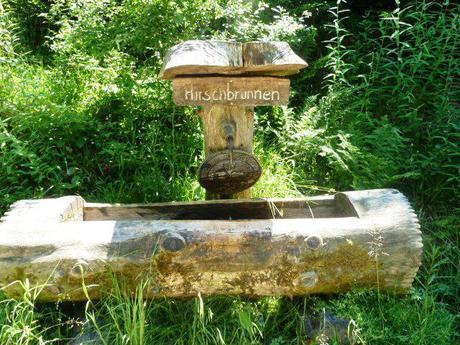 I love some of the interesting "finds" you see while hiking in the Black Forest - such as this water fountain for cooling off (not for drinking) on a trail near Dobel in the Black Forest.
I'm also a fan of "off the beaten path" places, which are my personal favorites.  These can be a bit more challenging to find, especially if you don't speak German and are relying on public transportation, but one such place is Calw, which is easy to get to from Stuttgart by train.  It offers a variety of hiking options, including one hike that leads you to a henker site (where women were beheaded on the suspicion of witchcraft) and up to a ruin.
Have you hiked in the Black Forest?  Which hikes would you recommend?
For more info on hiking in the Black Forest see the Hochschwarzwald Tourismus Site.