Published as:  My Own Private Idaho A 196-square-foot house born of architectural know-how, an enterprising spirit, and just over $11,000 has become an inspiration to a growing community of
tiny-house enthusiasts
.
Slideshow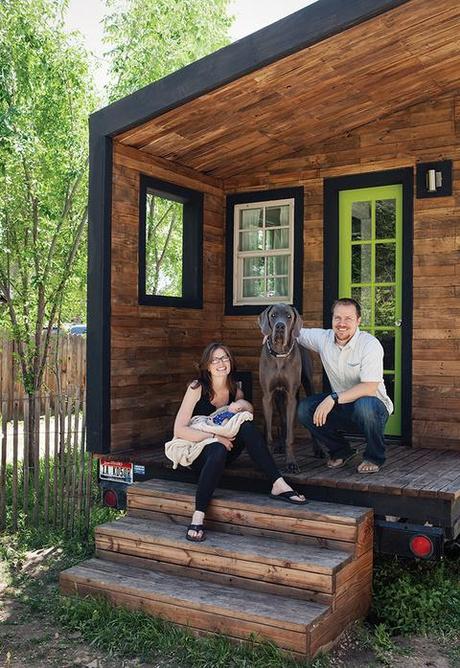 Boise, Idaho­–based architectural designer Macy Miller built her own 196-square-foot home, which she shares with her partner, James Herndon, their newborn, Hazel, and the family's Great Dane, Denver. The exterior cladding, which Miller stained for a uniform effect, is a mix of nearly a dozen types of wood plank, including poplar, oak, and fir.
Six years ago, designer Macy Miller was in the middle of a divorce and facing foreclosure on her 2,500-square-foot home—an experience that was emblematic of the economic downturn. Since then, however, she has become a poster child for a different cultural phenomenon, one that has gained momentum with the belt-tightening ushered in by the recession: the tiny-house movement.
Miller put $11,400 and her own sweat equity into building a 196-square-foot shelter on a new piece of property in Boise, Idaho, where she works for a commercial architecture firm. "I wanted a space I could do my own thing with, but not be tied up with a bank," she remembers. "I'm also studying for my construction license, and I needed a project to work on." Motivated, Miller read manuals, watched YouTube video tutorials, and banned her plumber dad from helping.
Slideshow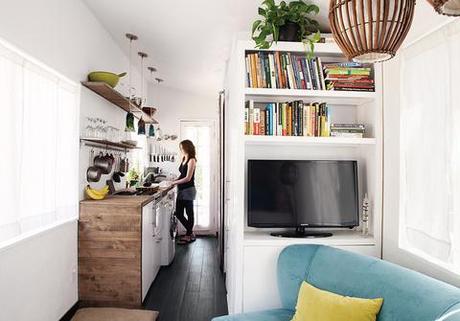 An enthusiastic cook, Miller says she can easily work in the galley-style kitchen. The reclaimed-wood surround echoes the exterior cladding.
Situated on a downtown lot, the house—with sustainable features like radiant floor heating, a composting toilet, and a modified green roof—is designed to be off-grid compatible when hooked up to a solar array. And despite its extraordinarily petite footprint, Miller says there's plenty of space not only for herself and her partner, but also for their Great Dane (who takes to small spaces better than her previous dog, a Chihuahua, did), and a recent addition: a newborn baby. 
Macy Miller: I started with just a trailer. A lot of people think it's about mobility, but it's really not. Boise has a minimum square footage for dwellings—600 square feet. If you put wheels under it, it kind of bypasses all the building codes. We're not trying to get around the system per se. We just wanted a smaller house.
Slideshow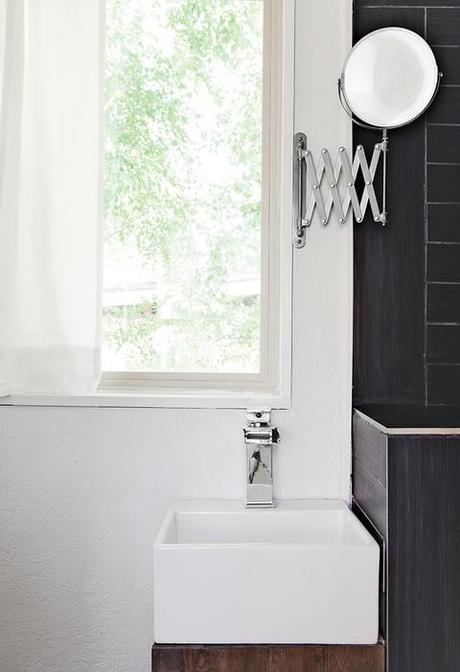 In the bathroom, a chrome waterfall faucet by LightInTheBox tops a 12.6-inch-square Mini Nova basin by Barclay; a retractable Ikea mirror is the only concession to vanity.
There's preconsumer and postconsumer recycling. A lot of what I got is preconstruction. There's a lot of waste in the construction industry; you order a little extra when you don't have time to wait for another load. I capitalized on that a bit, and being in the field helps. Pretty much all of my lumber was brand new from a larger jobsite where they over-ordered. I ended up paying $300. The windows are all brand-spanking new. A developer I knew had a little misorder happen. I got to go down there and pick up the windows I wanted, which they donated.
For the radiant floor, I went with a 6,000-pound tile system with an inch and a half of mortar bed. We added a third axle when I bought the trailer just to support that. When it drops below 20 degrees, I have to supplement with a space heater. But the thermal mass I put in for the radiant-heat floor is really good in the summer.
Slideshow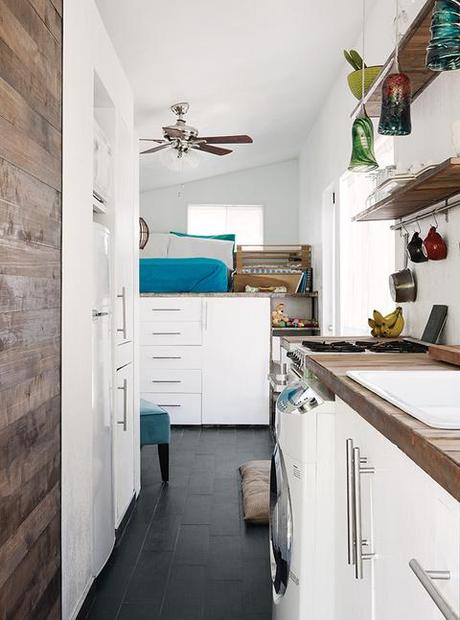 Porcelain floor tile from Daltile is a durable, easy-to-clean substitute for wood. The family does laundry in an efficient Summit SPWD1800 washer-dryer combination unit. Miller saved money in the kitchen by using a reclaimed sink and faucet and drawer pulls from Ikea.
I deliberately built with the ability to adapt. The patio was intended so I could enclose it and call it a nursery, but I'm not going to do that. The baby just wants to be near me, and I want to be near her, too. She has a cosleeper, a crib-sized bed that fits next to me.
I like being downtown, being able to ride my bike to get a beer. You can't really do that in the suburbs. Ultimately, it's about exploring how you live, what you need, and what's comfortable.