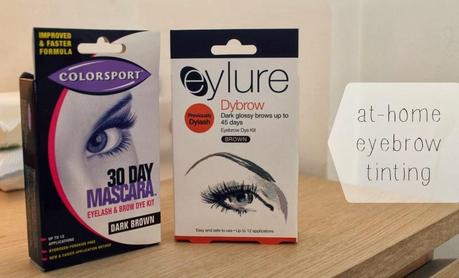 I've always been a little obsessed with eyebrows... from (over) plucking and shaping them back in my school days, to in the past couple of years tinting and filling them into a thicker shape. When I started blogging just over two years ago the fuller, thicker brow trend had just begun and I jumped firmly on that bandwagon! Despite one of my friends telling me I had a 'scouse brow' at one point (far from it) I knew the fuller brow look would catch on, and now we can't get away from it. I find it strange now seeing people who don't do anything to their brows! As we all know, they frame the face yada yada yada...
My brows have always been a bit sparse - few and far between - and trying to create a fuller brow can be a bit tricky. Almost two years ago to the week I had an HD Brows treatment (post
here
) and since have been a convert to the HD Brows palette (post
here
) - a powder palette with a fab little slanted brush which creates the perfect brow, without the harshness you often get using a pencil. 
In the last year though, I've added something else to my brow routine; tinting. I used to get my brows tinted at a salon near me, but at £10 a pop (it only lasts about a month) it was pricey, and only taking minutes I thought I could do this myself! So to Boots I went and picked up the Eylure Dybrow in brown (also comes in black). It retails for around £7 and it says on the pack it holds 12 applications which would last you about a year. A couple of months ago, when this ran out, I bought the Colorsport 30 day kit thinking this was the same thing, but was hugely disappointed. The formula and application method is just rubbish, and barely makes a noticeable difference! I have to admit I've now thrown it away, as was a complete waste of time. I'm an Eylure girl every time!
What I'd say to everyone is give tinting a go. It is oh so easy, quick and the effect is brilliant. It gives you clearly defined brows which appear thicker and fuller, making filling that much easier. I'll never get it done at a salon again - such a waste of time and money!
Do you tint your brows?