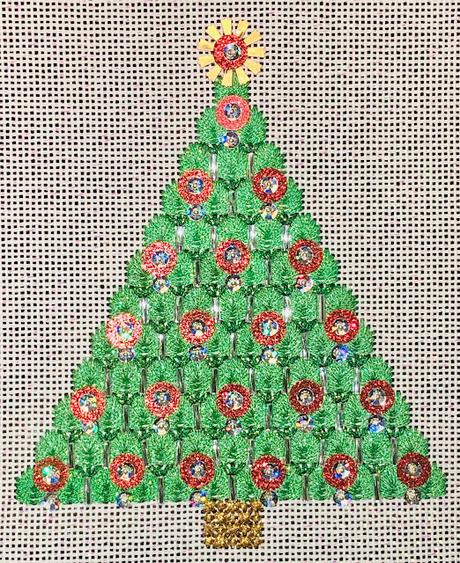 It's time for a new Freebie charted design to celebrate the holiday season!  I hope this little tree will remind you of old fashioned trees strung with shiny metal tinsel and decorated with big Shiny-Brite ornaments.  
You can download the chart for this design for free from my website, just click HERE.  You'll find the thread and bead key on the chart, and here are the particulars about how I stitched mine:
The threads are all stitched with 1 strand.  This tree is made up of individual branch-shaped motifs.  The chart is for tree a bit smaller than my model in the photo, so that it is easier to read.  To make a tree as large as mine, continue to add rows of branch stitches until your tree is 12 branch stitches wide along the bottom. Your darker thread is for the small "fill-in" stitches in between the branches.  The tree trunk is centered on the bottom row. 
The sequins and beads are all attached with a 15mm silver color seed bead, and they should be attached after all the stitching has been completed, using your preferred beading thread.  The star at the top is a layer of the star sequin, a red sequin, a silver sequin and a bead.  On the tree, the red dot is a red sequin layered with a silver sequin and a bead.  The gray dot is a single silver sequin and a bead.  The gray rectangle is a bugle bead that is attached in between some branches.  
Be sure to refer to the photo as well as the chart while stitching, and do email me if you have any questions.  Have a very Merry Christmas and Happy Holiday Season!