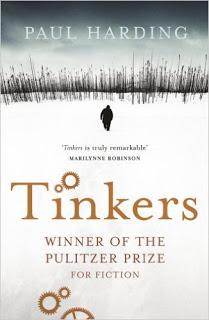 Published January 1, 2009
Paul Harding won the Pulitzer Prize for Fiction in 2010 for his novel
Tinkers
, a story about three generations of men from New England.
We meet George Crosby, a clock repair man.  From the start, the novel focuses on time, memory, and perspective.  George is suffering from delirium as a mature man in his last six weeks of life.  This leads to some shifting perceptions between past and present, reality and fantasy.
This is a book that I read slowly, wanting to live in the moments that he creates on the page.
Readers are next introduced to George's father, a salesman. Every fall and spring, Howard stocked up a wagon full of goods and traveled through back roads with his mule, selling to impoverished country people and making very little profit.
Howard is a poet at heart, but between the demands of providing for his family and the difficulty of dealing with his epilepsy, he lives a far less elegant life.
Towards the end of the novel, we meed Howard's father, an unnamed minister who likes to tinker with his writing, creating texts on the side that are not sermons.  We learn very little about him compared to the other two, but his life influenced the generations after him, so we do get a glimpse of the man who came before Howard and George.
Yes, it's interesting to read about the dreams and trials of these three men. However, the most compelling aspect of this novel is the language. Harding's prose if lyric and philosophical.  It's a joy to read his descriptions of clocks, wagons, trees and even dirt.  Everything has import.  Small gestures, pauses in conversation, the manner in which someone sits--all informs the reader.
He did a remarkable job balancing the abstract with the concrete.   Some of his observations are focused on the microeconomics of personal identity and relationships. Other observations are focused on the natural world--the way bark looks.   He weaves the two together--abstract and concrete--in a way that complement each other.
The kaleidoscope is one of his recurring images.  And his book functions much in the same way: we see images shift in relationship to each other, creating patterns only to see them shift again.  I found this novel to contain elements of modernism (think Robert Frost) and post-modernism (think Gabriel Garcia Marquez).
In one passage, Howard considers how easily people can change their opinion of another:
Howard thought, Is it not true. A move of the head, a step to the left or right, and we change from wise, decent, loyal people to conceited fools? Light changes, our eyes blink and see the world from the slightest difference of perspective and our place in it has changed infinitely. sun catches cheap plate flaking--I am a tinker; the moon is an egg glowing in its nest of leafless trees--I am a poet.... (p. 124). 
I enjoyed taking the time to consider these three men from various perspectives, which gave me the opportunity to think about how time, memory and perspective function in my own life.
Related:
Book on Aging
Books about Mature Men Facing Death