A few weeks ago, TOI contacted me and asked me to write an article for their Sunday lifestyle supplement (Times L!FE). How exciting! The article was published this Sunday and for those of you who don't live in India, here it is…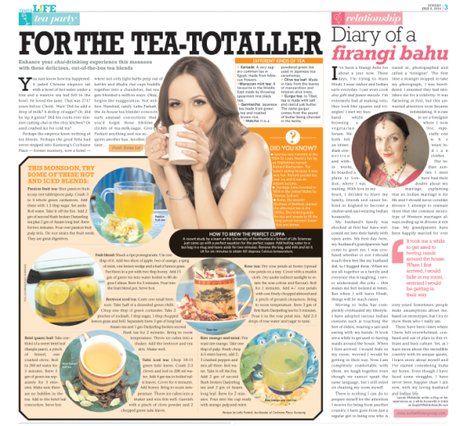 Times of India Newspaper (Times L!FE Magazine) 6th July 2014
Diary of a firangi bahu
I've been a firangi bahu for about a year now. These days, I'm trying to learn Hindi, I wear sindoor and Indian saris every day. I can even cook aloo gobi and paneer masala. I'm extremely bad at making rotis; they look like squares and triangles!
I met my husband whilst browsing a vegetarian forum. We both felt an immediate connection and within weeks, he boarded a plane to London, where I was waiting. With love in my heart, I decided to leave my family, friends and career behind in England to become a sindoor-and-sari-wearing Indian housewife.
My husband's family was shocked at first but have welcomed me into the fold with open arms. On my first day here, my husband's grandparents had come to greet me; I was confused whether or not I should touch their feet like my husband did, so I hugged them.
When we are all together as a family and everyone else is laughing, I never understand the joke – this makes me feel isolated at times. But when I will learn Hindi, things will be much easier.
Moving to India has completely overhauled my lifestyle. I have adopted various Indian customs such as touching the feet of elders, wearing a sari and eating with my hands. It took me a while to get used to having maids around the house.
When I first arrived, I would hide in my room, worried I would be getting in their way. Now, I am completely comfortable with them, we laugh together even though we cannot speak the same language, but I still insist on cleaning my room myself.
There is nothing I can do to prepare myself for the attention I receive for being from another country. I have gone from just a regular girl to being one who is stared at, photographed and called a `foreigner'. The first time a stranger stopped to take my photograph, I was bewildered. I assumed they had mistaken me for a celebrity. It was flattering at first, but this unwanted attention soon became intimidating. It is rare to see a foreigner where I now live, especially one who wears Indian clothes.
The Indian aunties I meet have had their doubts about my marriage, explaining that an Indian marriage is for life and I should never consider divorce. I attempt to reassure them that the common stereotype of Western marriages always ending up in divorce is not true. My grandparents have been happily married for over sixty years! Sometimes, people make assumptions about me, based on stereotypes; but I try to show them who I really am.
There have been times where I have felt overwhelmed, confused and out of place in this vibrant and busy culture. Yet, as I learn more about this incredible country with its unique quirks, I learn more about myself and I've started considering India my home. Even though I have faced some struggles, I have never been happier than I am now, with my loving husband and Indian life.
Times of India Newspaper (Times L!FE Magazine), 6th July 2014
Comment here