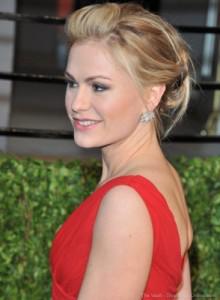 Dave Itzkoff of Artsbeat at the New York Times interviewed Anna Paquin recently about how she has changed from Season 1 to Season 4.
What a difference for both her character of Sookie and for Anna herself.  In the interview she talks about these changes.
Part of that interview is below.
When television viewers were introduced to Sookie Stackhouse, three years ago in real time but only a few weeks ago in the chronology of "True Blood," she was a guileless Louisiana waitress with telepathic powers but without much knowledge of how the world worked, and – oh, right – she was a virgin.
How times have changed.
Over the first three seasons of "True Blood," Sookie has grown into a take-charge heroine who can contend with shapeshifters, maenads, werewolves and – in Season 4 – witches, but no longer depends on her vampire paramour, Bill Compton, or his fanged rival, Eric Northman. During that time, Anna Paquin, the 28-year-old actress who plays Sookie, has evolved, too, into an increasingly central figure on this increasingly popular, explicit-in-all-kinds-of-ways HBO series, who has comfortably outgrown her former status as a precocious phenomenon (and is now married to co-star Stephen Moyer, who plays vampire Bill).
As anticipation builds for the June 26 season premiere of "True Blood," Ms. Paquin spoke recently for this Arts & Leisure article about her maturation on the show. In these excerpts from that conversation, she talks about her time on "True Blood," what Season 4 holds in store for Sookie, and the unusual gift she and Mr. Moyer gave to the crew.
Q.
I noticed that you seem to have squeezed all the New Zealand out of your accent, whether or not you're on camera.
A.
Absolutely. It switches in and out a bit, depending who I'm talking to. It gets a little boring when you're going about your daily life and you end up having multiple conversations with random people, when you're just trying to run errands. They're like, "Oh, my God! Where are you from?" I'm like, "Can I just buy my milk and go home?" Sometimes if I'm feeling a little more antagonistic, I'll give people a bit of a hard time. Like, "Where are you from?" I'll be like, "Here." "You don't sound like it."
Q.
You do have a sarcastic side.
A.
I like to poke people. I do. But I like to hang out and play with people that will poke back. And our set has a lot of that. It's a very, very loving environment, and the way most of us express our affection is by gentle-to-severe ribbing. It's a bad sign if you're not someone that anyone teases on set. It usually means that no one knows you that well.
Q.
One of the words I most often heard your colleagues use to describe you was professional. Was there concern when the series started that, because of your youth, you might be somehow unprofessional?
A.
I've always worked incredibly hard, and for me sometimes to a fault, my job comes first. I've never really been treated as if I was the kid that didn't know better or didn't know enough, or wasn't good enough or working hard enough. But I was an incredibly hardworking kid. You just don't want to be the flaky, weakling teenager. If I didn't feel like I had anything to contribute I'd just keep my damn mouth shut, you know?
Q.
Even so, does it ever get tedious to hear yourself described as being "wise beyond your years"?
A.
That's an easy way to describe somebody, but it's more that I had a job that is traditionally an adult job, from a young age. It's not like I actually knew more about the world in general or had a better handle on life than other people my age. Maybe when I was 16 or 17 and other kids were going out and doing dumb [things] on the weekends, if I had work the next day, or a junket, I'd be like, "I need to get to some sleep." You grow up unevenly, so there was probably a lot of social stuff that I hadn't done or experienced as much of, because I was busy doing very adult work. It all balances out in the end.
Q.
Did it ever catch up to you with a vengeance?
A.
I had a great time my year at college, don't get me wrong. No parents, no job. School, as it turns out, is a lot easier when you're not pulling a 12-hour day in the middle of trying to get your work done. Living on a college campus is possibly the best way to send teenagers into the world that you could come up with.
To read the rest of the article click on this link: artsbeat.blogs.nytimes.com