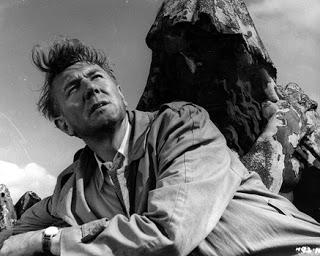 Time Without Pity (1957) marked Joseph Losey's second British film, having fled America due to the blacklist. It's a remarkable race-against-time thriller, anchored by Michael Redgrave's faultless acting.
Alec Graham (Alec McCowen) is scheduled to hang at midnight for murdering his girlfriend Jenny. His father David (Michael Redgrave), an alcoholic writer recently released from a sanitarium, tries against all odds to save him. He enlists the help of Alec's friend Brian Stanford (Paul Daneman), adopted son of auto magnate Robert Stanford (Leo McKern) and his wife Honor (Ann Todd). Through his efforts, David finds just enough doubt to poke holes in Alec's conviction. But can he uncover the "tangible evidence" necessary to stay Alec's execution?
The contours of Time Without Pity aren't entirely original, but Losey's crisp, effective staging makes it work. Ben Barzman's screenplay cranks along, allowing David to interrogate witnesses and badger officials with reckless aplomb. The main difference, however, is that David's at wit's end, trembling from exhaustion and staving off his cravings for alcohol; just standing upright becomes a chore, let alone navigating Britain's torturous legal system. He's an extremely unlikely hero, yet his dogged determination overcomes all obstacles.
Losey and Barzman (adapting an Emlyn Williams play) interject some social commentary, as a glad-handing MP (Richard Wordsworth) inveighs against capital punishment and Honor makes eloquent pleas to stay Alec's execution. But Time's real meat comes in its warped familial relationships: Alec alternately worships and damns David, reckoning that his own death means nothing. Understandable given the circumstances, it's benign compared to the Stanford's nightmarish situation, with Robert openly cheating on Honor and Honor, perversely, carrying a torch for the much-younger Alec. Only David transcends these dynamics, making an unlikely sacrifice.
Losey's direction is far less affected than his later works, his auteur touches organic rather than preening showmanship. The opening shows Jenny's murder in a long take drowned out by Tristram Cary's eerie score, a favored Losey device. He makes effective use of a High Noon-ish clock motif and repeated use of mirrors, emphasizing both the driving plot and disconnect between its character. Freddie Francis's photography makes exceptional use of long takes, often disguised within seemingly banal sequences: the finale is quietly brilliant, Losey offering a wide shot that lays bare all the twistedness within the Stanford clan, and David's central role in their dissolution.
Michael Redgrave is startlingly effective, conveying a driving desperation and physical weakness that threaten to cancel each other out. He receives excellent support from a game cast: Peter Cushing as a kindly lawyer, Alec McCowen as David's tormented son, Joan Plowright and Lois Maxwell as key witnesses. Leo McKern's monstrous mood swings and bellowed insecurities overwhelm Ann Todd's sweet sentimentality. George Devine, the theater impresario, has a minor role as well.
Time Without Pity crams an awful lot into an 88 minute runtime, blending swift storytelling with well-wrought characterization. It's a near-perfect thriller.