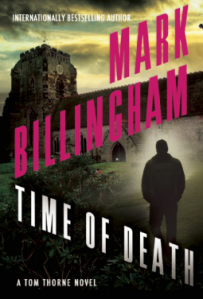 Crime Fiction
5*s
This is DI Tom Thorne's thirteenth outing and although I haven't read the entire series I've dipped in and out over the years. This is a great example of the strength of the characterisation and plot that this author produces and is reads successfully as stand-alone novel.
Tom Thorne and his partner Helen Weeks are having some time away for a romantic break in the Cotswolds although Tom has stipulated a ban on walking and antiques shops, but still it is a break. Not for long though because when the news comes through of a crime is committed in Helen's home town, Polesford, her ears prick up. When she finds out that one of her old friends is the suspect's wife she rushes to support her. This leaves Tom at a loose end and he just can't resist carrying out his own investigation – a true busman's holiday.
I do love crimes that are set in small communities, there is something very distinctive about the way they operate, with everyone knowing so much about each other's lives, the suspicion of outsiders, the gossip and the protection and tolerance of their own, up to a point. That line is drawn when two girls go missing and Linda's husband is taken in for questioning based upon some strong evidence and the race is on to find the missing girls.
Unusually for a crime novel this book is as much about what happens to the family of a suspect when they are arrested as it is about the victims as well as the who, how and why element, and I really enjoyed it. Linda has two teenage children, trapped in an unfamiliar house while their own is combed by the scenes of crime officers, the tension between them all is palpable especially as they are being 'looked after' by the police and gawped at by the press camped outside the door. It takes a true story-teller to manage a disparate group of characters and maintain some of the most authentic dialog I've read in quite some time.
There are revelations about many of the characters, some truly ingenious reasoning by Hendricks, the pathologist and friend of Thorne and Weeks, some terrifying excerpts from the victim and a real mystery to be solved. Mark Billingham gives the reader a fair shot with the clues but he doesn't half muddy the water by manipulating the reader to look the other way whilst they are revealed.
This was a thoroughly satisfying read, one that made me want to go back and read those that I have inexplicably missed earlier on the series.
I'd like to thank the publishers Grove Atlantic for allowing me to read this wonderful book which is already available for the kindle but will be published in paperback on 2 June 2015.